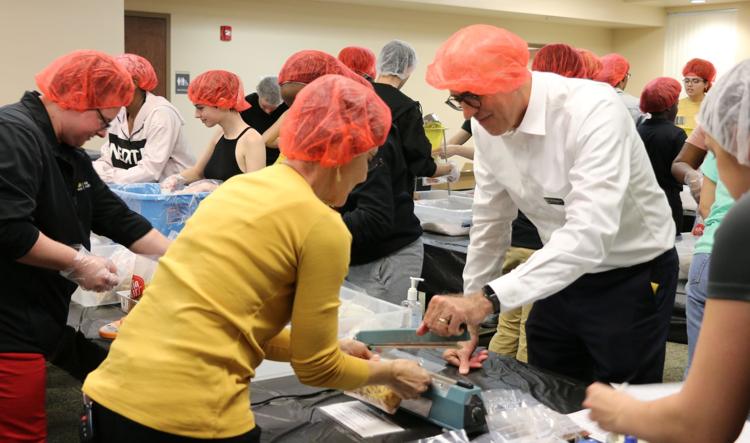 Cheers and the shrill sound of cowbells ringing split the air, signaling another box filled with 180 meals was ready for donation.
Cups of pasta, seasoning and veggies made their way down the assembly line and into bags to be sealed then boxed for transport.
Over 50 volunteers packaged 10,000 meals for UCF's Knights Pantry in the Neptune Multipurpose Room for "Feeding Knights Everywhere" on Wednesday night.
UCF's Residence Hall Association and National Residence Hall Honorary hosted the event in collaboration with Feeding Children Everywhere, a non-profit organization that provides healthy and sustainably packaged meals to those in need around the world. 
Around 250 to 300 students visit Knights Pantry every day to pick up free groceries, said Elias Valentin, the Knights Pantry assistant manager.
"We've seen a huge need for [Knights Pantry], and we've heard from our NRHH organization that they commonly run out of food," said RHA associate director Nicky Brok. "They have a lot of people."
Brok said this lack of food for college students is the reason she pitched the idea to organize the event.
Brok, an international student double-majoring in global studies and political science, said that interning for Feeding Children Everywhere made the partnership easier and demonstrated the healthiest and safest way to package meals with a year-long shelf life. 
"I really liked what [Feeding Children Everywhere] did. I saw that their processes were very healthy and clean," she said. "I thought that if we were to give back to our community, this would be a great event."
Although the venue was free to rent, Brok said the ingredients and equipment cost $3,000 - a relatively low price to pay for event like this. She hopes future executive board members of RHA will continue hosting similar events in upcoming semesters.
"We're able to do this now because of integrating advocacy as a core part of RHA," Brok said. "So this is our first time, but we hope it isn't our last." 
Feeding Children Everywhere representative and event lead Briana Blanchard said the organization partnered with other organizations, such as SGA, to give back to Knights Pantry in the past. Having an office in Longwood, Florida makes it easier to collaborate with UCF, Blanchard said.
"We're definitely proud partners and are glad to be back," Blanchard said. "It's too convenient not to partner with a big campus like this with a huge outpouring of love. The turnouts are always great with the volunteers, and we are glad to work with them."
Blanchard said that events like Feeding Knights Everywhere not only help combat food insecurity at UCF, but can also bring awareness to the issue and "get the conversation going" which will hopefully bring in more volunteers.
Among the volunteers at the event were LEAD scholars, Greek community members, RHA and NRHH members and UCF Interim President Thad Seymour Jr. and his wife, Katie.
Freshman secondary education major Jade Housen said it was her first time participating in an event like this. She said she has never experienced food insecurity, but she has friends who've experienced it and is aware of how the issue impacts students.
"I've never been to the Knights Pantry, and I've never donated to it before so this was really a great opportunity to be more involved and give something back to the community," Housen said.
Freshman film major Hazel Garcia said she's participated in food drives before, but nothing like the assembly line she was a part of at this event. She wasn't aware of how many students use Knights Pantry daily, but now she is considering donating towards the cause, she said. 
"Some students are sensitive about food insecurity," Garcia said. "They don't want to mention it, and they don't wanna speak out about it because it's not something they're proud of. It's nice to be considerate for those that aren't as fortunate and lend a hand."
A previous version of this article referred to Brok as "Brock" in one reference. This has been changed to reflect accuracy.