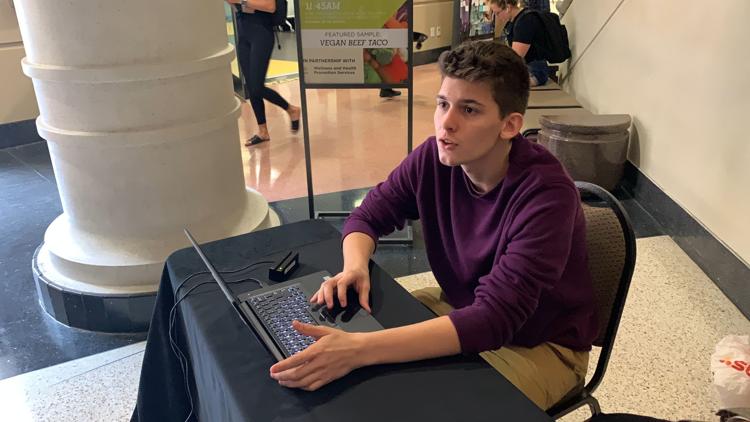 When it came to making the decision of going to college, Christopher Campos always knew he wanted to go. There was never a thought that he wouldn't go.  
As a first-generation student, he said while it may be a little more difficult than the average student, it's been rewarding. 
"It's new, it's fresh and it's exciting," said Campos, sophomore psychology major. "It's exciting and difficult at the same time because I'm learning new things."

Throughout endless trips to various school departments and calls to the financial aid office, he said he and his family were clueless about the college process. However, through the inaugural First-Generation Awareness Week and programs at UCF, like Multicultural Academic and Support Services, he said he feels supported and motivated at school. 
He also said he owes a lot to his immigrant parents, who he views as role models in his life. They supported his decision to attend college and helped him in any way they could, despite not having attended themselves. They especially were ecstatic when he was accepted into college.  
"They were probably more excited than I was," Campos said. "It's the first person in the family to go to college. We're the only people in our family who live in the U.S. They were mega excited. They bought a bunch of stuff and decorated everything."  
Not only is Campos a first-generation student — he's also a first-generation American. Born in New Jersey to Brazilian parents, he lived in the United States for 8 years before moving to Brazil with his family.  
He said living in Brazil he thought that the people are very humble and didn't spend their money on many luxuries. 
"It was a different experience," Campos said. "I'm glad I got the opportunity to see my parents' background and live in another culture."

Once he moved back to the U.S. in 2014, he said he saw the differences between American and Brazilian culture, from food and music to holidays. However, the most significant contrast with American culture was the access to opportunities, he said.  
"In Brazil, opportunities aren't as easy as they are in the United States," Campos said. "Here, if you work for something, you'll get it. In Brazil, you could work for something your whole life and still not be able to reach your goal or achieve your dream. Here, it's achievable." 

Using that mentality to push himself forward, Campos said he doesn't want to waste this opportunity, knowing that higher education is difficult in his parents' home country. He immediately became involved on campus, eventually becoming a First-Generation Peer Mentor for Multicultural Academic and Support Services.  
After selecting Campos from around 30 applicants, Tammie Nadeau, assistant director at MASS, said she choose him because he was committed to helping others and wanted to help give back to others in his situation. 
"He is easy-going and eager to learn, which makes his experience here even better," Nadeau said. "Like many first-generation students, they just want to learn, and they just want the best, not just for themselves, but for their peers. As a peer mentor, he has the responsibility of welcoming first-generation students to UCF and being there to help them."

For the most part, Campos said he appreciates the recognition and assistance he gets for UCF, and is thankful for all of it.  
"I think that first-generation students get a lot of resources, just like other students, but by being first-generation we get a really good amount of support and encouragement and motivation from all these resources," Campos said. "I can't really ask for anything extra."