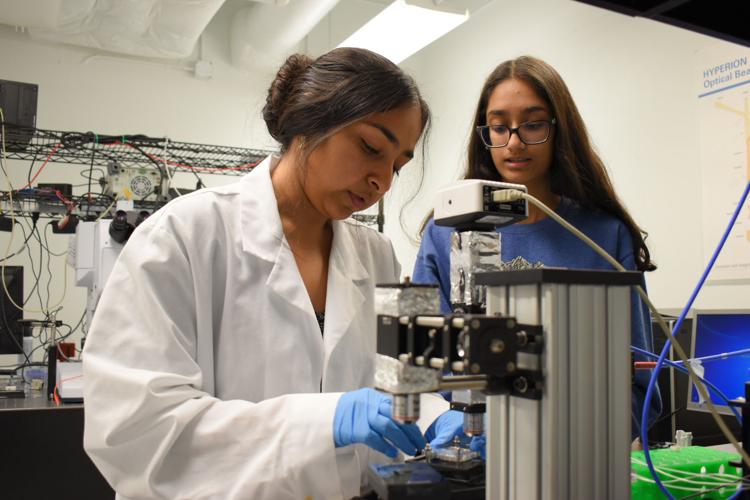 Spread across the lab tables of the NanoScience Technology Center there are all sorts of tools: Plasma separator chips, a spectrophotometer-microscope and monitors displaying plasma separation.
Among these mechanisms is a device designed to detect the early symptoms of neurological diseases and mental disorders. This is the research project of senior biology major Aliyah Baksh.
Baksh is an undergraduate researcher who is working with biological sensors. She said she gets to create new devices that are timely and cost-efficient within the medical community.
"Google can look up medications that people need," Baksh said. "It means so much more if you can add to that fountain of knowledge, rather then just taking from it."
Baksh's faculty mentor Debashis Chanda is an associate professor for the College of Optics and Photonics. He has been a part of Baksh's research project since 2019.
Baksh said that trying to detect the "onset," or early, symptoms of neurological diseases and mental disorders requires research that mainly focuses on dopamine. Their device detects dopamine levels in the bloodstream, she said.
According to WEbMD, dopamine is a neurotransmitter, or messenger, in the brain that plays a role in how humans feel pleasure and how they think, feel and focus.
Dopamine is a part of many neurological processes that alerts Parkinson's disease, psychosis and schizophrenia. Baksh said dopamine is also associated with depression − when there are lower levels of dopamine in the blood.
Baksh's device is an integrated chip that will be reproduced to fit in the palm of a hand. Plasma is separated from the blood within this chip. It is small, gold and square-shaped, similar to glucose monitors that diabetics use to check their insulin. Baksh said it is light-weight, portable and easily accessible.
Chanda said this device is a blood-test for brain-monitoring and is still being developed. He said biomedical companies have reached out to them with interest to potentially package this device when it is ready for production.
"A blood-test based brain-monitoring [device] will take the mental health care [system] to a new, easy-to-access, and low cost level," Chanda said.
Through physics and optics, Baksh said this research has its biological contributions. She said it is nontraditional for a biology major because it is not something directly in her field.
Baksh said she hopes this research will bring a more efficient way for people to check their dopamine levels at home. She said that she wanted to get working in the field to learn and translate it into the real world, rather than sitting inside of a classroom. She said it can actually be beneficial outside of a classroom environment.
"Usually when you're sitting in a classroom writing with pen and paper and you're just listening to the professor you don't think this will ever translate to the real world," Baksh said.
Baksh said that she is pursuing graduate school to become a physician scientist.
"You see a lot of doctors, for example, who just prescribe medication but I think it would mean so much more if you have doctors who really understand what is going on and what is coming out," Baksh said. 
With new developments and devices, Baksh's research contributions and eagerness to change the future will allow people to gain insight on their mental health and utilize preventative technology to detect brain diseases early on.
"Something I like about research in general is you're searching again," Baksh said. "Things are already presented in front of you, but you're trying to look for it again."