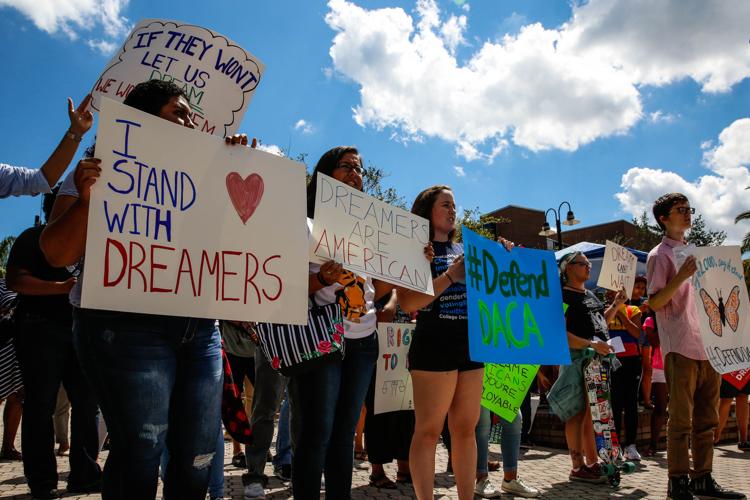 We Are Here, a student organization, has been working to provide better opportunities on campus for undocumented, Deferred Action for Childhood Arrivals and Temporary Protected Status students.
We Are Here's short-term goal is to release monthly updates about legal changes, scholarships, grants, internships and other resources that would help these students.
Marisela Márquez, We Are Here president and founder, said board members and their respective committees are aiming for what the organization's name stands for. The organization was established in April right after classes were switched completely online.
"I felt like I wanted more resources on-campus because DACA has been around for a while, undocumented people have been around a long time and so has TPS," Márquez said.
Márquez said UCF currently offers resources such as the Multicultural Academic and Support Services and the non-Florida fee waiver program for undergraduate degree-seeking students. 
One of the organization's long-term goals is to streamline the admission and financial aid process for these students. 
Márquez wishes she had someone to help her during that process while she was applying to UCF, and now she - along with the rest of the members - wants to make sure no one else goes through the same situation.
"My brother and I technically applied the incorrect way, and that messes up [how] to find scholarships, but I didn't know that," Márquez said.
Márquez considers the admissions process to be unclear about what status these students need to apply for. She said sometimes a student can be put  on the waitlist for months just because they need to verify their residency for tuition purposes. Usually, this is because students choose an option that says they do qualify for in-state tuition. 
We Are Here wants to change this process and make it clearer to future DACA, undocumented and TPS knights, and ensure they do not miss out on opportunities such as the Burnett Honors College.
We Are Here Vice President Leslye Trujillo is in charge of the financial aid process for future students. One of Trujillo's committee goals is to have a designated section for UCF DACA, TPS and undocumented students in the financial aid website.
Trujillo said one of the most common question students have is whether they fall under undocumented immigrant or illegal alien when filling out the financial aid application.
"It's a very hard debate because, technically, under illegal alien is what is used to label people like this, but it is very defamatory," Trujillo said. "It makes it seem like people can just commit crimes when, in reality, people come from other places that have lots of war."
Despite We Are Here starting and remaining remote until everything goes back to normal, it keeps its members active with virtual general body meetings every other week. Each meeting the club relays something different, such as scholarship and internship opportunities.
On Nov. 20, it hosted a general body meeting with Rep. Carlos Guillermo Smith as one of the guest speakers, as well as Eli Garcia, community organizer at HOPE Community Center.
Márquez started the We Are Here project in her head without knowing where it would take her. She said when her boyfriend asked her, "If not you then who?" she started the process to start the organization right away.
For Márquez, getting people involved has been the hardest part so far. She said this is because it has been hard to keep people interested by working remotely.
When Márquez was a member of Volunteer UCF, she said the HOPE Community Center also encouraged her to start the organization.
"It was really inspiring seeing a resource like that exists for DACA recipients and immigrants in general," she said. "What they do is amazing and I would only hope to do half of what they do."