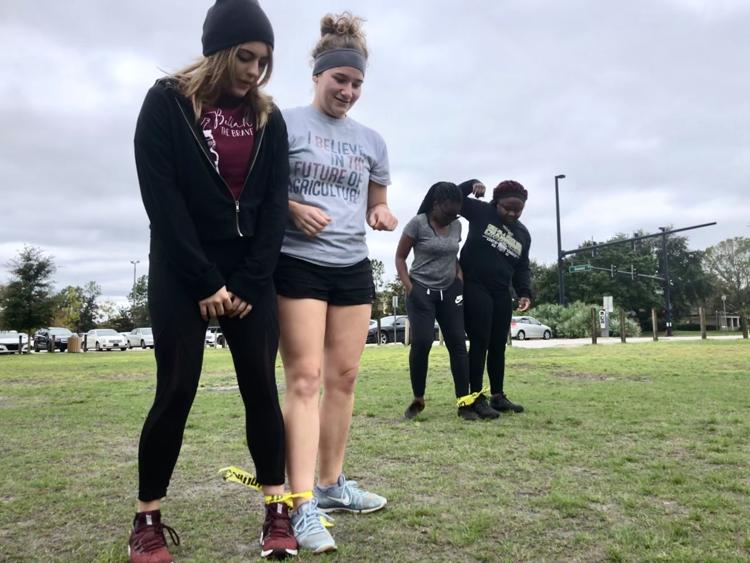 The UCF Global Medical Brigades hosted its first-ever Olympic Games social event Saturday at Lake Claire. The festivities included a variety of games such as tug of war and volleyball.
Global Brigades is an international nonprofit organization that helps impoverished communities overseas meet their health and economic goals. At the collegiate level, the international organization is separated into different groups depending on interests and majors and focuses on specific parts of a mission. Global Medical Brigades at UCF focuses on bodily health.
Other active Global Brigade organizations at UCF related to water, dental health and engineering, were in attendance at the Olympic Games to bring together the different branches and establish camaraderie among its members. 
Senior health sciences major Jonathan Serrao said he hopes that the Olympic Games social can encourage stronger relationships between members — something he said he realizes can be difficult considering the group's large size. In Global Medical Brigades alone there are approximately 80 members.
Serrao's first brigade was the organization's most recent trip to Panama. At the time, he was still relatively new to the organization and didn't know most of the members. However, he was able to establish a bond with the group during their time away. Upon returning, he realized he had gained a new host of friends.
"I only knew one person," Serrao said. "And when we came back, I felt like we were all a family." 
Senior health sciences major Tristan Harris, who is also president of Global Medical Brigades, said he believes events like these serve as a great bonding experience for members who plan on going overseas on a brigade.
Before tackling the day's action-packed events, people were split into six teams, each with the name of a different country: United States, Morocco, Australia, Greece, Honduras and Vatican City.
Despite the element of competition, the teams laughed and enjoyed themselves throughout the wins and losses.
Based on his experience, Harris said he understands that the conditions in their stationed country can often be uncomfortable, so having a good rapport with other members makes for a better trip.
"We're gonna be spending a week together in these cramped closed quarters and it'd be nice not to kill each other while we're there," Harris said.
Harris said he finds that these trips provide an invaluable experience for those who attend. They allow students the opportunity to shadow doctors as well as other professionals in their field of interest. But more than anything, Harris said he believes the greatest thing that members gain during these travels is a newfound perspective.
This was true for senior health sciences major Chantal Anderson, the special events director for Global Medical Brigades. In the past year, she said she had the opportunity to travel to Panama, where she was able to witness the lack of proper medical care firsthand.
"It just kind of opened my eyes to seeing how health care is different in other countries," Anderson said. "We have so many things at our disposal that we don't really take advantage of." 
While no set date has been established, the organization hopes to plan another trip in the upcoming year.