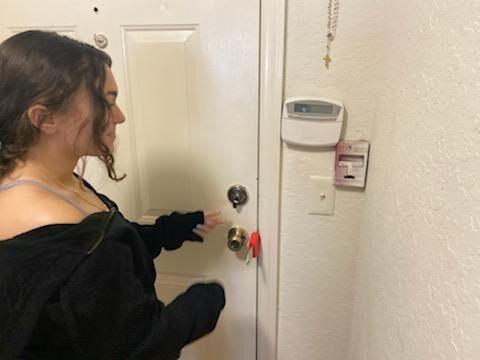 UCF students said that maintenance workers and managers in their off-campus student apartments walk into units unannounced, leaving them to question the workers' right to do so.
Sophomore psychology major Keianna Anderson said that both management and maintenance workers at Knightshade, formerly known as The Retreat, have walked into her apartment without notice within the past year of her living there.
Anderson said that she placed work orders for maintenance to arrive but never received a notice of when to expect them. She said she also had workers walk in when she did not request them. Management have walked in unannounced to check on empty rooms that need to be rented, Anderson said.
Members of the UCF Housing Facebook group, including UCF students, spoke of their experiences and questioned the legality of maintenance workers entering units in their off-campus student apartments without notice.
Anderson said she was once walking out of the shower and getting clothes out of the dryer when she heard someone talking. She said her roommates were gone so she knew it was not them.
"I heard them talking and I ran back upstairs like right as they're turning," Anderson said. "I ran back upstairs to my room and I had to wait for them to leave."
Anderson knows that it was a Knightshade worker but is unsure if he was management or maintenance, she said.
The workers do not always knock on the door but when they do, they walk in without waiting for a response, Anderson said. She said that she would not be given a notice of their arrival.
Anderson said that she has also had a worker walk into her room while she was sleeping. She said she was unsure of why he was in her room.
"I woke up and he just goes 'oh, sorry,' closed the door and left," Anderson said. "I'm sure that this is a given, but all the maintenance people are all like older men which I feel like makes it worse if you're a young female living here, and they're coming in here unannounced."
Student housing apartments' maintenance, management walk into units unannounced, students say
Knightshade said in an email to NSM Today to contact their management company Cardinal Group. The company has not responded to requests for comment.
According to Chapter 83 of Florida Statutes Title VI. Civil Practice and Procedure, landlords must provide at least a 12-hour notice and must arrive at a reasonable time, being between 7:30 a.m. and 8 p.m.
Landlords may enter units for inspections, to make necessary repairs or to show the property to potential or actual purchasers, tenants or workers with consent of the tenants unless the tenants "unreasonably withhold consent," according to the statute.
Sophomore political science major Angelina Sosa said she and her roommates bought a portable lock to prevent maintenance workers from walking in. Sosa has lived at The Pointe at Central, UCF-affiliated housing apartments since August 2020.
Sosa said workers will knock on the door but walk in without waiting for a response. She said that The Pointe provides a notice with a seven-day estimated time frame after work orders are placed by residents.
"I didn't feel like the notice was sufficient enough and then I felt like they just barged in," Sosa said.
Sosa said she called the office to discuss her concerns, but was told that apartment staff are allowed to enter her apartment. She was told that she waived her right to being notified when she signed the lease, she said. Sosa said she asked if The Pointe could be given a narrower time frame of when to expect maintenance, but was told that the seven-day notice was the most they could do.
"The way that I see it is that they know what day they're coming, and they could give a better time like rather than 'oh sometime this week and sometime between these hours,'" Sosa said. "I feel like it shouldn't be hard for these apartment complexes to let the residents know 'we will be in this apartment on Monday at 2:30.'"
The Pointe declined to comment in an email.
Former UCF student Courtney Rumbaugh, who now takes classes at Valencia College, said that maintenance walked into her room on two separate occasions without notifying her when she lived at Northgate Lakes. She said she was out of town for two days when maintenance covered mold in her room with paint and did not notify her of their arrival.
Rumbaugh also said had a black substance leaking through her bathroom wall and reported it to Northgate, she said. She later found that maintenance had arrived without notifying her.
"One day they came into my apartment while I was not home, did not tell me, didn't tell me beforehand, didn't tell me after. Nothing," Rumbaugh said. "Like, they basically, in a sense, snuck in there and I don't know if my roommates were home or anything."
According to Chapter 83 of Florida Statutes Title VI. Civil Practice and Procedure, a landlord may enter a dwelling unit "if the tenant is absent from the premises for a period of time equal to one-half the time for periodic rental payments."
Northgate Lakes has not responded to requests for comment despite many requests to do so.
At The Pointe, Sosa said there have been workers in her unit when no one was home. She and her roommates agreed to stop placing work orders to prevent the maintenance visits.
"I hate to say it but like being a young woman living alone with other young women, it can be a little scary thinking about who was in your apartment and what they were doing," Sosa said.
Sosa did not officially report her issues with the apartment because she felt that the portable lock is enough. She said that she and her roommates do not know to who they would file the report.
"I think that legally, student housing can get away with a lot of stuff on technicalities," Sosa said. "I think it has to do with the wording of the lease agreements probably and legally what they're required to do."