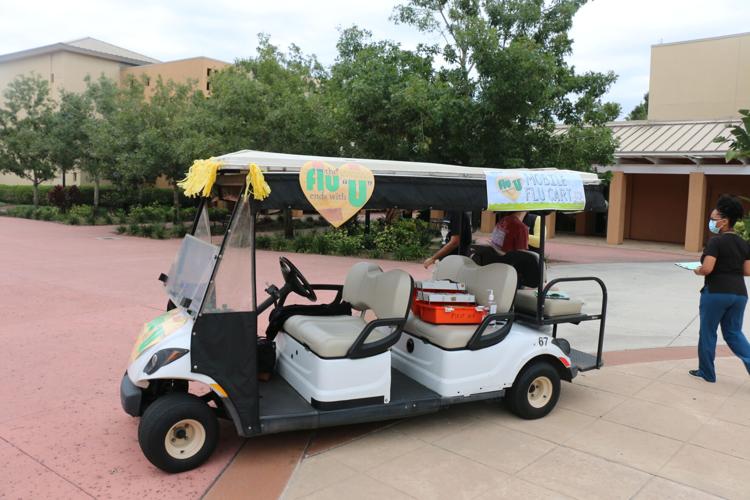 Student Health Services began using a mobile flu cart this semester that drives around campus administering free flu shots Mondays and Thursdays from 10 a.m. to 1 p.m. 
The battery powered golf cart makes several stops throughout campus. As it moves from one station to another, students can follow its course on the Student Health Services Twitter account and may also request for the cart to come to them, said Crystal Zavallo, Student Health Services marketing communications specialist. 
Posted up outside of the Psychology Building, on Memory Mall next to Classroom II!Next stops:📍Knights Plaza📍Trevor Colbourn Hall📍Library/Student Union Courtyard pic.twitter.com/JXtIKGey9c

— UCF Student Health Services (@UCFHealthCenter) September 24, 2020
"The idea of it came from an evolution," Zavallo said. "In the past, we've had mobile clinics for the flu shot across campus."
In those cases, the flu shot clinic would be in one place for a designated amount of time. 
"We had started talking about this last season. 'Wouldn't it be great if instead of just staying in one place, we could just keep driving around?'" Zavallo said. "When COVID came around and there's not as many students on campus and we're not encouraging gatherings. That's when we got the concept of making it work." 
Zavallo said in the first week, 20 shots were given out on Monday and 30 on Thursday. 
"I think it's great," said Juan Bolano, a senior political science major. "It makes it easier for students to have access to the flu shot." 
The flu cart is part of Student Health Services' efforts to encourage students to get their flu shot with COVID-19 around, said College of Medicine Dean Deborah German. 
On Sept. 21, Student Health Services held a press conference discussing the importance of everyone getting vaccinated and showed off the mobile flu cart.
"With the pandemic, we are all at the risk for two viruses, the influenza virus and the coronavirus," German said. 
Following the press conference, Christopher Ingersoll, dean of the College of Health Professions and Sciences, and Mary Lou Sole, dean of the College of Nursing, along with German, received their flu shots at the cart. 
Students may also go to the Health Center during regular business hours to get the flu shot for free.  
"We're trying every which way to give the flu shot to the community here at UCF," said Michael Deichen, associate vice president of Student Health Services. 
German said getting the flu shot will prevent people from getting the flu or will weaken its attack. Plus, it would diminish the number of flu hospitalizations, leaving more beds available for those who test positive for COVID-19. 
"To me of course, it's a no brainer for everyone," Bolano said. 
In a normal year, the peak of flu season comes in October and November and that is when student health services begins to give out mass vaccines, Zavallo said.   
"This year with COVID, the recommendation has been to do it sooner because it takes about two weeks for your body to build the antibodies," Zavallo said. 
The expectation for the flu cart is to give out about 40-50 flu shots each time it is used, Zavallo said. 
"If it works, COVID or non-COVID, remote status or not, it probably will be something we continue to keep in place," Zavallo said.