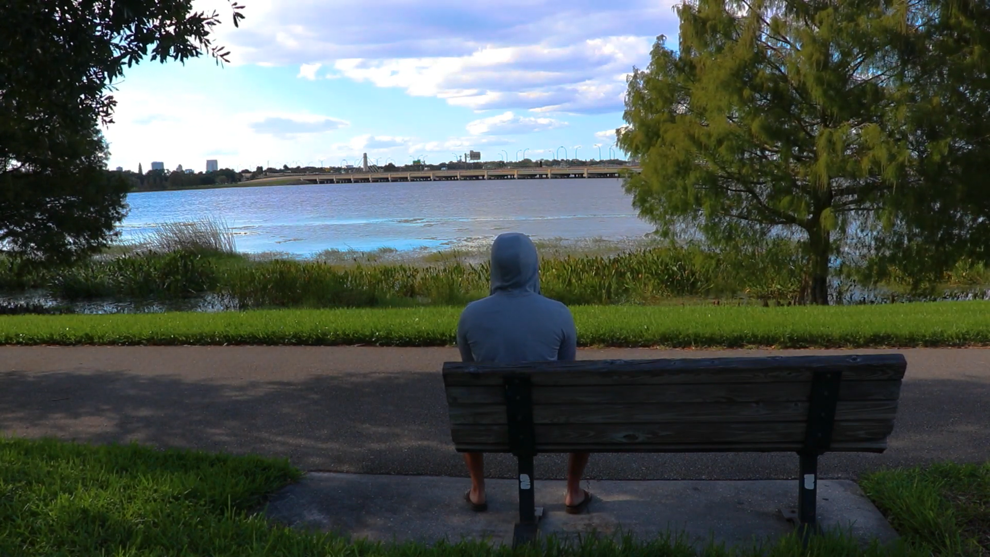 Sergio Garay arrived at the Regal Waterford Lakes theater 20 minutes before the movie "Tenet" was on schedule to play.  He sat alone in the theater, patiently waiting for his classmates to join him. No one showed up.
"I remember everybody saying they wanted to go to a theater that was closest to them because they don't want to drive as far," said Garay, UCF film major. "So, I decided I'll drive further than I have to so I can meet with them if it meant that I'd finally have some human interaction." 
After moving from Virginia to Orlando in July, Garay said he looked forward to attending his classes and meeting new friends in his major that share the same interests and goals. He was disappointed to learn his classes were switched to online and he would not have the opportunity to interact with classmates. He said he always dealt with depression to a certain extent, but it has been magnified because he has no one to hang out with.
"It just sucks when you're the one person that's struggling with depression and loneliness," Garay said. "It sucks when you see a group of people having fun and are doing what you love and are communicating." 
Garay uses video to capture his emotions when it's hard for him to describe what he's feeling. Earlier in November, Garay shot and edited a video titled "Lonely Depression" that demonstrated his state of sadness and low spirits.
"It shows what's been going inside of me, especially during this whole pandemic," Garay said. "It shows a little bit of the struggle of having to go through online classes and not being able to interact with other people that share the same passion as you and, ultimately, it shows the struggle of dealing with loneliness."
A survey done by Berkeley at nine public research universities showed the COVID-19 pandemic has had a negative impact on college students' mental health. From May to July, 35% of U.S. undergraduates screened positive for major depressive disorder. Compared to 2019, depression is two times higher this year. 
UCF psychologist Larry Marks has over 20 years of experience helping individuals improve their well-being and accomplish their goals. Marks said UCF's Counseling and Psychological Services is seeing fewer students this term than in previous years, though he has seen an increase in anxiety and depression among students.
"There's increased demands on students, increased pressure; there are high expectations for students," Marks said. "Students in this generation, Generation Z, are growing up in a world where there is not a lot of stability or security, there's a lot of scary things happening in the world."
Photographer and film major Nico Rios Cacua said online classes have been harder to handle this semester. It was easier for him to focus on face-to-face classes because there are fewer distractions.
"I would be doing so much better if I was actually being taught in class," Rios Cacua said. "Because of the pandemic, we are not able to do that."
Marks said depression is not always internal, but also has physical symptoms, such as low motivation, muscle pain and headaches. Each person differs on the load of stress they can handle, but when depression starts to interfere with daily life, it's time to reach out for help. 
"When an individual reaches a point where 'Boy, this is causing distress,' that might be a time where they need to talk with somebody or seek out some other resources," Marks said. "Noticing some change in their functioning would be another marker of 'This is getting to be problematic."
Marks recommends creating healthy habits to fight off anxiety and depression; such as eating nutritiously, sleeping well and exercising regularly.
"The number one treatment for depression is exercise and social support," Marks said.
Film major MLE DeJaco said her depression has worsened during the pandemic due to the isolation. 
"How you get out of your depression is you go out and do stuff," DeJaco said. "The fact that we can't do anything makes us more depressed."
For DeJaco, online classes have become more difficult during the pandemic because professors are placing the same expectations on students as they do with in-person classes. She said it's harder to do everything online because there are a lot of pressures and distractions.
"There are so many issues," DeJaco said. "Having a limited time or going to a Starbucks to do it where there are distractions is difficult."
DeJaco said depression can lead her to spend the entire day in bed feeling drained. To alleviate herself from the stress, DeJaco enjoys painting and taking nature walks with her dog, Kilo. 
Since the pandemic took over, Rios Cacua's mental health has worsened. His depression stops him from getting his course work done. 
"It stops me from excelling," Rios Cacua said. "Something is telling me to stay in bed all day, just don't do anything."
For Rios Cacua, photography is his escape — it is something he can focus on to get his mind on the right track. 
"Photography was my happy thing to do before the pandemic," Rios Cacua said. "Since then, my motivation for it is lacking." 
Rios Cacua has always been an advocate for mental health and wants to show others they can talk about it. 
"Once everyone is talking about it, it gets it out of the way," he said. "Then it's not a stigma anymore. It's just something we all have to deal with, and then maybe we'll be able to apply more resources to it."
UCF has resources that can benefit students struggling with mental health.  Students can reach out to CAPS for counseling and workshops that are set up to offer advice and healthy tips to manage mental health. CAPS also has a free self-help program available to all students called Therapy Assistance Online (TAO) Self Help.
The Health Center at UCF offers various services for students to take advantage of, including two Relaxation Stations to help reduce stress. The Recreation and Wellness Center also has various programs to help students develop healthy lifestyles. 
"Even going into the Arboretum and taking a walk out in nature," Marks said. "There are lots of good coping strategies and resources students can use."
Garay uses different ways to cope with his bad days. He said exercising is important to him because it allows him to release some of his frustration. He also likes to play video games to distract himself and will treat himself to a red velvet cheesecake to lift his spirits.
"Sometimes you just gotta really push through it and just kinda deal with it," Garay said. "Try to remind yourself what you're doing, what your goal is, why you're doing it and push forward."