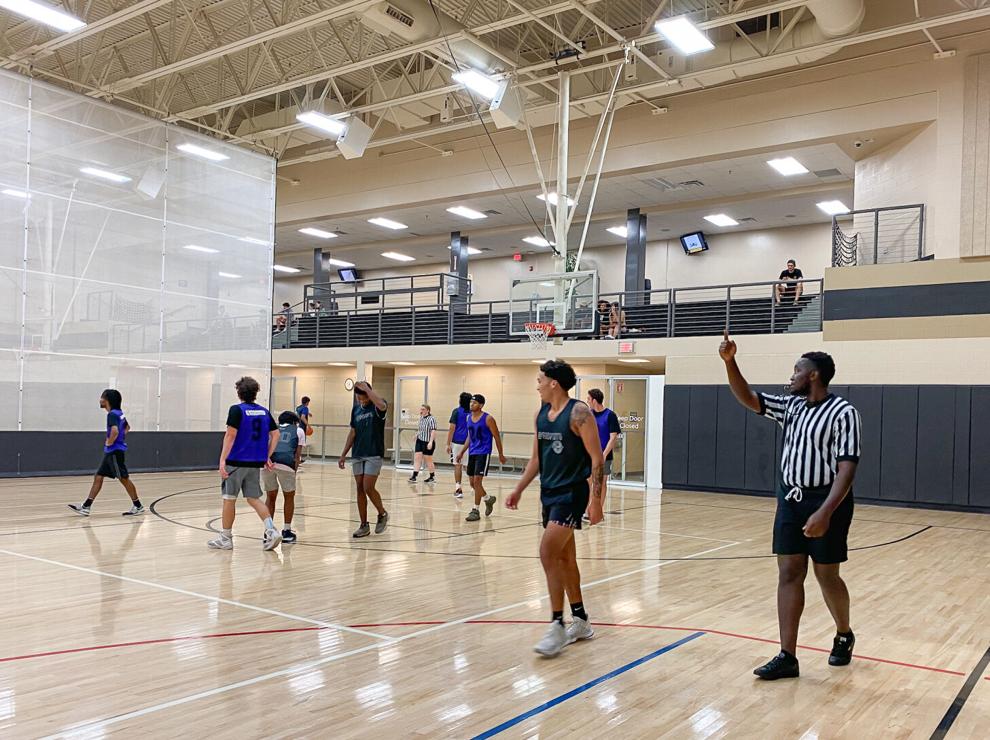 A young boy from Kenya finally got his parents' blessing to board a plane for the very first time. 
William Wanyonyi Masafu said he was just 12 when he chose the seat closest to the window. He wanted to watch the land beneath him become smaller and smaller as the plane ascended into the air. 
The now 21-year-old mechanical engineering junior at UCF said, the experience sparked his lifelong fascination with aviation. 
"I noticed the wing moving and I was initially scared, but then I started getting more interested," Masafu said. "I thought to myself, 'Dang how does an airplane actually work?'"
Masafu left Nairobi to attend UCF in the fall of 2019 after learning Central Florida is a prime area for rocket launches and flight. Once he arrived, Masafu wanted to continue playing basketball, as he said it's his love and a social outlet to alleviate the loneliness of being away in Orlando with no friends or family. Masafu went on to play for the UCF intramural basketball team before injuring his ankle in 2020, leading him to stop playing and become an intramural sports official.
While learning new American games was not easy, the determined student is flourishing. He said he attributes his success on and off the intramural field to the values instilled in him by his parents. 
"I have just been driven," Masafu said. "My parents have always told me never to doubt myself — if I want to do something, I can get it."
When Masafu first received his acceptance email from UCF, he said he couldn't believe the news — he needed someone else to read it and confirm. 
"I had to give my phone to my brother to read the email, and he had told me I had been accepted," Masafu said.
With the excitement of opportunity ahead, Masafu said he still didn't want to stop doing what enriched his life. He always loved sports growing up; he played basketball, rugby and raced in 100-meter sprints back in Kenya.
Masafu said participating in sports was a "super easy" way to make friends, as it gave him the advantage of already having something in common with the other players and athletes: the game. 
As Masafu made new friends at UCF who were involved in intramural sports, he was curious to learn more and extend his passions. Once he became injured, this newfound interest came in handy to officiate.
"I said let me just go ref because then I will still be playing basketball," Masafu said. 
Beyond basketball, Masafu now also officiates indoor soccer, outdoor soccer, volleyball, dodgeball, flag football and baseball.
He said he found learning American sports, such as baseball and flag football, was difficult, as he had never played them before and did not know the rules. 
"I didn't understand why people were coming on and off the field," Masafu said. "I didn't understand that there was an offense and a defense." 
Regardless of the initial learning curve, Masafu said he was able to pick up on these new games simply because he was interested in them.
Jose Acevedo, lead intramural sports supervisor, said Masafu quickly caught on to what he was being taught. He said Masafu always went the extra mile to make sure he understood a game before stepping out onto the field. 
"He tends to pick things up very quickly, and he is very good about asking questions if he has them," Acevedo said. "He's just been able to put in the work and the time and effort … reading those rule books, diving in there and just being as knowledgeable as he can." 
Anthony Merdjane, lead supervisor of intramural sports, is the one who hired Masafu. He said Masafu was promoted from intramural official to supervisor within just his first two months.
Merdjane said Masafu's passion for sports showed through right away, eager to learn all sports from the beginning. 
"The second he got on the court, he was talking to me about how he really liked it and about how he was passionate about it," Merdjane said. "He was willing to put himself in an uncomfortable position in order to get better."
Masafu said the support he has received from his supervisors and co-workers has allowed him to be confident in the decisions he makes on the field. He no longer feels as worried about officiating and is able to relax before game-time. 
"My supervisors tell me that, as long as you've blown the whistle (or) you've thrown the flag, we are always going to support you," Masafu said. "I just come and talk to (them) ... make a couple of jokes to let out anxiety, and then we go." 
Merdjane said Masafu's passion for athletics is contagious and does not go unnoticed by his peers.
"I know he is not going to make a decision that is going to negatively impact the program," Merdjane said. "If we could have a staff of people who are passionate about intramurals like William, I think we would be the best program in the nation."
The 12-year-old boy who sat at the window seat of an airplane once, confused about how the wing of the plane glided through the air, will be able to help build a plane himself someday after receiving his mechanical engineering degree from UCF.
As his career readies for takeoff, he will carry with him the courtside memories of officiating intramural sports.