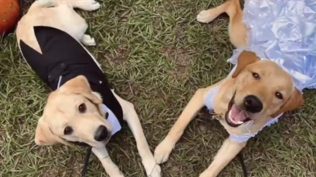 "Who will win at the final rose ceremony and find their fur-ever love? Find out tonight, on The Puppy Bachelor."
On Thursday, at 7 p.m., romantic music filled the Zoom lobby, hosted by STEP at UCF, as participants eagerly awaited the show's beginning.
STEP hosted the fundraising event "The Puppy Bachelor" as a way to raise money for the student-run group. All proceeds from the event went toward raising and training the group's service puppies, as well as donating to their partner organization Canine Companions for Independence, the largest non-profit provider of service dogs in the world.
The STEP at UCF team prepared for a night of laughs, generosity, and knowledge as their Fundraising Events Chair, Marlee Linnell, kicked off the event by impersonating the ever-famous "The Bachelor" TV show host, Chris Harrison.
Linell said the plan was simple, watch the introduction video for each dog, then vote for your favorites through Venmo or PayPal, and finally wait in anticipation for the Final Rose Ceremony to see which pups prevailed. Donors would receive a vote for every dollar given.
STEP at UCF President Liv Mayrom elaborated on the group's mission.
"STEP at UCF strives to educate college students about service dogs and the disability community. Many college students have never seen a service dog, let alone interacted with one," Mayrom said. "We hope that by being on campus and educating those around us, these students will grow up to be kind-hearted and accepting adults who understand that a service dog should be treated like a piece of equipment, a wheelchair, and is not there to be pet, but to provide tasks for their person."
Mayrom also said STEP and CCI's shared goal is raising money for DogFest Orlando 2021. DogFest is a fundraising event held in-person and online in support of Canine Companions for Independence. CCI provides service dogs to people with disabilities completely free of charge, so they rely on volunteers, puppy raisers, such as those at STEP at UCF, and donations in order to do so.
"Service dogs typically cost over $50,000, and one of CCI's biggest yearly fundraisers is DogFest. STEP at UCF has raised over $4,500 so far and we have until April to reach our goal of $10,000," Mayrom said. "Events like "The Puppy Bachelor" allow us to give back to this amazing organization and help our puppy raisers."
Guests watched as "The Puppy Bachelor" went on to introduce the puppy participants, formatted much like ABC's hit reality TV show. Each dog was introduced with their age, profession, hobbies, likes, dislikes, and even their intention for being on the show. The ages of the contestants ranged from 9 to 22 months, and some of the professions included were "Professional Toy Tester," "President of Buttwiggle, INC.," and even "Civil War Re-enactor."
Similarly to "The Bachelor", some relationship drama amongst the dogs was added to spice things up. For instance, some news broke during the show that Isabel was already married while competing, which could have impeded her quest for true love. Fellow service dog Bachata weighed in on the subject in a personal interview, communicating that she "doesn't think Isabel is here for the right reasons," through the subtitles of a personal interview video.
After a couple of contestant introductions, members of the STEP executive board elaborated on more details about STEP at UCF and CCI. Each member respectively talked about how the service puppies are acquired from CCI's headquarters in Santa Rosa, CA., how COVID-19 has affected the student organization by making hosting fundraisers and puppy interactions more complicated, and how training and matching a dog to an owner works according to necessity.
Sarah Crabtree, a former STEP and UCF alumna and the acting secretary for the Central Florida Chapter of CCI, took the time to explain the training process further.
"Training and raising service dogs is both a rewarding and heartbreaking experience, yet many people, myself included, are compelled to go through the process over and over again," Crabtree said. "Volunteer puppy raisers typically receive a puppy when it's about eight weeks old. They will be responsible for teaching the puppy approximately 30 commands, as well as house manners and how to behave appropriately in public."
Crabtee said that after about a year and a half, the puppies return to CCI so they can have professional training.
"During this period, the dogs learn more advanced tasks, such as pulling a manual wheelchair, picking up dropped items, and opening doors for their owners," she said. "The ultimate goal is to have a puppy you raise match as a service dog with a person with a disability. When that happens, the process comes full circle."
Alexis Holmes, a junior biomedical sciences major at UCF, was the perfect match for one of STEP at UCF's personally raised and trained dogs, Eada, whose former raiser was Sarah Crabtree.
"STEP has been a huge blessing and has been very supportive since I got my service dog, Eada, in December," Holmes said. "My service dog helps me to be more physically independent. For example, she can pick things up off of the ground that I drop, she can open doors, turn lights on and off, and she can even help me do laundry if I need her to." 
STEP at UCF ended the night by announcing the winners of "The Puppy Bachelor," two of their Golden Retriever and Labrador mix service dogs, Isabel and Flanders. The group amassed a total of over $1,300 in donations during the night through votes.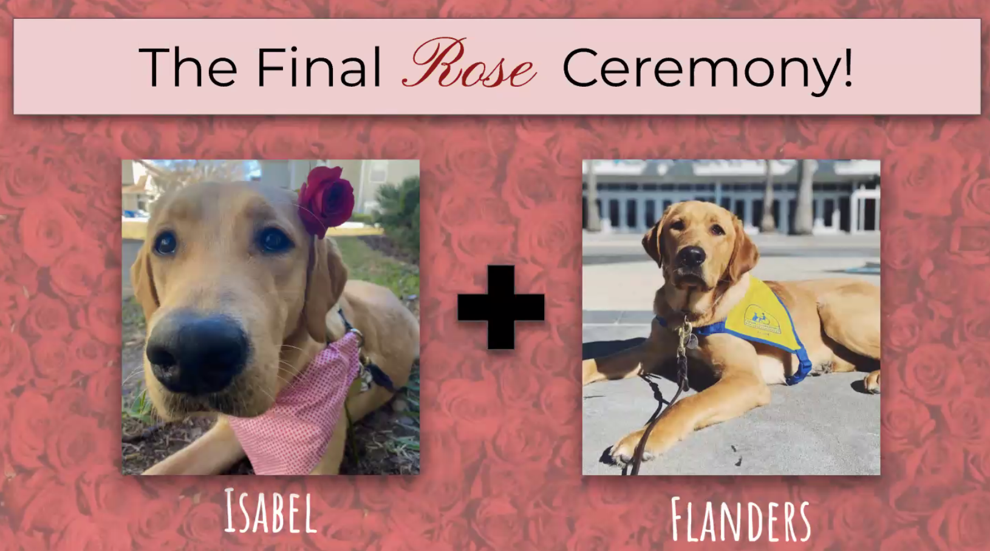 For Mayrom, STEP at UCF's main goal to educate the public on service dog etiquette and necessity is what drives them to do the work they do.
"If we can make sure that at least one person interacts appropriately with a person with a disability and their service dog, then we've accomplished our mission," Mayrom said.
Visit STEP at UCF and Canine Companions for Independence for more information.