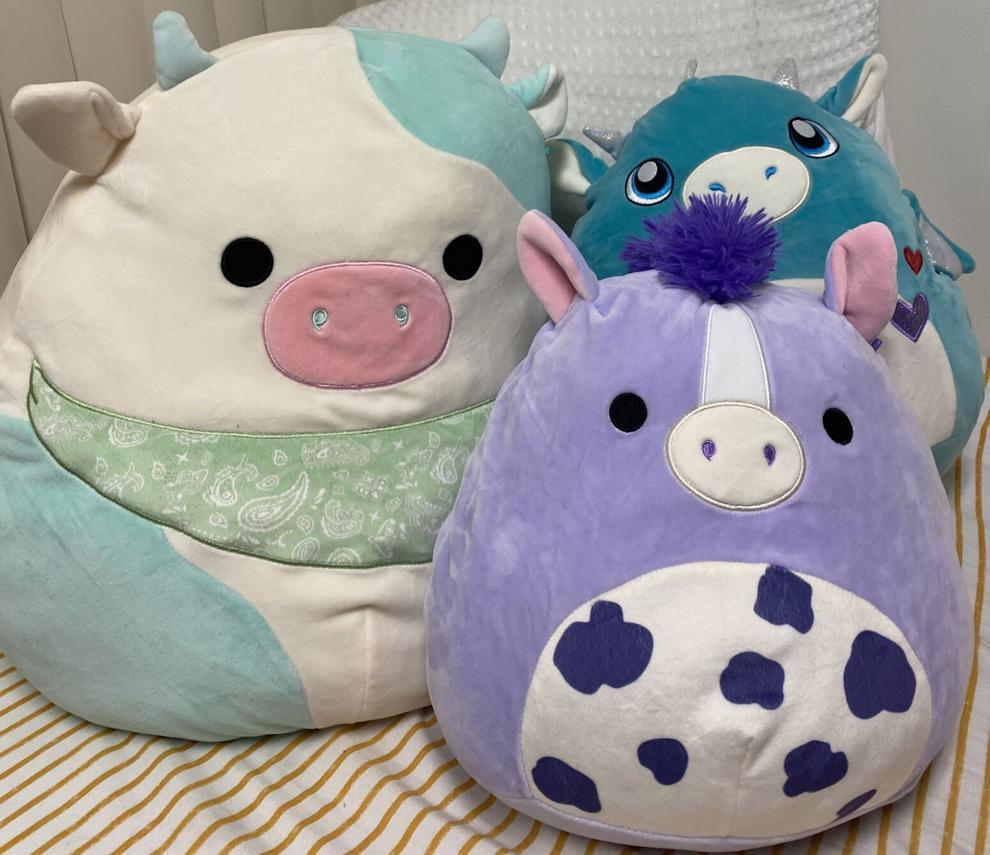 Today's students have many different causes of stress, both as a result of COVID-19 and as a result of being a young adult trying to find their place in the world. With so many different stressors, many students have found comfort in Squishmallows. 
Squishmallows are soft stuffed animals that have blown up in popularity in recent months. The toys were first released in 2017, but following the COVID-19 lockdown, Squishmallow sales grew rapidly, according to KellyToy co-President and creator of Squishmallows, Jonathan Kelly. One of their toys, Gordon the Shark, was the second-most searched for toy on Google during the 2020 holiday season. 
"Sales of consumer goods increased across the board during the pandemic and we saw this trend with Squishmallows as well," Kelly said. "Learning Express Toys named Squishmallows its 'Toy of the Year', and they continue to be the chain's best-selling products."
Kelly said Squishmallows were inspired by "a similar fabrication" he came across while visiting Japan. He said fans often mention that Squishmallows act as a coping mechanism and help relieve stress and anxiety. In a poll of 140 UCF students, 55% of students said they have bought Squishmallows within the past year.
"We know stuffed animals and Squishmallows in particular provide comfort to people of all ages, and that includes college students, who have normalized owning and collecting Squishmallows and sharing their collections online," Kelly said. 
Jade Garneau-Fournier, a clinical staff member at UCF's Counseling and Psychological Services, said students being unable to go out with friends due to the pandemic has caused higher stress levels. Students who reduce their in-person interactions with friends may find comfort in retail shopping. 
"As long as it's done in moderation, I think [retail therapy] can be beneficial, especially if whatever you're purchasing is intentional, if it's something that you will actually be able to utilize to make yourself feel better," Garneau-Fournier said. 
In 2014, the Journal of Consumer Psychology researched the benefits of retail therapy and found that, in moderation, retail therapy can make people happier and eliminate sadness they may be feeling. The act of shopping, both online and in person, can provide people with a sense of control when it seems as though their lives are lacking control. 
For freshman engineering major Enjoli Rogers, Squishmallows have provided a source of stress relief amidst a busy schedule of STEM classes and a part-time job.
"I'm taking a lot of hard classes, and I also have a job, so I have a lot to stress out over, but hugging my Squishmallow makes me feel better," Rogers said. 
Rogers said that especially now, during exams, having Squishmallows in her workspace has made her more motivated to study and has given her a more positive outlook on getting her work done.
"I think having something bright and soft in your space while you're studying for a big exam makes studying better. It calms me and makes me feel more hopeful about how I'm going to do on my exams," Rogers said.