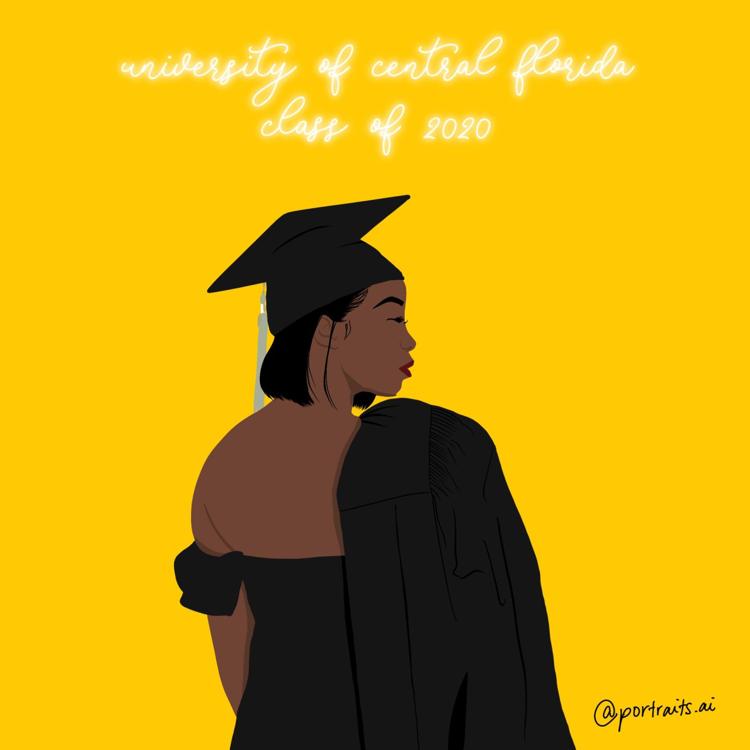 The Reflecting Pond, Spectrum Stadium and Memory Mall are seeing a lot less fallen confetti this graduation season. 
UCF closures brought about by the COVID-19 pandemic mean no graduation photos can be taken on campus, UCFPD spokeswoman Courtney Gilmartin said in an email. 
"While we understand that commencement is a momentous occasion for our students and their families, coming to campus to take graduation photos does not meet the threshold for essential travel," Gilmartin said.
This isn't a big deal to Shari Bell, however.
Bell, 48, said she has been working toward completing her elementary education degree for 10 years.
The mom of two said she was supposed to walk across the stage at Addition Financial Arena on May 2 to celebrate her decade of hard work. She has been working in education for 14 years, making it difficult for her to complete her degree during a 40-hour work week, she said. 
"I had to go back to school to make a better life for myself and my sons," Bell said. 
When presented with alternatives like ordering a generic cap and gown on Amazon or taking photos elsewhere, Bell said she had her mind made up: she wanted to wait for her UCF gown and cords. 
"I've waited this long so I can wait a little longer," Bell said. 
But just because photos can't be taken on campus doesn't mean that UCF graduates aren't finding other ways to commemorate this milestone. 
Senior integrated business major John Irwin is bringing back a blast from the past: his high school cap and gown. 
Luckily, Irwin said he was able to walk across the stage at UCF once before, as a graduate from Bishop Moore Catholic High School at the CFE Arena. 
Even though his school colors are still black and gold, he said there's a part of Irwin that wishes he would be able to shake the hand of College of Business Dean Paul Jarley at Addition Financial Arena on May 1. 
Irwin said he will don his high school cap and gown and take to his backyard where his dad will shoot photos of him to send out to friends and family. 
"I was actually joking around when I was buying the cap and gown through Herff Jones saying that I had that stuff already," he said. "I feel honestly great about making the most of the situation we are in."
Senior nursing major Bryana Blanco said she is still hoping campus will reopen sooner rather than later so she can take her graduation photos, but in the meantime, she'll be celebrating her graduation on Instagram Live. 
"I'm kind of hosting my own graduation through social media with a cap and gown I bought myself," Blanco said. "I'm looking to just connect with loved ones who have supported me and just bring up happy memories and still have this accomplishment celebrated." 
Blanco said she ordered a graduation cap on Amazon and borrowed a gown from a friend of hers for the special social media occasion. 
"I'm one of the first [in my family] to graduate from college and the first to enter the medical field, so I definitely want to celebrate my accomplishments," Blanco said. 
Instead of celebrating her accomplishments, UCF alumna Renee Kiffin is on the other side of the lens — or, more accurately, on the other side of the screen. 
Kiffin said she is offering graduation portrait illustrations instead of traditional on-campus graduation photography sessions. 
"I decided not to do in-person photography sessions since I don't have the appropriate equipment to practice social distancing," Kiffin said. "As a creative, I thought providing digital content would be the best way to help graduating seniors have something signifying their achievements."
Students who wish to have their cap and gown shipped to their home for photos or a personal celebration can visit UCF's coronavirus website and reach out to Herff Jones.