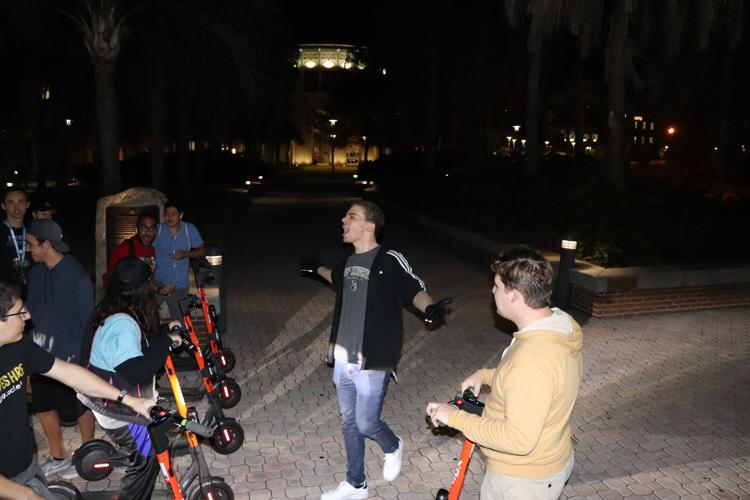 Over 50 UCF students traversed the UCF main campus while riding Spin e-scooters on Friday – filling the quiet evening with constant cheers, chants and bell-ringing.
The Spin Squad's ride began with members congregating at UCF's Memory Mall on Friday night. For some who participated, this marked their first time riding the scooters.
Riders chanted "one of us!" toward any person not riding a scooter, and several individuals gave rousing speeches to further expand the energy and anticipation of the ride.
Founder of UCF's Spin Squad, sophomore computer engineering major Derek Murdza, said the group primarily communicates and plans meetups on the messaging app, GroupMe.
This immense group chat has an ever-growing body of over 700 students and has underwent the process of developing apparel, such as t-shirts. They also elected a leadership body and use a democratic system of choosing ride dates.
Murzda said the Spin Squad initially formed through social media apps, such as Reddit and Instagram, but has since gained traction through their weekly rides and opportunities for Spin credit. 
Officials from Spin, including Ewuyn Poon, the president of the company, have joined the sprawling GroupMe chat, Murdza said. This allows the company a chance to communicate directly with perhaps its biggest group of supporters, Murdza said.
Never believing Spin Squad would grow this large so quickly, Murdza said he feels the group could expand even more and perhaps gain a lofty total of 2,000 members.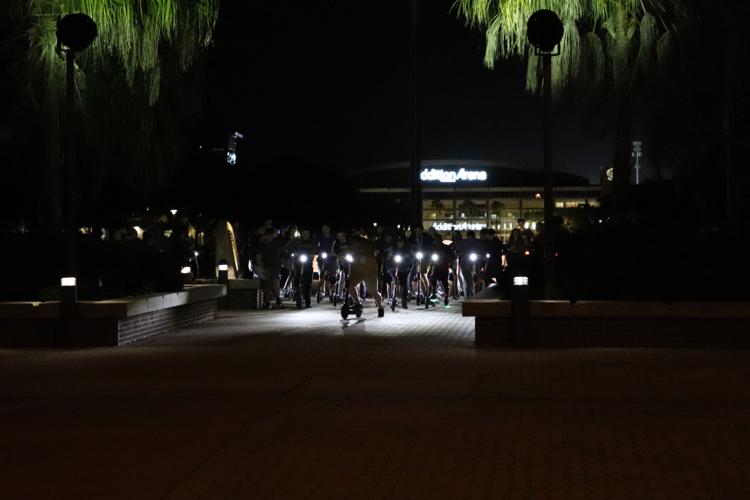 "It's a new thing," Murdza said. "Now a lot of people know about [the Spin Squad] and it's gone kind of viral," he said with a smile. Alexa Gonzalez, asenior majoring in communication sciences and disorders, said she was enthusiastic about the event and looks forward to more rides in the future.
"It was probably the most fun I've had on campus in a very long time," Gonzalez said.
Many passersby opted to rent a scooter for themselves and join the ever-growing caravan. Gonzalez said that one student carried a large speaker while riding his scooter to entertain his fellow riders with music. 
Despite the shared fervor of the ride, Spin Squad leaders, such as Murdza, made sure to preach safety and diligence before Friday's ride began.
Regardless of these cautionary measures, accidents did occur. Two participants fell off their scooters during the ride, but no one was seriously injured.
In an instructional video released on Jan. 13, UCF Police Department recommended that students wear a helmet and follow the rules of the road when operating a spin scooter. However, only a few members of the Spin Squad were sporting helmets on Friday.
Freshman public administration major Thomas Adkinson said he feels the Spin Squad added a new element to his growing social life. 
"Before today, I had never met these people," Adkinson said. "There's certain things that unite groups, and this seems to be one of them."  
Due to their immense popularity with the student body, Spin has added 200 additional scooters to the main campus since the initial deployment of 300, Murdza said. 
In a partnership with UCF's Student Government Association, Spin plans to add more electric scooters to main campus in the coming months, Murdza said after learning this information from Poon.