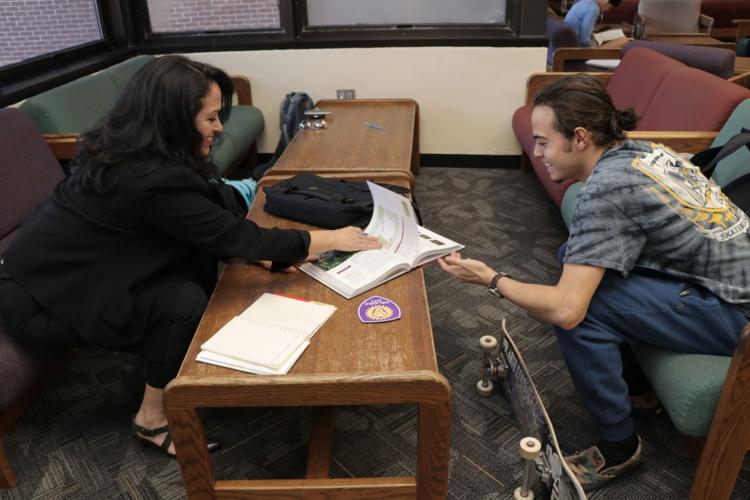 Gloria Palacio, a 56-year-old student and single mother, is finishing her bachelor's degree at UCF after raising a family and having a career with the United Nations.
A proud Colombian immigrant, Palacio attended college in the northeastern United States, but did not complete a degree. She spent seven years traveling with the UN, to places like Nicaragua, Honduras and North Korea with the goal of ending world hunger.
She also worked with The Food and Agriculture Organization to help vulnerable populations become more self sufficient. Once the project was completed, Palacio was ready for a change.
"I decided that I was done," Palacio said. "I needed to move on."
In 2005, she and her family moved to the United States from Rome. Within those 10 years, Palacio worked multiple jobs — at one point she was an assistant to the executive director of Telemundo in South Florida. However, in 2015, she was laid off and moved to Orlando for a fresh start. 
"Sometimes you have to take a step backward in order to move forward," Palacio said.
When a receptionist position in Millican Hall for the president's office became available at UCF, she immediately applied. 
"This is my chance. This is my opportunity, a foot in the door," Palacio said. "My ultimate goal is I want to finish my dream."
Her dream was to obtain a degree in TEFL to teach English as a foreign language. 
"Think about the beauty of language," Palacio said. "Because of language, we can communicate. I think I was born to be an English language teacher...I want to be that bridge that connects all those different worlds." 
The employment benefits offered to UCF employees influenced Palacio to make this transition. UCF offers its employees a tuition waiver for up to two classes per semester.
Peter Wallace, an academic advisor at UCF, offered her not only scholarly guidance, but life advice as well. When Palacio was discouraged by the age gap between her and her peers, Wallace ensured her she was not alone. 
"UCF has always had a mix of traditional and non-traditional students," Wallace said. "Even my father who graduated from FTU many decades ago came to this university as a nontraditional student by way of military service in the Navy."
In the midst of her return to school, Palacio got divorced from her husband.
"I separated from my husband...in the middle of all this," Palacio said. "Trying [to] go back to school, coming to Orlando, my marriage fell apart. So I've been really on my own."
But during these difficult times, Palacio received guidance from Wallace. He wrote a note for Palacio to remind her why she decided to go back to school.
"The goal hasn't changed, but the pathway may look a little different than initially expected," Wallace's note read.
The note meant so much to Palacio that she kept it in the top drawer of her desk in Millican Hall, to look at whenever she needs motivation. 
"Faculty play a vital role in guiding and supporting students," Wallace said. "Nontraditional students who have a spouse, kids, a full-time job, community or religious obligations may have to work harder at finding a balance with these obligations."
Her son Julian Monroy, a sophomore majoring in computer sciences at UCF, also plays a part in helping Palacio continue her studies. They often do their homework and study together.
Monroy said his knowledge of technology has proven to help his mother the most.
"My course of study is mostly mathematical," Monroy said. "I'm in IT, if she needs help with her computer in general while she's studying, I'm right across the room."
For as long as Monroy can remember, his mother has wanted to continue her education, he said.
"She's always wanted to go back to school," Monroy said "Thanks to those benefits, she's able to go back...in a way that as a family we can afford and work together to that common goal of graduating."
Both Monroy and Palacio said they enjoy being students on the same campus. When they cross paths they do their traditional high-five.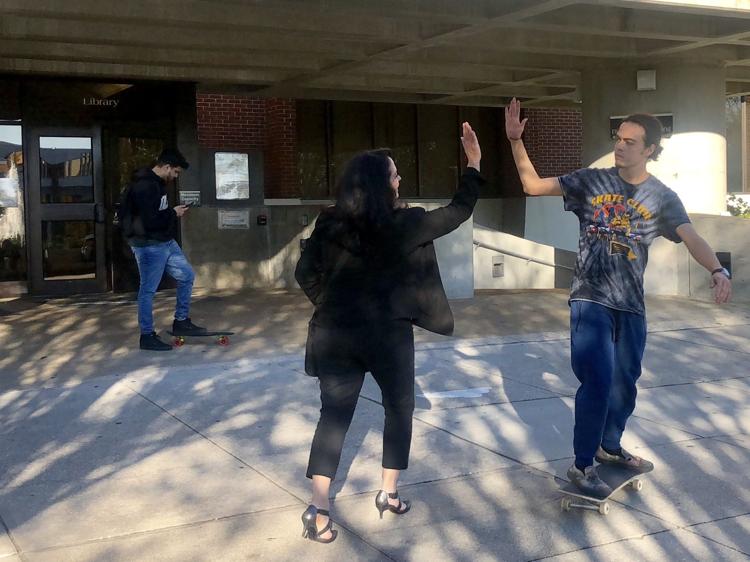 "It's so wonderful when I'm on my way to class, sometimes he whizzes by me on his skateboard," Palacio said.
Palacio is on track to complete her bachelor's degree in the spring 2020 semester. When she graduates, she plans to work with Global UCF to help international students acclimate to the U.S. by improving their English skills.
"It's special to me," Palacio said. "To connect, do mentorships and help newcomers into the city to acclimate, and just find a connection, [be] a helping hand."
Her son supports her passion to bridge the language gap between immigrants and citizens. 
"By [Palacio] being able to teach immigrants English, they're able to defend themselves," Monroy said. "They're able to live fulfilling lives in America."
Palacio has always put the needs of others ahead of her own. Her acts of servitude and selflessness are what Monroy said inspires him the most. 
"[Palacio's] gone through a lot. I've seen it all," Monroy said. "[But she] keeps pushing on...as bleak as times may seem, brighter days do come."
With one semester left to go, Palacio said it's very rewarding to know her hard work is paying off. 
"My whole life has been a transition," Palacio said. "Everything I am doing now is for me, and it feels very good."