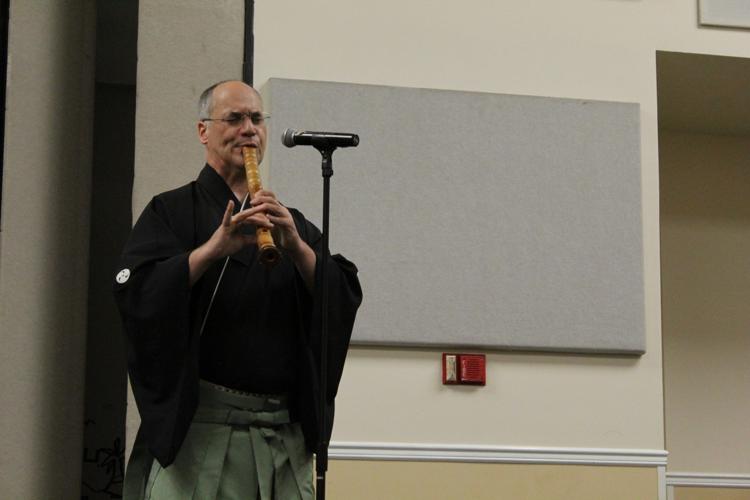 International Education Week kicked off Nov. 18 with a Japanese shakuhachi performance by Swiss performer Marco Lienhard at UCF's Student Union.
International Education Week at UCF is a series of concerts, performances, panels and other events meant to bring pieces of culture from around the world to provide an educational experience for UCF students. These events are hosted by UCF Global.
The shakuhachi performance showcased a piece of Japanese culture. The shakuhachi is an end-blown flute carved out of bamboo root, and it was derived from Chinese culture during sixth century B.C.
Leinhard said that this flute used to be played first by the Buddhist monks. They merged the instrument with their meditation methods because they believed that achieving a perfect sound on the flute would bring them closer to divinity. 
"Playing one note to become Buddha," Lienhard said.
Lienhard was dressed in traditional Japanese clothing, complete with socks and slip-on sandals. On a table to his left were several flutes made out of bamboo roots; some were lacquered while others were left in their natural colors. The vertical flutes are known as shakuhachi while the side blown flutes are known as shinobue. These were the stars of the show.
Lienhard said he discovered the shakuhachi during his time living in Japan and fell in love with it. And while learning how to play the bamboo flute was a difficult thing to achieve, his passion motivated him.
"You have to have a passion for something and it's just this thing that drives you," Lienhard said. "Just become this nerd."
Lienhard said that while he does not practice meditation, playing the shakuhachi is a relaxing experience for him.
Not only is it a relaxing activity for Lienhard, he has associated the flute's sound to certain memories of his time in Japan. He said he has flashbacks to his time in Nagasaki, Japan, that are triggered by the sound of his breath travelling down the body of the shakuhachi.
"Things I experience through the music, even without too much explanation, I get visuals," Lienhard said. "I sort of have these flashbacks."
This enigmatic instrument, with enough effort from its performer, can be used to play folk songs, lullabies, and even modern pieces. It can appear in Noh theater — an ancient Japanese style of theater involving music and dance — to the music pouring from speakers at a metaphysical store, to the accompaniment of Buddhists chanting in remote monasteries.
Lienhard brought some shakuhachi flutes made out of PVC pipes for UCF students to try out and taught them how to purse their lips against the flute's end to create sounds. With practice and perseverance, the perfect note to reach Buddha can be achieved.
"Don't give up too easily," Lienhard said. "It's a very difficult instrument but once you discover and you go deeper, it brings you a lot."