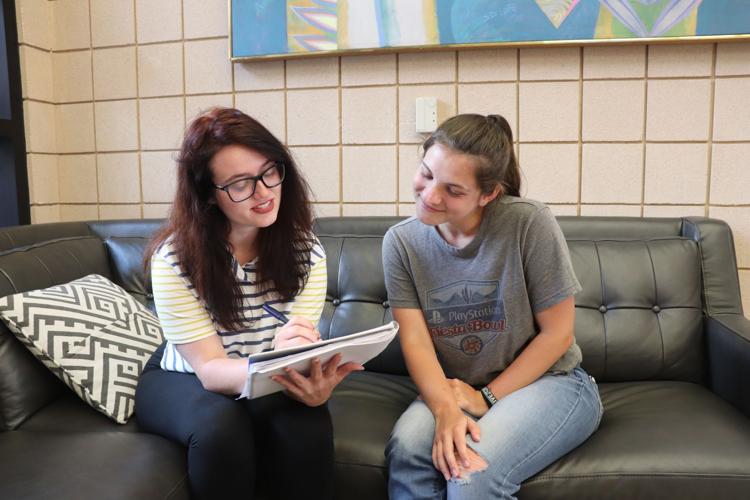 UCF student Marley Denierio's jet black hair, tattoos and signature dark lipstick typically stands out against her crisp white lab coat. On most days, she can be found in a lab examining and breaking down human bones to understand their habits and lifetimes.
"The way I like to describe myself with my research is that I'm basically Indiana Jones, but a lot more realistic," Denierio, 22, said.
Denierio is a published bioarchaeologist, theme park enthusiast and senior in the Burnett Honors College, double majoring in biomedical sciences and anthropology. She is also working on a minor in biology, as well as certificates for human biology and anthropology in global health.
Given the extent of her degrees, Denierio said she takes about 17 to 19 credit hours per semester.
"I took [an] … intro [to anthropology] class the fall of my freshman year and thought it was really cool," Denierio said. "I then went ahead and took another one that Dr. [J. Marla] Toyne taught in the spring and thought, 'Oh no. I really like this.'"
In summer 2018, Denierio said she went to the highlands of Kuelap, Peru, for two and a half weeks to examine juvenile human bones. She used her findings to better understand the archaeological process that proved her published thesis, in which she reconstructed dietary patterns of ancient Peruvian societies to determine what adolescents ate in different time periods.
She said she broke down rib bones through organic isotopic components, which gives a range of what the juvenile possibly ate during their lifetime.
Denierio said it takes a full day's worth of planning to dig up, preserve and ensure the information and time period of a small artifact is written in the right context to further draw conclusions upon daily life and culture.
"It's not like what you see in the movies where you just take [artifacts] out of the ground," she said.
While in Peru, Denierio also explored the history and culture of the country. She and her adviser, Toyne, associate professor in the Department of Anthropology, flew into Lima, Peru and took a 16-hour bus ride to Kuelap, where they stayed in a local museum due to the area's limited amenities.
During her exploration, Denierio said she kept in contact with her mother, Caryl Lucarelli.
Lucarelli said her daughter is proud she could contribute to the field, since there is limited existing knowledge about juvenile Peruvians.
"I think [Denierio] probably learned a lot about herself and how resourceful she can be," Lucarelli said.
Because of such exemplary accomplishments, Denierio is one of 22 students who received UCF's prestigious Order of Pegasus award this semester. The award recognizes students in areas of academic achievement, university involvement, leadership and community service, according to the Student Development and Enrollment Services website.
"It's so nice to look back at yourself and [say], 'I did it,'" Denierio said. "It's a sense of accomplishment. I feel like that's so important and not celebrated enough, to look at yourself and say, 'I am amazing.'"
When Denierio isn't researching ancient societies and being recognized for her accomplishments, she spends her free time at Universal Studios, where she is an annual passholder.
Denierio said she loves theme parks because they give her an opportunity to de-stress and temporarily forget about the outside world.
"You can be stressed out about so many things and you could have so much going on in your life, but when you're on [a rollercoaster], you're focused on that adrenaline rush you get," she said.
On top of her research and frequent trips to Universal, Denierio works as a peer adviser at the Burnett Honors College, where she has been guiding students to success since 2017.
"[Denierio] is exceptional among an already excellent population of students at UCF," said Laura Czerkies, academic adviser at the Burnett Honors College. "Her commitment to her education and her career goals is what makes her stand out to me."
Czerkies, Denierio's boss, said the students who Denierio advises are in good hands given Denierio's experience as a double major and her involvement in research and extracurricular activities.
Denierio has also committed herself to promoting an increased female presence in bioarchaeology and similar STEM fields. STEM fields include science, technology, engineering and mathematics.
According to the National Center for Science and Engineering Statistics, the number of female undergraduates with a degree in social sciences has increased gradually over time, from 51.8% in 1997 to 54.8% in 2016.
Despite this increase, Denierio said she feels the presence of women in the social sciences is still lacking. While female scientists are frequently seen on TV shows like "The X-Files" and "NCIS," people don't hear about real-life ones as often, she said.
"I would love to see an integration of more amazing women in STEM," Denierio said. "There needs to be more of a focus, and it's starting to happen. We're starting to see more and more representation, but I wish we would see more in reality."
For a long time, Denierio said she modeled herself after the character Dana Scully — the main female protagonist of "The X-Files." Her role models finally became real when she started conducting research with UCF's anthropology department, which she said is made up of "a stellar female team."
"If I didn't have [the team] to look up to, I probably wouldn't be where I am today," Denierio said. "They're the main reason I'm doing what I'm doing."
Denierio, who is often described as an "adventurous spirit" by her mother, continues to advocate for more female involvement in STEM fields. She particularly does so through her work at the Burnett Honors College. 
She shared that her undying curiosity motivates her to be a trailblazer in her career.
"I have something I like to call a 'save the world complex' that has me wanting to do everything," Denierio said. "Frankly, I just want to help out as much as possible, and I don't want to miss out on anything life has to offer."