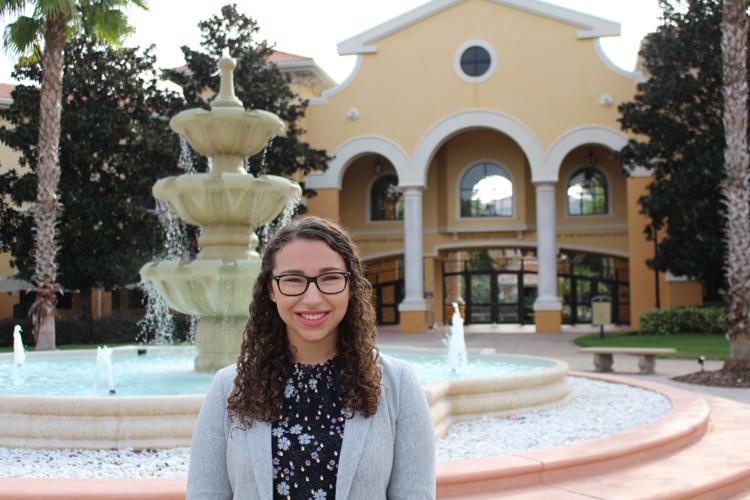 Deciding which college to attend is one of the most important choices that some young people make as they take their first steps toward pursuing their career goal.
Sophomore hospitality management major Elizabeth Rutkovsky said when she first visited UCF during her junior year of high school, she knew that she was in the right place.
"It was such a wonderful environment," Rutkovsky said. "I just got the overall impression that everyone was very much supporting each other and really just wanted to help each other toward success in their college career and beyond."
Rutkovsky said that experience encouraged her to move from her home in New York to Florida for school, where she would attend the Rosen College of Hospitality Management. She said the hospitality program drew her in because it was so popular.
In fact, the Rosen College at UCF was ranked #4 among all hospitality schools worldwide in 2020, according to CEOWorld Magazine.
"Orlando is such an incredible place to be," Rutkovsky said. "There's so much there in the hospitality industry and so many opportunities. The program is overall so incredible."
Since enrolling at the Rosen College, Rutkovsky said she has more than taken advantage of those opportunities as she is involved in a multitude of leadership positions.
These include being the Dean's Ambassador of the Rosen College Leadership Council, a peer mentor for the LEAD Scholars Academy, the student proposal coordinator for the Knights of Distinction mentorship program and a member of the President's Leadership Council.
"I love keeping busy in general but I really love just finding things that I love to do and finding ways to make an impact and be successful," Rutkovsky said. "That's really why I want to give back to the UCF community because it's given me so much."
Rutkovsky said she will now be able to add another leadership position to her resume as she assumes her latest leadership role as president of the Human Resources Development Association.
Ryan Lim, a senior hospitality management major and HRDA's treasurer, said that since first meeting Rutkovsky through this organization, she has never ceased to amaze him.
"Liz is an incredibly inspiring and passionate student," Lim said. "She is able to handle so many responsibilities and leadership roles with such ease and grace. It really inspires and motivates me to constantly improve."
Lisa Do, a senior hospitality management major and HRDA's vice-president, said that she agrees that Rutkovsky is a natural-born leader.
"She has the ability to command everyone's attention in a room and presents herself in the most professional manner," Do said. "She is hard working, intelligent and a team player."
HRDA was created by a team of Rosen College faculty and students, including Rutkovsky, for the purpose of fostering an interest within Human Resources and advancing professional development by acting as a liaison between future hospitality leaders and the Human Resources industry, according to Rutkovsky.
"It's incredible to see the amount of interest that we've received, not only from our students, but from professionals that really want to help out with this organization because the Rosen College doesn't have anything like it," she said.
Rutkovsky said that she believes it is important make students aware of the importance of the Human Resources Department because of the crucial role they have in hiring employees.
"Not only is it an option for a career but it's an option for you to grow professionally," Rutkovsky said. "Everyone can take something from HR, no matter who you are or what industry you're going into. So, it's so important to not only understand Human Resources as a department but to understand what they are looking for."
Rutkovsky also said that, similar to how the hospitality industry focuses on keeping the customer satisfied, human resources is important because of its role in keeping the employees who service those customers satisfied.
"What a lot of people don't realize is for a company, your employees on the front lines are who are feeding those experiences," Rutkovsky said. "But also, in order for them to do that they need to be comfortable, safe, happy and thriving in their own place."
As HRDA's new president, Rutkovsky said that she has two main goals.
She said the first is to create opportunities for the members to help them learn how to grow and network within the hospitality industry. For her second goal, Rutkovsky said she hopes to expand HRDA's reach as a registered student organization to make sure students who are interested in human resources know that they have this option available to them.
Rutkovsky also said that she would like to maintain her relationships at UCF and the Rosen College so she can give back and help other aspiring hospitality professionals become successful.
"I really would love to find my place," Rutkovsky said. "I want to be able to impact people in a positive way and to create positive experiences, if not lasting memories, for people for years to come."