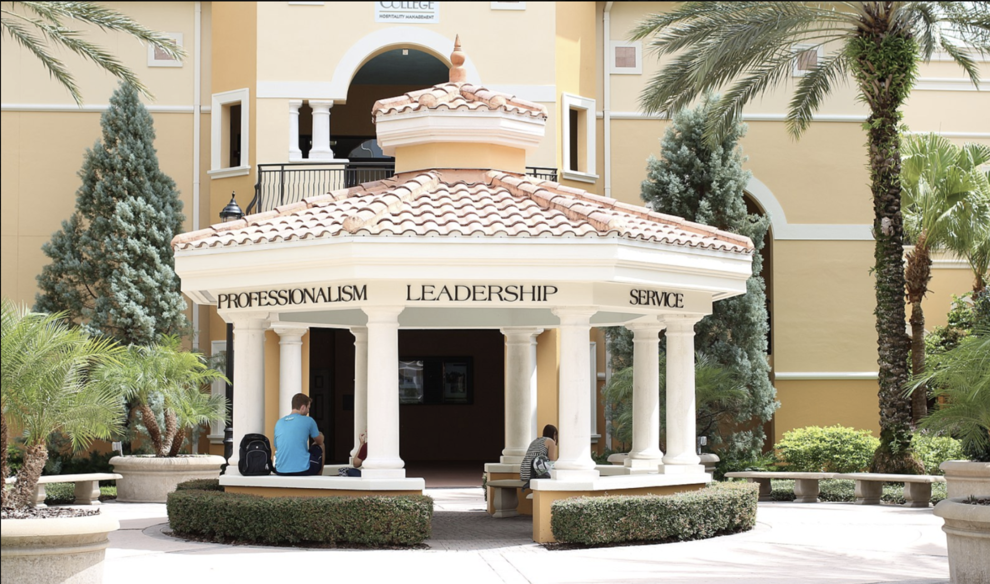 A new UCF student government administration seeks to address Rosen College students' grievances, but those concerns are not new to the executive branch nor the college itself.
Margaret "Meg" Hall, student body president-elect, and Austin Wilson, student body vice-president-elect, laid out several proposals for Rosen, hoping to expand food options, reopen a closed gym facility, and improve transportation.
Hall and Wilson said that after campaigning at Rosen, the lack of food options was the biggest concern among students, an issue they hope to solve.
"When there's on-campus housing on a location, there needs to be food options," Hall said. "It's something that's a given and it's frustrating that it hasn't happened yet."
Hall said they would like to bring more food trucks while they come up with a permanent food supply. 
"The most ideal situation would be if it was a food venue run by Rosen students who are in the culinary classes, because then you have the best of both worlds where you have students getting real-world experiences but also an option for students who live there," she said. 
However, the dean of Rosen College, Youcheng Wang, said the college has offered alternatives to students over the years to compensate for the lack of food establishments on campus.
Wang said food services would have to be provided by third parties that don't see their presence at Rosen profitable given the population of students.
"Every company we have tried, big and small, the conclusion is the same, they can't survive or make money here," he said.
According to Rosen's website, there are around 3,000 students enrolled at Rosen during the fall and spring semesters, with around 400 of them living on campus; however, the number still appears to be unappealing to businesses.
"The key challenge is really the demand for traffic," Wang said. "If you don't have enough traffic then nobody is willing to run a business here."
The dean said that in 2019, the college brought Chick-fil-A twice a week to campus, brought food trucks once a week, and had the bookstore provide a "grab-and-go" service that gave students cold treats and drinks, but all of those had to be stopped when the COVID-19 pandemic altered operations on campus.
Rosen's bookstore closed on Feb. 12 of this year due to low demand, ending the opportunity students had of enjoying a "grab-and-go" service.
Although the college brought back food trucks such as Kona Ice, a Hawaiian ice cream truck this semester, Chick-fil-A hasn't come back.
Sara Santiago, freshman entertainment management major, said residing at Rosen without food alternatives can be isolating.
"I had all these expectations and it sucks because everything that happens is on the main campus, so dining halls aren't here, food trucks aren't here," she said. "Luckily we have kitchens, but it would just be nice to have the options."
Santiago said she would enjoy having a place where students could interact and share a meal, even if socially-distanced. 
Kim Genazzio, a senior hospitality management major, said the lack of food options did not give her the college experience she expected.
"I moved here from out of state and didn't know anyone, and I thought the college experience would be one where I would meet people in a dining hall or a place to hang out and there's not [one here]," Genazzio said.
Wang said the school has food labs and a student dining area that students can use. Although access to the labs are being limited due to the COVID-19 pandemic, students are using the dining area for multiple purposes such as having food, doing homework, and meeting with classmates. 
The concern over missing a sense of community because of the lack of food services on campus has been brought to the attention of Rosen's student body representatives.
Rosen's Sen. Lucas Gorlin-Tarbell said he has heard students' concerns over time, but said it was hard to come up with viable solutions.
The junior hospitability management major said there were conversations about partnering with Aramark, a corporation that supplies food to a variety of institutions, including UCF's main campus, but said it wasn't financially beneficial for the company.
"The issue of with having Aramark down here is that it doesn't suit Rosen's population," he said. "We don't need six different restaurants for 3,000 students."
The senator said he worked with the current administration, Sabrina La Rosa, student body president, and Stephanie Blanco, student body vice president, but he said it all comes down to resources and the demand for those.
La Rosa and Blanco also advocated for the expansion of food services last year, and they both said there's still a long way to go.
Blanco, political science major, said advocating for more options wasn't only a matter of food service, but one of students' safety.
"We saw that there's a plaza next to the campus and there's a lot of food options there but it's not really on a safe street," Blanco said. "We first saw a lot of jaywalking, and that's why we wanted to advocate for more food options on campus instead of having students walking and potentially harming themselves."
La Rosa, a junior political science major, said student government has made progress by encouraging a conversation, but it could take years to reach a solution.
"For big initiatives like food and transportation, a lot of times we set the ground and we set the foundation but it's usually a one and half to two years implementation," she said.
As concerns about food options continue, Hall and Wilson also need to address their proposals to offer free transportation to theme parks for Rosen college students.
Gorlin-Tarbell, who worked on increasing the frequency of shuttles from Rosen to the main campus, said it's a good initiative but not one as pressing, given Rosen's close proximity to Universal Studios and Disney parks.
"I really see this benefiting more main campus students who aren't interested in paying tolls and gas, where they could take the main campus shuttle, then connect at Rosen to take a theme park shuttle," he said.
However, Tommy Baldrich, a junior hospitality management major, said the transportation proposal brought by Hall and Wilson is one of the things he looks forward to the most.
"I'm sure if they had a Disney shuttle, it would be heavily used not only by people going for fun but also for people who work there," he said.
Baldrich, who voted for Hall and Wilson, is also looking forward to including more seating areas, another of Hall and Wilson's proposals, especially at the bus stop inside the campus.
"I was walking to a meeting and there were two girls sitting on the floor, on the cement sidewalk, eating dinner because there's nowhere else to sit," he said.
Rosen students add a closed RWC to their list of grievances, a small facility on campus that has been closed for more than two years.
The dean of the college said the gym closed two years ago because the equipment was deemed unsafe for students to use.
"It's not a management problem, it's an equipment problem, because the equipment is more than 15 years old," Wang said.
The dean said the college is not in a position to invest in the facility and someone would need to provide new equipment, which is why the college made arrangements with the YMCA Aquatic Center so Rosen students to have free access to the facilities.
The YMCA has been used by students in the past, but the center was closed due to COVID-19, followed by renovations. The facilities will reopen on April 20.
Hall and Wilson said they will meet with the dean of Rosen College in the upcoming weeks to address rumors over mold in the RWC and look for solutions.
Wilson said whether it's funding, volunteers, or equipment, the new administration will look at ways of providing it. 
"If that YMCA is better, then we look into how we can utilize that partnership better than it is currently," he said.