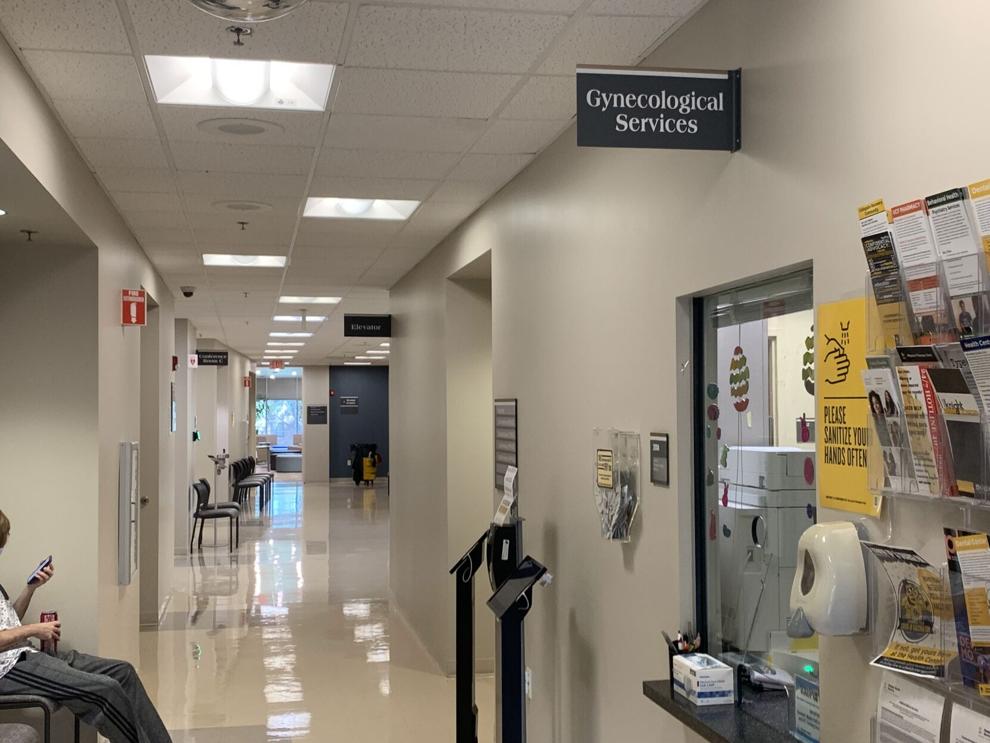 Hannah Klinowski bounced her left leg and fidgeted with her fingers as she told her story of dealing with endometriosis. She talked about her symptoms: abdominal pain, excessive bleeding and back cramps.

"I would go from doctor to doctor knowing something was wrong, but they all ignored me and said it was normal," Klinowski said. 
The sophomore criminal justice major said she felt unheard and like no one cared about the pain she was going through. She said she did extensive research on her symptoms, but nothing of use came up in her search.
"I finally went to a gynecologist at a specialty center, and he told me what it was just by me telling him my symptoms," Klinowski said.
Klinowski said the doctor advised her it might be endometriosis, a condition where the endometrial tissue grows outside of the uterus, according to Johns Hopkins Medicine. She said the doctor told her to get surgery, which is the only way to ensure you have the disease according to Frontiers in Global Women's Health.
The month of March has been Endometriosis Awareness Month since 1993, and they are just recently researching the disease that affects 190 million women every day, according to the World Health Organization website. 
Jhumka Gupta, an associate professor in Public Health at George Mason University, said in her research paper that awareness of the disease is rising. 
However, Dr. Georgine Lamvu, Obstetrics and Gynecology professor, said that research and education concerning this disease are still low.
According to research by Mayo Clinic, little research on the disease has shown that the endometrial tissue does what it is supposed to do every menstruation cycle. The research also said it thickens, breaks down and bleeds in places where it isn't supposed to, which is outside of the uterus. 
"I really wish I didn't have to have surgery to know what was wrong," Klinowski said. "It just really sucks knowing something is wrong with my body, and there isn't a lot to do about it." 
Klinowski is not alone in her battle. Other college-aged females like Lorena Marsel, junior undeclared major, said she was trying to put a name to her pain but did not find much luck.
"I don't think it's talked about enough with doctors," Marsel said. "I figured out I had it about a year ago without even knowing I had it. I was never educated on it. I thought it was just regular pain." 
Unfortunately, this disease is mostly diagnosed in women in their 30s and 40s resulting from their difficulties conceiving a child, according to the American College of Obstetricians and Gynecologists.
A research paper by Gupta in 2022 said barely any research has been conducted about this disorder in college females, even though 10% of women have experienced it in their child-bearing years.  
The paper concluded that 58.8% of the participants that were deemed eligible suffered academic disruptions, such as missing class and overall distractions while being affected by endometriosis. 
Lamvu said she believes the reason for the rise in awareness and reports is because women are sharing their symptoms and experiences with other women who have similar symptoms. 
"Just because your friend has endometriosis doesn't mean that you will have the same journey," Lamvu said. 
Lamvu said women need to be educated alongside doctors so they can "know what normal menstruation is." She said that society has labeled excess menstrual pain as normal, which is not true. 
"A few of my friends have gone through it, and I'm hoping I don't have to," Mia Capaldi, senior engineering major, said. "I've seen them in a lot of pain." 
"We are trying to phenotype the different types of endometriosis so we can figure out how to better diagnose and treat," Lamvu said. "All women have different pain at different levels, so we are trying to identify those to prove both identification and treatment." 
Lamvu's said her recent research on endometriosis proves that the disease heavily affects women's lives.
Lamvu said that the research being done is disheartening because no cure or aid is coming from it. In light of these results, people don't think there is any research being conducted, and Lamvu said she thinks that patients don't see any research being done because there is no cure to show for it.
"The biggest problem that we have is physician education," Lamvu said. "A lot of clinicians don't feel comfortable diagnosing endometriosis because the way to diagnose it with certainty is with surgery." 
"You would be hard-pressed to find something more understudied," Lamvu said. "It has not been until lately that the NIH has made a big push to allocate more money to endometriosis research."
However, an experiment by NIH in 2022 shows that magnetic hypothermia, a procedure that uses heat to remove disease-causing tissues, can be used as a non-surgical approach to treating this disease. 
The research paper also said the procedure is still being researched on mice to make sure it is safe to use on women.
"There is research being done," Lamvu said. "It is just a lot of people researching different aspects of it, not one thing." 
Although the research community is trying to get some answers for all the women suffering, education and other resources are still wanted for those affected.
"Everyone needs to be more aware of this," Klinowski said. "It is impacting so many women, and they don't even know what is happening to them."