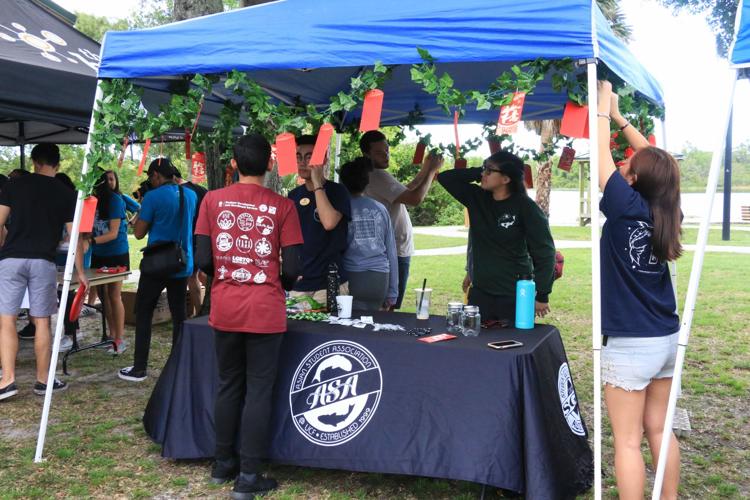 Junior psychology major Samantha Mason Ou's South Korean friend said that he was verbally harassed for being Asian, which led to a physical attack.
The friend, who will remain anonymous, was attacked near his school campus, Coker University, with a sharp object, cutting him right above his eye, Mason Ou said.
Mason Ou said that her friend, who lives in South Carolina, walked by a group of college students a few weeks ago and they started saying "racist, coronavirus-related things."
When her friend told them to get lost, one of them took out the sharp object, Mason Ou said. She said that her friend could not identify the object because the attack was so quick.
This is just one of many incidents of discrimination since the start of the ongoing COVID-19 pandemic.
Stop Asian American Pacific Islander Hate is a reporting center for discrimination against Asians across the country, according to a press release from the Asian Pacific Policy and Planning Council and the Chinese for Affirmative Action.
Stop AAPI Hate received 1,135 reports just two weeks after its launch on March 19, according to a press release statement on April 3 by A3PCON and Chinese for Affirmative Action. These are two of three founders of Stop AAPI Hate, the release stated.
"It's disheartening to see such a high number of incidents, especially when we consider that much of the nation is sheltered-in-place," Executive Director of A3PCON Manjusha Kulkarni said in the press release. 
Stop AAPI Hate received twice the amount of incident reports for women than they did for men, according to the most recent weekly report for March 26 through April 1. The report shows that almost 70% of reported cases were verbal harassment, about 25% were shunning and almost 10% were physical assault. 
"I also think from talking to our friends about it that men are less likely to report non-life threatening physical violence," Mason Ou said. "If my friend was a girl, I wonder if this would have even happened."
Mason Ou said that her friend's cut was not severe and that her friend did not report the incident. She said that the attackers ran away and that, without a camera, there would have been no way to identify them.
Mason Ou said that her friend is back in South Korea after his campus closed due to the coronavirus pandemic. She thinks the reason people don't report cases of discrimination is because they have other problems on their mind, she said.
"We acknowledge hate as an individual thing, but reporting that one person for their public display of hatred could save others from being subject to it as well," Mason Ou said. "I don't really feel people think about that when it comes to race-related crimes."
Mason Ou said that it was shocking to hear about her friend's incident and that it "hits close to home" because the perpetrators were near her age.
Adrian Lee, secretary of UCF's Asian Student Association, said she noticed the increase in discrimination against Asians after the COVID-19 outbreak in Wuhan, China, became global news.
China reported cases of pneumonia with an unknown cause in Wuhan to the World Health Organization China Country Office on Dec. 31, 2019, according to the WHO's first disease outbreak news. Chinese authorities identified the new type of coronavirus as COVID-19 and isolated it on Jan. 7, according to an update from the WHO.
Lee said she was surprised by the xenophobia that rose along with the coronavirus.
Lee, a sophomore international and global studies major, said that xenophobia has its roots in American history. She said that the Chinese Exclusion Act of 1882 and the Immigration Act of 1917 are examples of this and are aimed to exclude Asians in the United States.
The Chinese Exclusion Act of 1882 denied the entry of Chinese immigrants and excluded Chinese nationals from eligibility for United States citizenship, according to the African American Policy Forum. The AAPF says that this was the first law to exclude an entire ethnic group.
The Immigration Act of 1917 limited the number of immigrants allowed into the United States, according to Immigration History. This law created the "barred zone," defined as extending from the Middle East to Southeast Asia, and people from the "barred zone" were not allowed entry into the United States, according to Immigration History.
Lee said that although she is fortunate enough not to have faced discrimination being Korean-American, she feels more defensive when she goes out to buy groceries. She said that she "mentally prepares herself for any sort of remark of gesture," but she has faith that Orlando will be supportive as a diverse community. Ignorance is a strong drive to discrimination, Lee said.
Lee said that people don't report discrimination cases if they don't see valuable action being taken for the reports and that these cases only inspire her to fight against the issue. She said that she can get angry and disheartened seeing these cases, but she uses this information to advocate for her community.
"I've heard of cases about physical assault, but online trolls have been milking the situation to make terrible jokes about Asians or Asian Americans," Lee said. "It's disheartening but I feel even more invigorated to combat these issues and expose their ugliness."
Lee said that she is thankful to see younger generations combat discrimination. Older generations kept silent and believed that hardships are a means to success, Lee said.
Lee said that she hopes support for the Asian American and Asian-pacific American community grows and that they also want to help slow the spread of the virus.
"I hope to see more support from the greater student body and administration on campus to stand alongside the APIDA community as we go through these difficult times," Lee said. "I hope people continue to support their local Asian businesses, as many of them are struggling to stay afloat during this time as well."