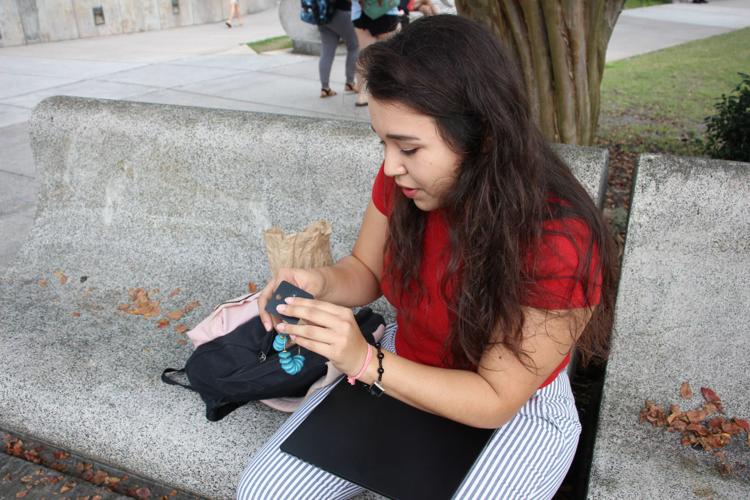 For five years, Melinda Nevarez held on to her mother's old outfit, never once thinking it would spark a business.
She slipped into the long-sheered over-throw dress with pink and green flowers, that her mother had worn on her first date with her dad back in 1992. It wasn't until October, however, that she looked at her hand-me-down and began envisioning Retrofit Thrift, an online clothing store that gives back to the community.
"It's really about reaching a broader audience of people. One man's trash is another man's treasure," Nevarez said. "It's kind of like a treasure hunt."
Growing up, the senior and health service administration major was constantly given hand-me-downs, and later in her teen years became obsessed with thrifting and teaching those around her about the art of it, she said.
Retrofit Thrift's mission is to give back to the community, with 10% of the proceeds they make being given to a different charity every month.
In November, their proceeds will go to the Second Harvest Food Bank of Central Florida. The food bank seeks to nourish lives through powerful hunger relief networks, according to their website.
The online store accepts clothing donations from individuals around Florida and sells them on the website, similar to apps like Poshmark. Currently, Retrofit accepts everything but children's clothing.
The business, however, proved much more difficult to make than she had expected. Nevarez said she struggled with finding a platform and making her own website due to her lack of knowledge in coding.
Originally, she had the store on a "not very user-friendly site builder," and she wasn't sure how to put in the layout and purchasing features she had envisioned. Once Nevarez switched platforms to Shopify, the website was done in two days, she said.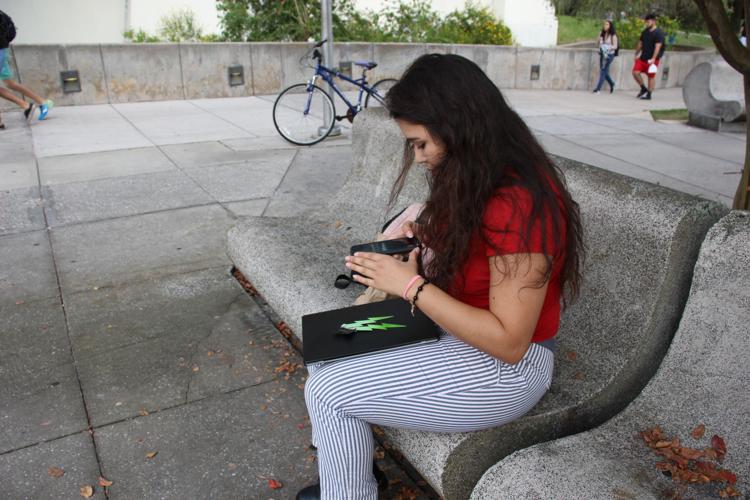 Today, her inventory is growing and her website is constantly being updated. Because of this, Nevarez's need for models and volunteers has increased.
All of the models on her website are close friends, family members and her boyfriend Khyrel Kemper.
"At first, she mentioned it to me out of the blue," said Kemper, a junior business administration major. "It's a cool experience. It's fun, she's a great photographer, so when you see yourself in pictures it's gratifying. In some way you're contributing to it. However I can help is awesome."
Kemper attributed his newfound love for thrifting to Nevarez, saying at first he would walk into a thrift store and think there was nothing there. Over time Nevarez showed him the right way to finding a needle in a haystack, Kemper said.
"There's a stereotype around thrifting or getting hand-me-downs like 'that's for poor people or that's for people who are too lazy to shop,'" Nevarez said. "When in reality clothes are clothes."
Nevarez's entrepreneural interest goes back generations. Both her father and grandfather were entrepreneurs and knew how to start their own business. Nevarez said she considers her father to be her biggest supporter and her financial business partner.
"I've always encouraged college, but I always told her that you don't have to go to college to be wealthy. There are people that made it without going to college," Melinda's father Antonio Nevarez said. "For her to support herself and give back to the community, I think that will make her happy. At the end of the day I want her to be happy and financially independent."
The website is set to open on Nov. 13, and seeks to affordably sell clothes to individuals of all shapes and sizes. Nevarez hopes that as her brand increases she'll be able to pay her volunteers for their work. For now, Retrofit Thrift's mission is to promote conscious buying.