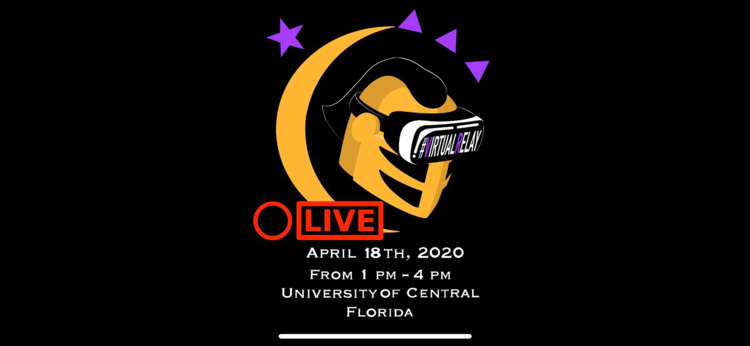 Uknighted for a Cure took to Facebook live to host its first Relay for Life of UCF virtual relay on Saturday.
Uknighted for a Cure hosts events throughout the year to raise money for the American Cancer Society, a nationwide, community-based organization that fights to eliminate cancer as a major health problem, according to its website.
Their biggest event, Relay for Life of UCF, is an event that takes place on campus every spring to honor the lives of those who died from cancer and support those who are still battling cancer, according to their Facebook. But due to COVID-19, this year's relay took place remotely.
Haley Hardin, student director of Uknighted for a Cure and biotechnology graduate student, said that it's important, especially during a time like this, to continue to support the community.
"We're all separated, which is kind of the exact opposite of what relay is," Hardin said. "We always try to bring people together and of course we can't do that so we said we need to bring people together virtually."
The relay starts off with a ceremony that includes an opening lap. According to their Facebook, the lap is usually taken together around memory mall but, instead, participants were encouraged to take a lap around their home or neighborhood. After that, they tuned back in for the three-hour event that included activities such as bingo, music performances and a costume contest.
"We wanted to make sure that we gave everyone a fun, exciting event. Something that they could fit into their quarantine routine no matter where they were," Hardin said.
Hardin said one staple activity that occurs during the relay is the survivor dinner. Normally, cancer survivors and supporters come together to celebrate over a meal donated by local restaurants, according to Relay for Life of UCF's Facebook. But this time, Chris Alegria, Survivor Chair of Uknighted for a Cure, showed virtual relay participants how to make chicken fried rice at home.
Alegria is a junior health sciences major who said he was diagnosed with grade four brain cancer in 2016. He said that after undergoing multiple sessions of treatment and finally beating cancer, his dad was diagnosed with stage four lung cancer.
Alegria said that after his dad underwent treatment for the cancer, his mother was diagnosed with stage three thyroid cancer. 
He said one thing that stuck with him through his battle with cancer was when he received a survivor medal at his first Relay for Life in 2017 while still undergoing treatment. He said when he told them that he's not a survivor yet, they said he's a survivor because he's fighting every day.
"Hearing that message, it changed my mindset almost immediately because I was like, 'that is so true.' I'm surviving each day by fighting and because of that I will always be a survivor," Alegria said.
Hardin said another Relay for Life tradition is the luminaria ceremony. During this ceremony, candle lights shine through decorated paper bags that represent those who have been affected by cancer, according to Relay for Life of UCF's Facebook.
Luminaria Chair Karah Perlman said there would typically be hundreds of luminaria bags lining memory mall, but this year she created her own luminaria display for the ceremony at home. She said the luminaria represents a vision for a cancer-free future. 
"With these bags we are able to honor them, to remember them and to celebrate them," Perlman said. "Each bag has a story to tell."
Perlman was joined by her mother who is a cancer survivor. The ceremony included a slideshow with pictures honoring those who have been affected by cancer. The organization will be hosting a separate luminaria ceremony at UCF in the fall, according to Relay For Life of UCF's Facebook.
The event ended with a message from Kendall Brown, UCF Relay for Life's American Cancer Society staff partner. He thanked everyone for attending the virtual relay and staying dedicated to the cause.
"Even at a distance, every dollar makes a difference."