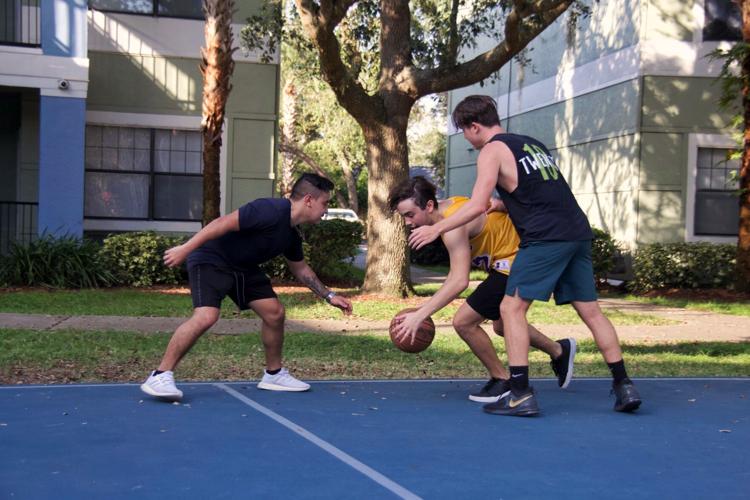 The basketball hit off the rim, and it became a fight for the rebound. As the players wrestled for the ball, one of them shouted in English and another in Spanish.
Three strangers from different parts of the world met at The Verge community basketball court and formed a brotherhood. Jose Cabrera, a junior film major from Venezuela; Dario Schenquerman, a junior finance major from Puerto Rico; and Jeffrey Sabath, a junior accounting major from South Florida, became close friends through the common language of playground basketball.
"I could've never imagined how close we would become once we met, especially being from different countries," Schenquerman said. "Our friendship that started on the court flourished into a brotherhood."
It all started in 2018 when they all met on the same day at The Verge community basketball court. Schenquerman, who speaks both English and Spanish, set up a game of 21 with the other guys and served as a translator of sorts.
As their friendship progressed, Cabrera and Sabath started communicating with hand signals and then developed keywords for certain basketball plays. Sabath surrounded himself with Spanish-speaking friends to be able to pick up on the language.
"Playing with friends who didn't speak English was a challenge at first," Sabath said. "I started to catch on to main words in the Spanish language and began to understand basic communications in sports."
The friendship began moved beyond the court after Cabrera invited them over to his house one day.
"Our friendship may have started on the court, however it is much bigger than that now," Cabrera said. "We always meet up together to watch sports, go to clubs and just enjoy each other's company."
Schenquerman didn't always see their friendship becoming the brotherhood it is now after COVID-19 hit. 
"I was skeptical of how often we would be able to hangout and stay close," Schenquerman said. "It was difficult at first, but I'd say it worked out alright."
After COVID-19, the friends couldn't meet as much on the court, so they decided to do so virtually through basketball games on the Playstation 4. Games like "NBA 2K20" kept their friendship and bond over basketball going strong.
"We couldn't meet as much in person anymore, so we decided video games was a good substitute," Sabath said. "Beating them in video games isn't as satisfying as on the court, but it's just as fun."
Cabrera said he hopes their friendship can continue to grow over the years.
"What we have created between us is bigger than basketball," Cabrera said. "I'm thankful I met my brothers, and I can't wait for what the future holds in store for us."