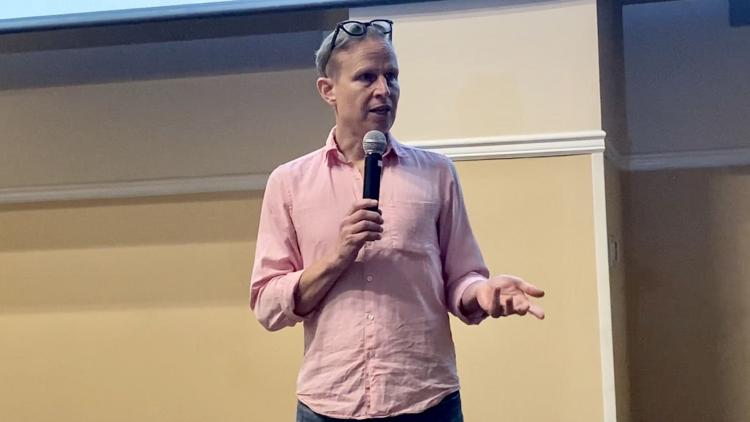 American painter and contemporary artist Will Cotton showcased his newest pieces of art at the UCF Art Gallery on Wednesday.
Cotton is primarily known for his artwork that incorporates sugary sweets into landscapes, but his newest works take a different approach.
He said the inspiration came from a residency that he did in Wyoming with Ucross Foundation, where he drew ideas from studying Western American culture.
"I wanted to show these works partly as an example of how a person can be inspired by going to a place," Cotton said. "Going to Wyoming, I'd never seen that landscape and I'd never seen cowboys in action."
Rather than focusing solely on painting cowboys, he said he decided to add an element of fantasy to his art
"I had this idea of putting the cowboys on unicorns, so these two kind of, mythological figures are meeting," Cotton said. "I like the idea of making relationship paintings."
These new pieces show the transition in Cotton's work from metaphorical art to art that shows relationships.
At the seminar, he said that his inspiration for using sweets as a part of his most well-known works came from his experiences with substance abuse.
"I thought that was a good metaphor for a thing that exists only in the pursuit of pleasure, desire and ultimately insatiability," Cotton said.
Some of his most notable career moments come from his time as the Artistic Director for Katy Perry's music video, "California Gurls."
"I got an email from Katy Perry in 2010… so I said come and pose for me, let's do something," he said. "She decided to use this painting I made on her album cover, which then led to me working on the music video."
Cotton's experience in the industry peaked one UCF student's interest for a unique reason.
"I'm actually a cake artist. I've competed on the Food Network three times," advertising and public relations major Jarid Altmark said. "I am currently struggling, I would say artistically, because I've really limited myself only using edible mediums, so I've recently begun branching out, trying some new things."
Altmark said he's been debating going to art school after he finishes his undergraduate degree.
"Hearing from a master artist like this and having him talk about the importance of art school was definitely something to consider," Altmark said. "I kind of struggle seeing the future, but I hope that if I practice enough then one day I can be paid to just be creative for the rest of my life."