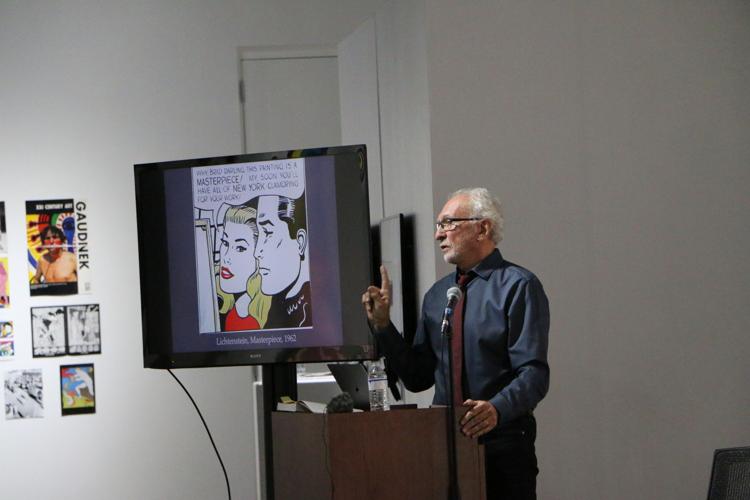 Similar enough to appear like a photograph, artist Andy Warhol painted Marilyn Monroe with bright yellow hair, blue eye shadow and black lips.
This depiction of the Hollywood star is just one example of pop art, a movement in which artists create paintings or drawings of popular cultural subjects.
The UCF Art Gallery hosted "A Pop Art Primer: What it is; What it's not" on Thursday with guest speaker Bradford Collins.
Collins is an art history professor at the University of South Carolina and the author of "Mark Rothko, the Decisive Decade: 1940-1950" and "Pop Art: The Independent Group to Neo-Pop, 1952-1990."
An expert on the topic of pop art, Collins has written articles on Abstract Expressionism and the founding members of pop art.
Andy Warhol, Roy Lichtenstein, James Rosenquist, Claes Oldenburg and Tom Wesselmann are all artists who contributed to the art world in significant ways, but they are better known as the pioneers of pop art.
Pop art emerged 60 years ago and drew inspiration from sources in popular culture or everyday objects such as comic books, soup cans and newspapers.
However, the pop art form was misconstrued when it first appeared in the New York art scene in 1962, Collins said during his lecture.
Pop art received backlash from critics who didn't consider it "art" because some art work looked like virtual copies of the original piece, Collins said. Pop culture subjects were painted with very little reworking, so the finished product appeared as if the artist has taken the subject completely and copied it.
This misunderstanding continues to cloud both popular and professional understanding and interest of pop art despite the excellent scholarship done on its individual practitioners, Collins said. 
"Pop art was concluded as maybe art, but it is a low or failed kind of art, [critics] completely dismissed it," Collins said. 
Despite the lack of positive attention for the art form, junior illustration major Nadia Bloom has an appreciation for pop art because she said this type of art can be translated by anyone. 
 "I like how [pop art] can take things that everyone knows and put it their own language," Bloom said. "And how they're able to express things like their fantasies, or their memories. Things like that."
UCF professor Walter Gaudnek identifies as a pop artist. His exhibition "Gaudnekolor Pop" is on display at the UCF Art Gallery until Feb. 14.
What makes a painting popular is who sees it — and his art is consumed mostly by his students, Gaudnek said.
"I'm not a teacher who happens to be an artist, I'm an artist who happens to be a teacher," Gaudnek said.
Junior visual arts and emerging media management major Yuliana Mercado is also a fan of pop art. She said pop art is anything we see in our daily lives that has meaning to us.  
"It's important for the public to understand the significance of the meaning of the pop art movement within today's context," Mercado said. "And maybe it can serve as a language for our generation or young people to express their ideas and themselves."