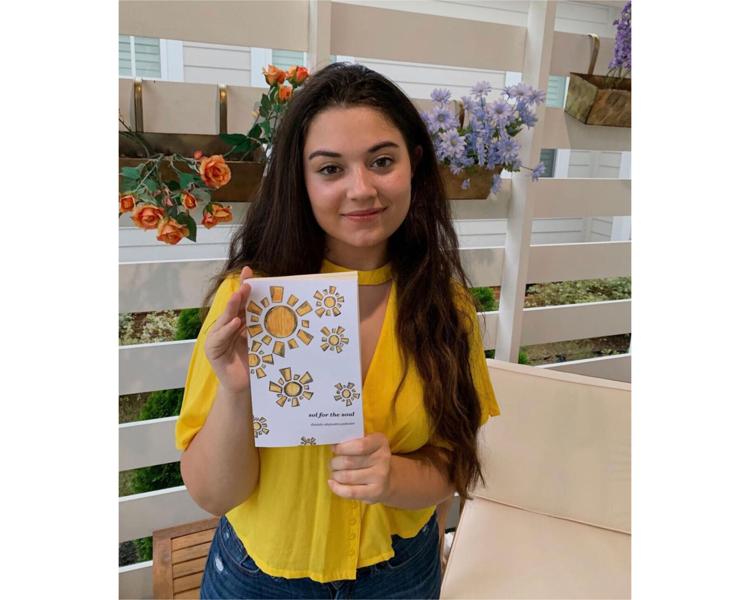 UCF freshman Daniela Palacios, author of "Sol for the Soul," was at the dentist getting work done when her dentist said, "You're so beautiful, and you're a writer!"
Her father had spoken to the dentist and the assistant behind Palacios' back,  even reading them one of her poems from his phone.
"I am definitely blessed to have parents that have always supported my writing," Palacios said.
Though Palacios is a human communications major, she has written for many years. Her book "Sol for the Soul" was published this past summer during the COVID-19 pandemic.
"[The quarantine] was kind of like a blessing in disguise. It did eliminate a lot of distractions," she said.
Palacios said her book, "Sol for the Soul," is a message of positivity and serves as a testament of her life. Her friends and family's positive influences are great inspirations behind her poetry, but her life is not always sunny. Everyday heartaches and losses, such as a breakup or the loss of a friend, also inspire her work.
"That book is a compilation of so many of her experiences — in school, out of school and her family because of her culture — it's an all-encompassing book that really demonstrates that no matter what happens, there is always the possibility of a better tomorrow," said Angelica Gonzalez, Palacios' best friend.
Gonzalez said the book is "shedding light" on the stereotype that poetry always has to come out of a negative or painful experience or something tragic. 
Palacios grew up collecting notebooks, hoping to one day have enough to say to fill them all up. Her mother, May Herrera, said she was born to write.
"My first memory of a teacher telling me about her writing skills was in the first grade," Herrera said.
Palacios had competed in spelling bees for both Spanish and English. Her teacher was impressed by her ability to speak and spell in English and Spanish, calling her a natural writer and hoping Palacios would develop her writing skills further.
Looking back on the memory, Palacios said, "I was like, 'I'm in the first grade, what do you mean?'"
But she did just that. Her middle school teacher, Kerry DeBonis, described Palacios as a dedicated student and gifted writer.
"Her writing really was at a higher level. When she was in 8th grade, she was writing at a college level," DeBonis said. "She is so open in her poetry and so transparent, and I think that's a hard thing to do — to really let people see who you are."
One of Palacios' favorite poems, titled "Take," is inspired by a major shift in her life - her parents' divorce. The poem states, "Do something / make something out of this / mold your heart into something new, something better." 
Palacios said she used her writing as a way of healing.
"I would go back and read it and know deep down that I'm going to overcome this and be fine," she said. 
The word "sol" translates from Spanish to "sun."
According to the book's synopsis, "The sun is hope and remedy for the soul."
She wanted the title of her book to include some Spanish to represent both cultures. 
"Being bicultural is a huge part of my identity and a huge part of being a Venezuelan-American woman," she said.
Palacios said she was part of a spoken poetry club all throughout her high school career, which was just a source of negativity in her life.
"The poems that I was writing, the tone that I had, and the overall subject [weren't] like anything else I was hearing. I thought that was a good thing - I thought that was powerful," Palacios said.
But the scores she received did not reflect the feedback she'd get from teammates or other competitors. She said the scores would make her dread  competing sometimes, despite all the hard work she and her team had put into the whole year.
"I think that when you're a young woman, and you face so much criticism for practically anything that you do, you get used to it, and you just get a little bit of tougher skin," she said. 
Palacios' mindset is shown in her decision to self-publish. She said the process of self-publishing is straightforward but time consuming.
She also created her own cover, from drawing to scanning and uploading it. She said the whole process is "pretty customizable."
Aside from having to learn the ins and outs of self-publishing, Palacios had to decide how the book would be organized. She said her book was originally supposed to have different sections. But when she put her writing together, she realized that healing is not a linear process.
"Healing really goes up and down, and it's not something you can track as easily, and I wanted to show that by not splitting it up into sections," she said.
Unlike healing, though, Palacios' writing process is quite continuous. She enjoys writing entire poems in one sitting, as she feels her work is more authentic this way. When she writes, she is already filtering the words she is putting on the page.
Palacios said the hardest part about self-publishing her own book is the marketing process that comes after. Palacios is not affiliated with any publishing houses, so her book is mainly marketed through word-of-mouth. She relies on friends and family to support and share that the book is out there.
"I know it has an audience; I just have to find the audience," she said.
Palacios remembers the "surreal" moment when she first picked up her book from the mailbox and cried. 
"It feels super weird to have your dream be tangible," she said, "because it seems so abstract in nature, and then it's a reality."