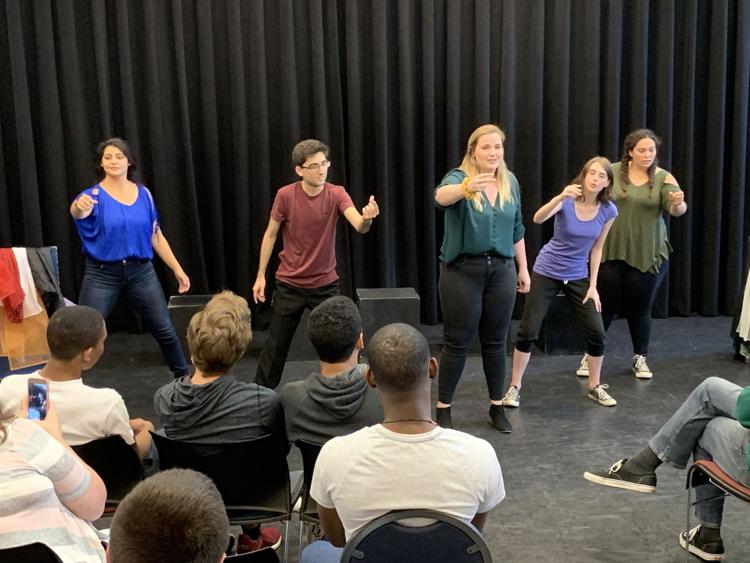 At the beginning of each performance, Ralph Gregory Krumins, Playback UCF's conductor, tells the audience to introduce themselves to the person on the left and right of them in an effort to inspire socialization.
Krumins said he believes that individual people as tend to be so keyed into their own perspectives and goals that they forget about connections and relativity.
Playback UCF is an improvisational theater troupe comprised of undergraduate and graduate students that honor both stories and storytellers. The troupe's student actors create theater by taking volunteered stories from audience members that want to express a feeling or story to be played back right before their eyes, thus using improv to put on a performance.
The troupe hosted its first event of the season inside the UCF School of Performing Arts on April 2.
"We use ideas like symbolism and metaphor and ways to heighten ordinary stories into theatrical ideas," Krumins said.
Playback UCF started at UCF three semesters ago, Krumins said.
"Altogether, it's a group of people sharing an experience by telling stories," Krumins said.
Lauren Searl, senior theatre major on the acting track, said she has been involved with Playback UCF for only one semester but has been doing improvisation for one year at the university.
"I think that Playback is so refreshing and different as a performer because it really isn't about performing," Searl said. "It's about deep listening and focus on doing justice to a story that's personal to the teller."
Searl said seven people perform 10 to 15 stories per night, with rehearsals taking place on Tuesdays.
"We try to really make it about the people telling the stories and just kind of honoring them," Searl said.
Chanel Gomaa, senior theatre studies major, said she thinks Playback UCF is a way to help people heal. She said she has been with Playback UCF since January.
"I think a lot of people carry a lot of hurt with them without realizing it or without realizing there are outlets and people to reach out to," Gomaa said.
Gomaa said she feels it is more comforting to share pain in a theatrical aspect.
"Getting to listen to stories told by people I don't know very well and getting to live in their stories while I perform them is something very intense and emotional for everyone involved," Gomaa said.
At the end of each skit, the performers find a beat to end on and put their hands together to give the story back to the storyteller. Gomaa said she returns hope, healing and new perspectives to audience members.
"They can tackle it in a new way because they were able to receive it in a new light," Gomaa said.
Playback UCF will host its final show of the regular season on April 9. Visit the event page for more information.