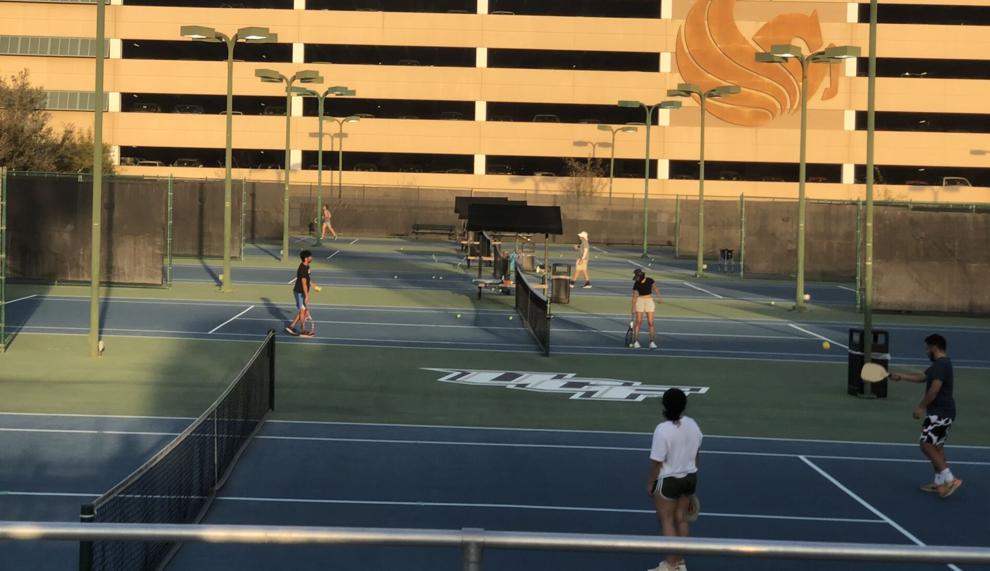 Pickleball is growing in popularity in the United States, and that growth is being reflected by an Intramural Sports league at UCF. 
According to the USA Pickleball website, pickleball was invented in 1965 in Bainbridge Island, Washington, when Joel Pritchard, Bill Bell and Barney McCallum were trying to find a way to entertain their children, and they ended up creating a sport described by many as a combination of table tennis and badminton. The website also said pickleball is played on a court similar to tennis, only smaller, and players use a wooden racket and a plastic ball.
In recent years, pickleball has exploded in popularity. According to a report by the Sports & Fitness Industry Association, over 4.8 million people played pickleball in 2022, and the number of pickleball players between 2019 and 2021 "grew nearly 40 percent." A 2023 report by the Association of Pickleball Professionals said that 14% of Americans played pickleball at least once, and 8.5 million played pickleball eight or more times in a 12-month period.
The peaked interest in the sport can be seen in the rise in popularity of Major League Pickleball, a professional league. According to the league's website, Major League Pickleball currently has 24 teams, and one of the league's expansion teams is the Orlando Squeeze, Orlando's newest professional sports team. The Major League Pickleball's website also said there are six competitions in the season, giving their players a chance to win prize money of "up to $5 million." 
According to the league's website and Instagram account, many celebrities are becoming owners of MLP teams, like LeBron James, Tom Brady, Kevin Durant, Patrick Mahomes and Naomi Osaka.
Another place showing pickleball's growth in popularity is UCF through the RWC's Intramural Sports pickleball league. Lauren Carlson, the RWC's coordinator of Intramural Sports & RWC Park, said the league, which first began in the fall 2022 semester, has seen a huge growth in student participation.
"In the fall semester, there was about, I want to say, 30 teams," Carlson said. "Going into this semester, we had about 65 teams sign up."
Carlson said the league, which began on Feb. 13 and will run until April 13, was first proposed in the 2021 summer semester. She said that the RWC chooses to offer sports that have a high demand, and due to the lack of demand for tennis, the RWC chose pickleball to take its place.
Carlson said the RWC offers both singles and doubles competitions and hosts games at the RWC tennis courts on Mondays, Tuesdays and Thursdays.
Carlson said the increase in players had forced the RWC to spend a lot of money on equipment for their players to use. She said that while she doesn't know the exact amount for how much the current and previous season cost, she estimates the total for last year was nearly in the thousands. 
"A four-pack of pickleball paddles is around $30," Carlson said. "So, if you think of 35 teams worth of doubles for being those 35 teams, probably a couple hundred dollars. I'd say $850 to get it started at the capacity it's at now."
Carlson said she believes pickleball's growth in popularity nationally played a huge role in the league's increase in student participation.
"I think a portion of it can be attributed to what's on TV," Carlson said. "I think people started seeing [pickleball] on TV, on ESPN. And then that sparked an interest."
While some members of the Intramural Sports league have played pickleball before, many students like Dianna Choque, junior mechanical engineering major, are playing pickleball for the first time.
"I work with intramurals, so I actually run the pickleball league," Choque said. "I was really excited because I wanted to try out because it was a different sport, and I had never done it before."
Choque's doubles partner Christian Ramirez, a graduate student in the educational leadership program, is also new to pickleball. He said he started playing because the sport is "easy to pick up." 
Other players in the league, like Alexia Huete, junior health science major, said they started to play because they were introduced to the sport by someone they knew or simply because they thought it "looked fun."
Many of the league's first-time pickleball players, like George Ray, junior aerospace engineering major, said they are excited about the opportunities the league will offer them. 
"I expect to have fun," Ray said. "I never played pickleball until now. [My doubles partner] convinced me to start playing, and I agreed because it looked fun. Plus, I'll get the chance to learn a new sport which is cool."
Carlson said she doesn't think that students' interest in pickleball will be going away anytime soon and thinks it will become an Intramural Sports league mainstay.
"I think right now [pickleball] is thriving," Carlson said. "I think that it will be very popular in years to come."