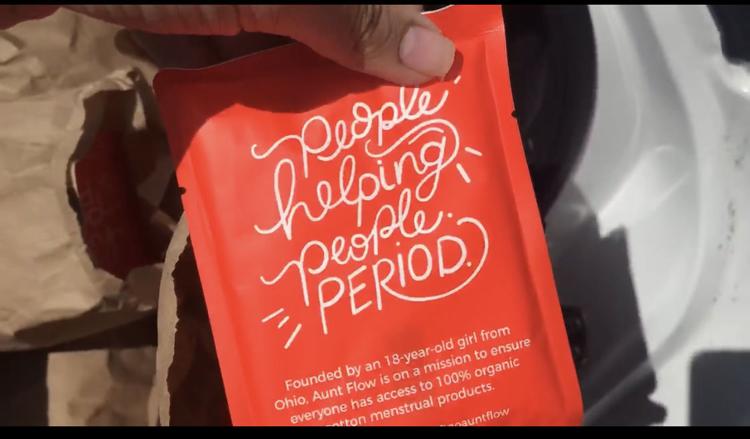 "Periods don't stop for a pandemic."
Global nonprofit organization, PERIOD, coined this phrase in the fight against period poverty and stigma that holds significant meaning, especially in the wake of the new coronavirus pandemic. 
"In this time with the [coronavirus] going around, it's more important than ever to help out the menstruators in our community, especially homeless menstruators and people with low income," said Radhika Desai, vice president and co-founder of PERIOD @ UCF. "It's so important to be a part of something bigger than ourselves especially now with what's happening around the world."
According to a national PERIOD org's Instagram post from March 28, the organization will ship period products at no cost and send them to any service provider around the U.S. on request.
Members of PERIOD @ UCF are trying to help menstruators in their local community but going out and donating the period products to various shelters. 
Desai donated the products to Orlando Union Rescue Mission, a homeless shelter, and Ronald McDonald House Charities, which helps with "improving the health and well-being of children and families," according to its website. 
Desai said that she donated two boxes, each containing 20 to 25 period care packages. One box supports 20 to 25 menstruators, Desai said. 
"Inside there are individual pads that we get from [the national PERIOD organization] and each pack has about 10 to 15 pads which is enough to support one menstrual cycle," Desai said.
The president and founder of PERIOD @ UCF, Esha Ghosalkar, said that periods are a very natural process, however, due to societal stigma, it is something rarely talked about.
"On top of that, millions of homeless menstruators have no access to menstrual products, forcing them to use unsanitary and potentially harmful substitutes to pads and tampons," Ghosalkar said.
According to INTIMINA, a global brand that develops menstrual products, one in four women have struggled financially to decide between buying period products and meals.
"Some of us have easy access to pads, tampons and clean bathrooms that a lot of menstruators around the world don't," Desai said. "Knowing that we're helping those in need even just a little bit is very humbling."
PERIOD @ UCF and the national PERIOD org emphasized the necessity to help those in need on their social media accounts, even in the midst of the coronavirus global panic.
According to the WeForum organization, people are panicking about the toilet paper shortages, the economic consequences of the virus and various other problems. 
However, Ghosalkar said while the nation is panicking, there are other things to keep in mind. 
"It's important to remember that periods don't stop for a pandemic," Ghosalkar said. "It is still important for the community to come together and support menstruators with lack of access to products, especially during these difficult times."