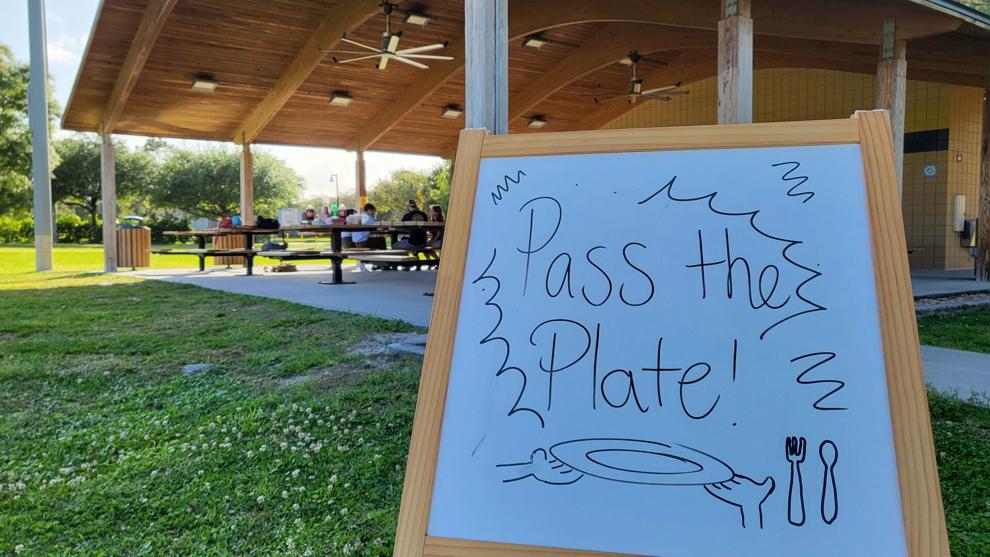 UCF students held their plates eagerly as they waited to serve themselves the assortment of dishes displayed on picnic tables at the "Pass the Plate" potluck on Tuesday.
The potluck was hosted by the International Student Association with their first-time partner Transfer Knights.
ISA's mission is to unite all the diverse cultures around campus and support international students as they get accustomed to American life. Transfer Knights is a social group that provides resources, events and workshops for students who transfer to UCF from other colleges.
"It's a matter of being inclusive with anybody who feels like they're a little bit lost with the campus," said Laumaur Lindsay, social media coordinator for Transfer Knights. "Not only because they're a little bit new to the area but just a matter of that diversity that we have in both of the groups as well."
ISA President Karoline Palermo said that students were asked to bring in their own dishes that represented their culture.
Palmero said the event was created to help assist transfer or international students to connect with each other. She is originally from Brazil and brought brigadeiro, a sweet Brazilian ball of chocolate with sprinkles.
Deema Alawadhi, 23-year-old marketing major from Kuwait, brought her family's chicken macaroni salad. Alawadhi said that every time she eats this dish, she is reminded of home.
"It has been a dish in the family since I was 12 years old," Alawadhi said. "And every week, we have it at least once or twice because it reminds us of the first house we got in Kuwait."
When coming to school in the United States, Alawadhi found it difficult to leave her home country. She said she was worried that she wouldn't find people who spoke the same language as her or even know her culture.
It wasn't until Alawadhi started attending ISA events and joining the club that she was able to find fellow students from her country. Alawadhi said that she never faced any conflicts when transitioning to the states or to UCF but knows that other students may have faced it.
"When I first came here, I thought I was gonna study in Pennsylvania or Los Angeles. But UCF was the best university for internationals because it is so open to every culture or every religion," Alawadhi said. "So not a lot of people are racist or homophobic or Islamophobic, so I felt accepted."
Freshman civil engineering major Milo Rasmussen said that there are a lot of hurdles that international students have to go through when adjusting to life in the U.S. However, Rasmussen said that UCF can be a bit more accommodating.
"Other than the fact there are a lot of people and systems to go around, it's OK. But I personally had some struggles trying to get into UCF and have all the immigration stuff figured out," Rasmussen said. "Even though I've been in the U.S. most of my life it's still surprisingly difficult for me as well."
Rasmussen said it is important for people to have a community such as ISA or Transfer Knights so that they can have someone to talk to.
With dishes from the Bahamas to the Middle East, student's stomachs began to quickly fill, and laughter soon filled the pavilion.
"I like the food today. I didn't have breakfast because I was like, 'You know what? I'm just gonna eat,'" Lindsay said. "I just finished my second plate, and I'm gonna go back for more."