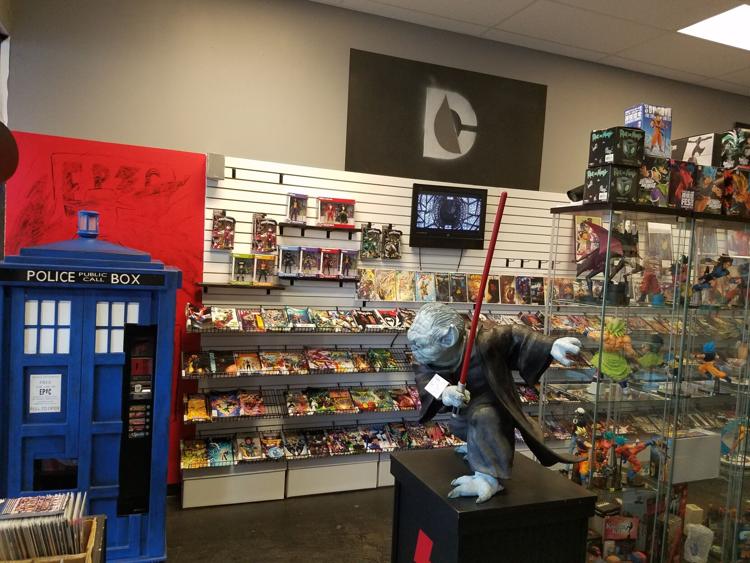 Elizabeth Carmona finished and set down her new Spider-Man comic book. She walked over and organized some figurines on the shelves. Finally, she locked the door of her store for the last time for an indefinite amount of time. 
This was the reality for many small, family-owned businesses like Epic Comics located on North Alafaya Trail in Orlando.
"That was a hard hit to take," Carmona said. "One of the most difficult parts of the closure was that we knew we could not offer hours to our employees during that time."
Elizabeth Carmona is co-owner of Epic Comics along with her husband Juan. The UCF alumni took over the business in March of 2019 and said they couldn't have been happier. It wasn't all smooth sailing however, when Covid-19 hit.
"We were closed for about six weeks as a non-essential business," Carmona said. "Our distributors were also affected, and even though we re-opened in May, there wasn't any new merchandise."
After about two months of selling old issues of comics online and through curbside pickup, the store reopened in May with the help of its community.
Beux Leto, sales associate for Epic Comics and UCF senior experimental animation major, was surprised yet delighted with the response of the comic book community.
"As soon as we were able to open back up, the community that we've built with the store was there buying books even though there was no new content," Leto said.
Mark Martinez, a staff member at the store, said he has always felt it is important for the store to be connected with the community and to give back when possible.
"It's really important for us to be involved in our community because it's our community that keeps us open and allows us to be able to do something we love," Martinez said. "That's why we work with the library a lot to get kids back into reading books."
Even while enduring COVID-19, Epic Comics is partnering with Toys for Tots in Orlando for the second straight year. The store also has a presence in Trunk or Treat where it held a socially-distanced outdoor event for children to celebrate Halloween.
"At the end of the day, many customers have known my family for years. My kids have grown up spending time at Epic Comics," Carmona said. "A customer isn't just a customer, they may well be my neighbor."
For Carmona, being part of the community is a high priority for Epic Comics,  and it's always been part of the store's foundation.
"We are very fortunate to have amazing customers who have been supportive and even made purchases during our closure," Carmona said. "It's really the only way for our little shop to thrive."