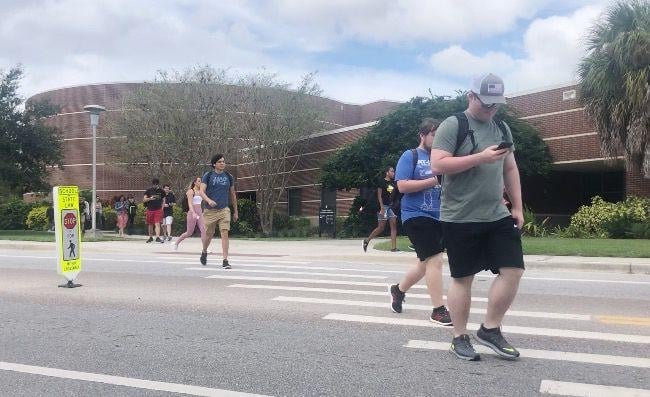 Three weeks ago, Emma Dellecker was riding her bike home from UCF to her apartment on Science Drive when she was struck by a car on Libra Drive heading toward Research Park, leaving her with road rash, bruises all over her body and a concussion — all because the driver was texting.
Dellecker, a senior psychology major and employee at the Bike N Gold bike shop in the Student Union, was wearing a helmet and obeying all traffic laws — just as she said she always has in her six years as a road cyclist — when she found herself in a roadway accident for the second time in the area surrounding UCF. 
She said Bike N Gold sees about two wrecked bikes a month on average from roadway accidents involving UCF students around campus.
"Riding on the roads here at UCF is honestly pretty terrifying," Dellecker said.
UCFPD has been making measurable steps to increase pedestrian safety since two students were struck by cars during the first week of classes in spring of 2019, according to the Florida Highway Patrol. 
Since then, pedestrian warning flashers were installed along Alafaya Trail and University Boulevard and flashing yellow arrows were installed at three out of four corners of the intersection. 
According to UCFPD Maj. Darnell Hills, UCFPD has a two phase step in improving pedestrian safety: education and enforcement.
The educational phase took place in February 2019 and included police officers going out to crosswalks to conduct a "pedestrian detail" in which decoy staff members were placed under cover to educate drivers and pedestrians who were disobeying traffic laws.
In July 2019, UCFPD began the enforcement phase in which a total of 38 written warnings and 11 verbal warnings were issued to UCF students in violation of pedestrian laws. Hill said a traffic citation for a driver in violation of a crosswalk entails a $164 ticket and three points added to the license.
To improve safety around campus, Hill recommends students make simple adjustments to their routine as pedestrians including turning down headphone volume to become more aware of their surroundings, looking both ways before crossing the street and making sure to use signage around crosswalks to alert drivers that you intend to cross.
Most importantly, Hill recommends students put down the phone while they walk around campus.
"When you hold your phone, you are putting your life in the hands of somebody who may also be on their phone," Hill said.
Benedykt Chrostowski, senior mechanical engineering major, was on his bicycle at the corner of Rouse Road and Lokanotosa Trail on Oct. 30, when he said he was struck by a car who didn't stop before turning right.
"I was just lucky it was a low speed collision and I have enough experience to know how to fall correctly," Chrostowski said.
He said he chooses to ride his bicycle for financial and environmental reasons, but feels as if the city of Orlando as a whole does not have a lot of respect for pedestrians.
In January 2019, Smart Growth America published a study that named the Orlando-Kissimmee-Sanford metropolitan area as the most dangerous area for pedestrians in the country and Florida as the most dangerous state.
According to the study, there were 656 pedestrian deaths from 2008 to 2017 in the metropolitan area and a total of 5,433 pedestrian deaths from 2008 to 2017 in the entire state of Florida.
UCF has partnered with Orange County and the Florida Department of Transportation to increase pedestrian safeguards in a 4.6 mile area surrounding UCF, including from Challenger Parkway to McCulloch Road on Alafaya Trail, from Rouse Road to Alafaya Trail on University Boulevard and from Alafaya Trail to North Orion Boulevard on McCulloch Road.
Pedestrian updates are on track to begin in early 2020 and are costing $8.8 million, with $2.9 million of the budget coming from UCF.
"When it comes to a pedestrian versus a car," Hill said, "the car will always win."