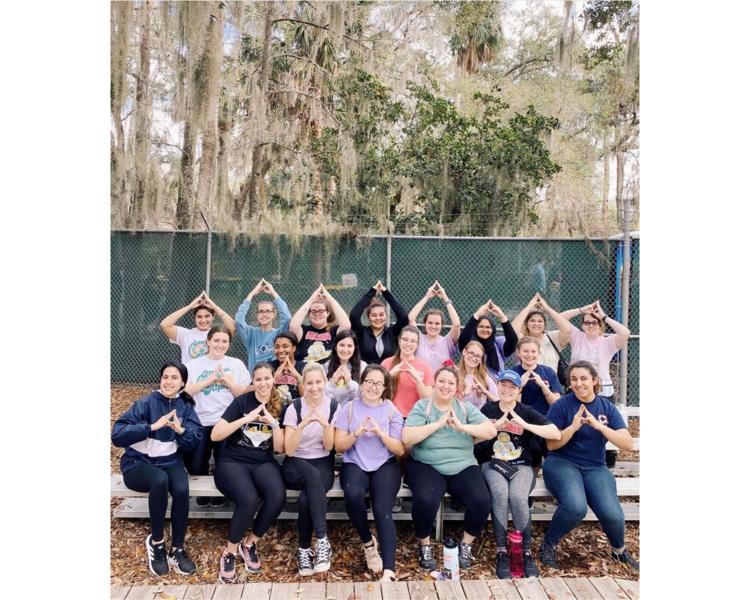 Senior political science major Grace Christiani was hesitant to join a social Greek-letter sorority because of the lore surrounding Panhellenic councils. She said the opportunity for diversity attracted her to join Omega Phi Alpha at UCF.
"There are rumors and stories," Christiani said. "That kind of scared me because I don't look like a typical sorority girl."
Omega Phi Alpha, in which Christiani is currently president, is a national coed service sorority that upholds three moral pillars — service, friendship and leadership. The sisterhood is one of multiple service organizations at UCF and just like professional, honor and academic organizations, organizations like Omega Phi Alpha must abide by Title IX, a federal civil rights law established in 1972 that addresses and prohibits educational inequities by the basis of sex in areas such as athletics and student organizations.
"At its core, Title IX's purpose for existing is to prohibit discrimination on the basis of sex in all educational programs that receive federal financial assistance," Title IX coordinator Matt Ricke said. "Which is most universities and colleges and a majority of your pre-K to 12 institutions as well."
In UCF's case, because it receives federal funding for grants, is obligated to abide by Title IX and other civil rights laws. It ensures that if a student were experiencing discrimination on the basis of sex, the university must provide options to remedy and prevent cases, Ricke said. The Office of Institutional Equity at UCF is the one-stop place for a student to report cases of Title IX violations.
"Registered student organizations, which are educational programs offered by the university, have to abide by civil rights laws, including Title IX," Ricke said. "None of our organizations can create as a condition of membership criteria about sex or criteria about race."
However, in 1989, the Department of Education issued an opinion that exempted social sororities and fraternities from Title IX, which is why they've retained their single-sex status.
The opinion also said that "professional fraternities and sororities and service and honor societies, on the other hand, are subject to the requirements of Title IX and may not exclude members on the basis of sex."
Furthermore, the subject of gender identity and sexual orientation is not discussed in the opinion.
"Title IX, thus far, is silent on the issue of trans folks, for instance," Ricke said. "And some social fraternities and some social sororities have, at a national level, decided that they were going to allow trans men and trans women to participate but not all of them did that."
UCF's Nondiscrimination Policy covers the areas regarding sexual orientation and gender identity that Title IX doesn't cover or addresses explicitly.
Christiani, who is queer, said she feels welcomed by her sisters. She said there are also more members in Omega Phi Alpha who are openly queer.
"I've felt very welcomed in OPA," Christiani said. "It's never been something that people made me feel uncomfortable for or people made me feel like I was different in a bad way."
Quincy Mather, an executive master of health administration student, decided to join professional fraternity Alpha Kappa Psi after interviewing someone from the fraternity for a position at his job. The professionalism of the applicant struck Mather, and he asked him where he learned those skills. The man replied, "Alpha Kappa Psi."
A couple of years later, Mather is now the next president of the Nu Chi chapter of AKPsi at UCF.  
Mather values the diversity of the organization, which has provided him with both male and female mentors who he relies on for advice. 
"A lot of my Alpha Kappa Psi relationships, I know they are going to be life-long," Mather said. "So it's like being able to call on different people for different situations definitely makes me a more well-rounded person." 
The fraternity, which was founded by men, now consists mostly of women in UCF's Nu Chi chapter, which Mather said is "pretty awesome." 
"It just shows the dynamic of how women can be leaders as well, you know what I mean? And women can be strong and women can be in positions of power as well," he said.
Alisha Taylor, president of the Nu Chi chapter of AKPsi, said she wanted to join the organization to be around people with the same business-focused mindset as her. She feels the co-ed fraternity has prepared her for her future career in financial advising, which is a male-dominated field. 
"For me working with males has given me that extra leg up so I know how to kind of like command the conference room, or you know, learn how to work with other people from different backgrounds," said Taylor, a senior integrative business major. 
For Taylor, AKPsi has not only taught her important business skills, like how to write a resume or use excel, but leadership. She's learned how to be confident in the decisions she makes, while still recognizing that she doesn't know everything. Taylor also hopes to be a leader others in the organization can look up to, in the same way she has looked up to barrier-breaking female leaders like Michelle Obama and Kamala Harris. 
"As a Black woman, who is an undergrad and who is a part of leadership, I personally think that we've come such a long way to just getting to this point, so it's nice to see that the legacy is fully starting to continue on," she said. 
From her freshman year, UCF alumna Brittany Olson knew she wanted to be a part of a Greek organization on campus. The social sororities on campus, however, were financially inaccessible to her and not what she was looking for. When she discovered Alpha Phi Omega, a national service fraternity, she knew she had finally found her people.  
"It didn't feel like it was a fraternity or a sorority, it kind of just felt like we were a group of people getting together to volunteer and help others that needed it," said Olson, 23. 
Olson said she was happy when the organization decided to change its pledge to be gender-neutral and she valued its inclusive atmosphere. Olson also said she was not aware of Alpha Phi Omega's sister group, Omega Phi Alpha, until she joined the fraternity. Omega Phi Alpha was created in 1967 in order to allow women to support Alpha Phi Omega's service goals prior to Title IX becoming law. 
Olson said the two organizations were not very close when she was at campus; however, both have made efforts to change this and work together on volunteer projects. To her, it would make sense to combine the two. 
There aren't currently any male members in Omega Phi Alpha. Christiani said men may feel discouraged to join a coed sisterhood because the term "sisterhood" can be off-putting or may generate an idea of femininity, even though they remind students they are a coed organization.
"I feel like there's a lot of very diverse people," Christiani said. "I feel like we all look different and act different. It's a place where everyone can join."