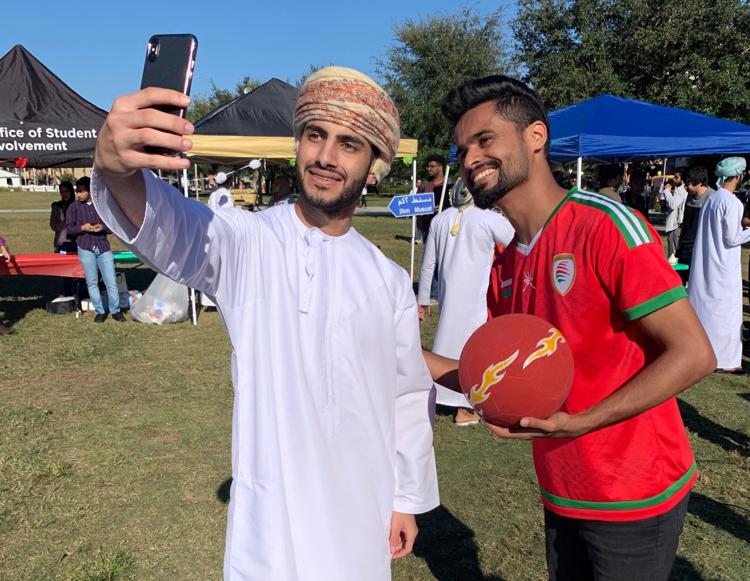 The Omani Student Association celebrated National Day of Oman at Memory Mall on Monday with an event focused on keeping the culture of Oman alive with its students at UCF. 
Vice President of the Omani Student Association Talib Al Hinai said the newer students face a culture shock when coming from Oman to UCF and that the organization's goal is to help these students transition to this new setting away from their families.
"We get to know each other, vibe with each other and over time we create this second family away from our own," Hinai said. "It's a process of gathering students and making events like this one to make the newer homesick members feel like they're home."
National Day of Oman celebrates the history of Oman as well as the birthday of the country's sultan, Qaboos bin Said Al Said.
The 100 estimated students in attendance were able to try traditional Omani desserts and learn about the culture and history of the country while interacting with Omani students who shared their personal stories with each other. Students also had the opportunity to get the colors of the Oman flag painted on their face or get a henna tattoo.
The event was led by 10 officers from the association with the contributions of about 45 of its members.
The organization invited freestyle soccer player Mohammed Al Noufali, to come and perform tricks for everyone. Noufali was returning from an exhibition game in Miami and said he was happy to come and visit.  
Ahmed Busaidi, a member of the organization, is a fan of Noufali and said it was great to have him take the time to come and visit.
"It's a good thing to get people from Oman to come here and represent our country," Busaidi said. "Mohammed is a great freestyler and he makes our country proud."
The Omani Student Association will be holding its first indoor event at the Student Union Ballroom this Friday and, according to Hinai, the organization is committed to holding more events and ensuring that other students of different cultures can come and get involved.
"We want to keep the Omani traditions alive at UCF," Hinai said. "So we will keep doing more events and hopefully more people can come and join in."