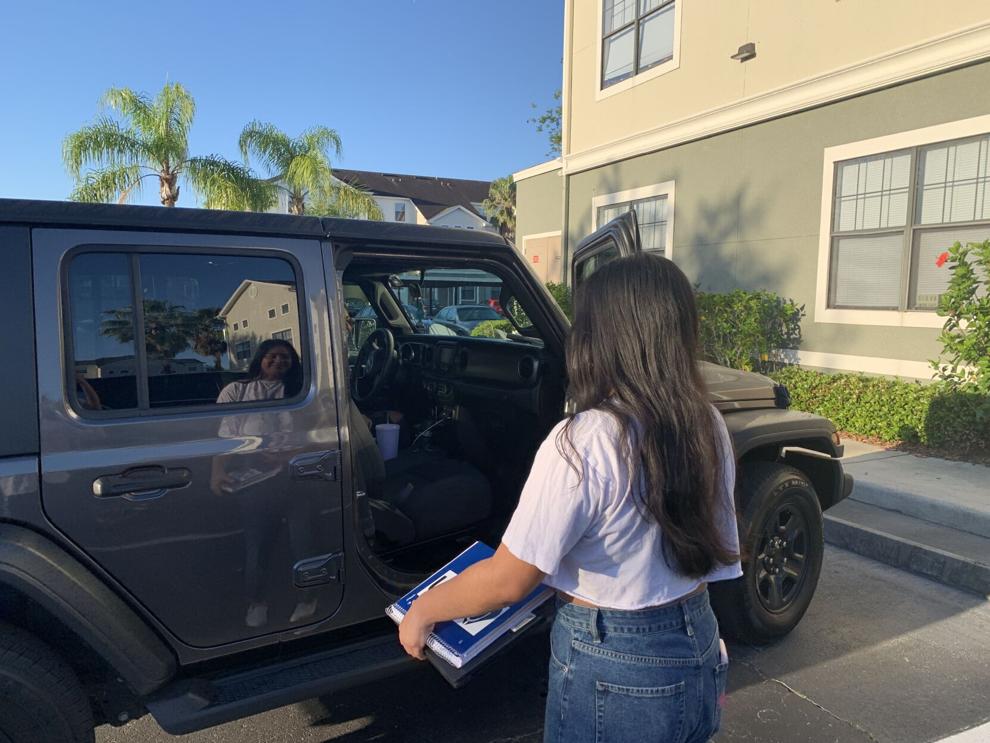 Sophomore pre-nursing major Olivia Day rushed to check her email after she received a message that the UCF College of Nursing acceptance letters were just sent.
At approximately at 1 p.m. on March 25, some UCF students discovered whether or not they got accepted into the bachelor's of nursing program. Day said she had just finished taking a test when her friend reached out to her to tell her the news. 
The sophomore checked her email and saw she was waitlisted for the college's main campus nursing program, but she still had two other UCF campuses to hear back from. An hour later, she found out she was accepted into the program at the Daytona Beach campus.
"I'm really excited as much as it is a simple thing to get, like, my uniform, like the scrubs and stuff," Day said. "But I'm also excited to work in the clinical setting."
The UCF College of Nursing has three campuses: Orlando, Daytona Beach and Cocoa. The campuses can only teach 216 students total per cohort. Students who were accepted said they had until April 1 to RSVP to the program.
The nursing program at UCF is competitive. In 2021, only 32% of applicants were accepted, according to UCF. In the fall 2021, there were 696 applicants across all campus, and 216 were accepted.
Jessica Simmons, assistant dean of students at the College of Nursing, said that this year, there were 553 applicants. She said that 476 were eligible and 216 in total can be accepted into the program due to space. 
Nationwide bachelor's programs have been limited due to the number of nurse faculty members and educators, according to the American Association of Colleges of Nursing. AACN also stated that nursing programs in western and southern states have the highest rejection rates, including UCF's program.
"This is a really hot topic right now across the state - across the nation - to hire nurses," Simmons said. 
The limited number of spots and applicants who have high GPAs and test scores makes this program competitive. 
The overall GPA for nursing students admitted into the UCF main campus in fall 2021 was 3.84 while Daytona and Cocoa campuses had a 3.59, according to the Bachelor of Science in Nursing admission student range. Students are also required to take the Test of Essential Academic Skills, and the lowest score accepted in fall 2021 was a 78.
Simmons said the college is working on relocating its main campus to be able to teach more students.
"That's why we're working on fundraising and trying to get money from the state to build a College of Nursing at Lake Nona," Simmons said.
UCF requested $29 million earlier this year from the Florida Legislature to fund plans to build a College of Nursing building in Lake Nona's medical city. The Legislature passed the state's budget last month that included the $29 million for the college, according to the 2022 appropriations.
"The $29 million will get us started, but that's only half," Simmons said.
Until then, students who plan to stay in Orlando will have to drive over an hour to the Daytona Beach campus or about an hour to Cocoa's campus multiple times a week. To ease the cost and extra hours of driving, many students plan to carpool.
Day said she plans on staying in Orlando and commuting to the Daytona campus on the days she has class.
"I feel like it would be cool living all with the nursing people, but I also don't want to be totally separate from the people I know here," Day said. "So, I made a system to carpool with people in my class."
Many other students have been put in a tough spot, deciding whether the hour drive off campus is worth it.
Sophomore nursing major Camila Souza said she did not decide her next steps until the deadline date, April 1. She said she was between Daytona or applying for the concurrent nursing program with Valencia College and Seminole State College.
"I was going back and forth because the gas prices now are outrageous and the drive is an hour and a half each way," Souza said. "But I took a chance, and we'll see how it goes."
Souza said she also spoke with current and previous students who said it was completely doable. She also said she found other applicants to drive with, which made her choice easier. 
"UCF is a great school, so I don't want to give up my seat and then regret it afterward," Souza said.
Souza said she knows a lot of other people who were waitlisted for all three campuses. A UCF nursing admission staff member said in an email that the admissions office could not disclose the number of students on the waitlist, only that all three campuses currently have waitlists.
The new cohort of nursing students has connected through Facebook and messaging apps, such as GroupMe, to discuss their plans and reasoning for making the drive out to the coast.
Senior nursing major Fabiola Barco-Garcia studies at the Cocoa campus and advocates for the program by answering incoming students' questions about the drive and benefits of the program.
Barco-Garcia lives only eight minutes from UCF's main campus but drives 45 minutes to Cocoa. She said she used to make the drive twice a week for her junior year but now only goes on Mondays this semester.
"I knew at the end of the day, I was graduating with a UCF degree and that level of education I was going to get would be different than if I went to my local community college," Barco-Garcia said.
Barco-Garcia said she has arrangements with other Cocoa nursing students from the Orlando area to carpool. 
"It's a really nice relaxing drive," Barco-Garcia said. "And since I carpool with my friends, it's more like a mini-vacation every time we go to school."