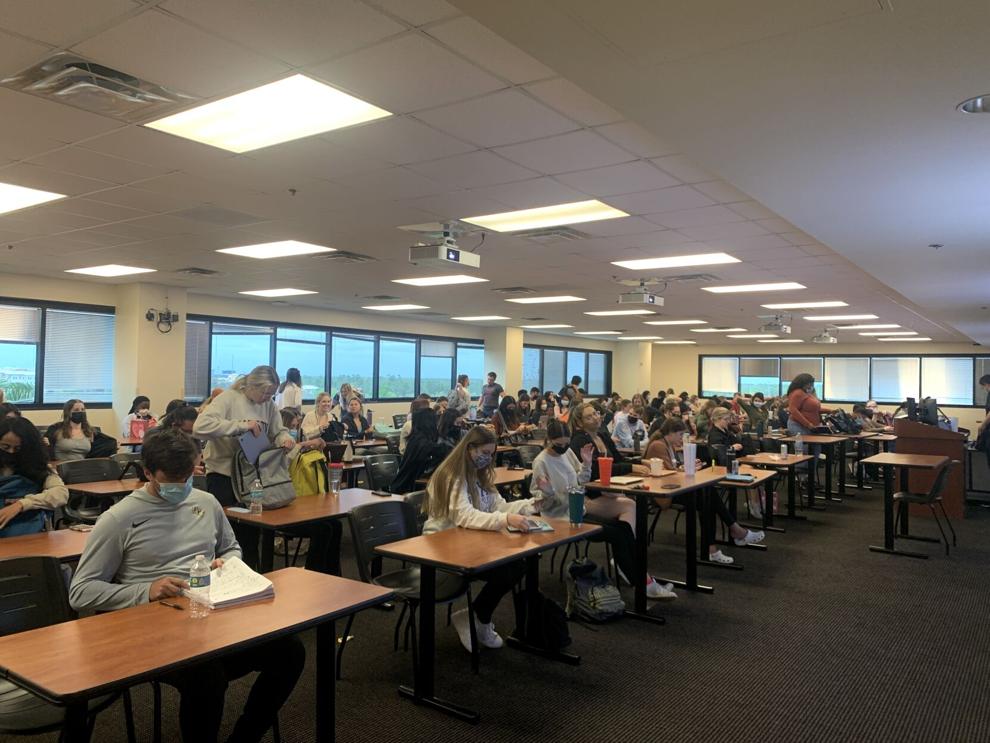 UCF College of Nursing assistant professor Brian Peach said that when he was in college, he said he used to be embarrassed to tell people he was a nursing student because it was not a traditional male role.
"I was very nervous as a male, particularly in my first year of nursing school, and of course there were jokes," Peach said. "The movie 'Meet the Parents' came out and 'Meet the Fockers', and there were sort of jokes about males in nursing."
For the first time in 2019, female students held the majority of medical schools at 50.5%, according to the Association of American Medical Colleges. More women have entered medical school and evened out the playing field as doctors rapidly since the early '70s, according to the AAMC.
However, the percentage of men becoming nurses has not nearly seen the same increase over that same period.
In 2002, UCF nursing majors' male enrollment numbers were about 10% of the class. The percentage is now only 13%.
Many women took on the role of nursing during times of war. Professional nursing education bloomed specifically after the Civil War, according to Penn Nursing. Florence Nightingale is the woman many say founded nursing as she provided care to soldiers and started many nursing programs for women. 
Peach has been a registered nurse for 17 years and said that the field remains female-dominated for good reason. 
"Women are caring and incredibly smart, and they bring a lot of skills into the profession," he said.
The profession of nursing is a historically female-dominated field as 87% of nurses in the nation are women, according to the U.S Census.
In 2019, the Florida Center for Nursing found that 87% of Florida's nurses are women. The UCF college of nursing current headcount matches the national and the states at 87% of nursing students are women.
Over the years of Peach's teaching, he said he has had one male student show concern about going into the nursing field because of the dominance of women.
"I told him, 'you're entering a profession where you get to save people's lives and you get to use your brain and get to do some incredibly cool things,'" Peach said.
Peach said many male students do not choose to obtain a nursing degree as it is often their second choice. He said that he hopes that more men will think about becoming nurses as fathers enter the nursing field and become role models.
Nursing student Nicolette Abbondanzio said her sister is a nurse who has influenced her to become one.
"She opened my eyes to what nursing really was," Abbondanzio said.
She said she spends most of her studies with predominately female students along with a few males. She said that working in a female-dominated field has allowed her to relate more with her classmates.
"We kind of have the same mind space," Abbondanzio said. "There are certain things where guys want to dominate or think that they know more, so it's kind of like equal playing field, which I kind of like."
Regardless of a nurse's sex or gender, they are there to provide acute care to their patients.
Senior nursing major Belinda Asse said her older sister is a nurse who has been a role model for her. 
Asse said it is important for nurses to be able to speak with their patients and be empathetic with their families. She said she plans to be a labor and delivery nurse. Right now, she is in her practicum on the labor and delivery floor, where she works closely with many male doctors and male anesthesiologists.
"Males aren't that hard to come across in the field, but for nurses, you won't find that many males," Asse said. "I heard they just hired a male labor and delivery nurse, but I have not seen him yet." 
Asse said that there tend to be more male nurses in the emergency room rather than in pediatrics or labor and delivery. 
Junior nursing major Samuel Narzissenfeld said he considered other medical professions before realizing he wanted to be a nurse. He said during the pandemic, he was ill and spent multiple days in the hospital.
"It was uplifting to interact with the nurses there, especially with how busy they were with the height of COVID," Narzissenfeld said. "It really motivated me, though. It was like this is something I really want to do. I want to be how like these people were to me."
Narzissenfeld said he still sees the shock on patients' faces when he tells them he is their student nurse.
"I feel like some people are shaken up when they hear that," Narzissenfeld said. "They look like they have that, 'oh, did this person not become a doctor?'"
Gender diversity in the nursing field may help make patients feel more comfortable when providing care for them, Narzissenfeld said.
"I know, like, my dad and some people feel uncomfortable with people of the opposite gender because there is like this tension," Narzissenfeld said.
However, if you come across this issue, Narzissenfeld said you can easily go to another nurse for advice on how to approach a patient or even switch patients.
Senior nursing major Austin Logan said he has realized the nursing major is mostly women but that the health care field has a greater gender diversity.
He said he feels comfortable in the women-dominated field because he has always gravitated toward more female stereotypes than male. But he has encountered some obstacles as a man.
"Patients want that comforting care from a female, and being a male, there is a totally different approach to health care," Logan said.
Logan said that stereotypes have made it difficult to work with and connect with some patients.
"I think as society progresses more, there is a less attachment to gender norms where the women are supposed to be the caring one and the man is supposed to have no emotion and does all the physical labor," Logan said. "I feel like that gender norm is starting to decrease, thankfully."
Peach said that times have changed since he was in school, and male nurses are becoming more common.
"If we tapped into more males, I feel like we would be able to address some of the nursing shortage a little bit better," Peach said.