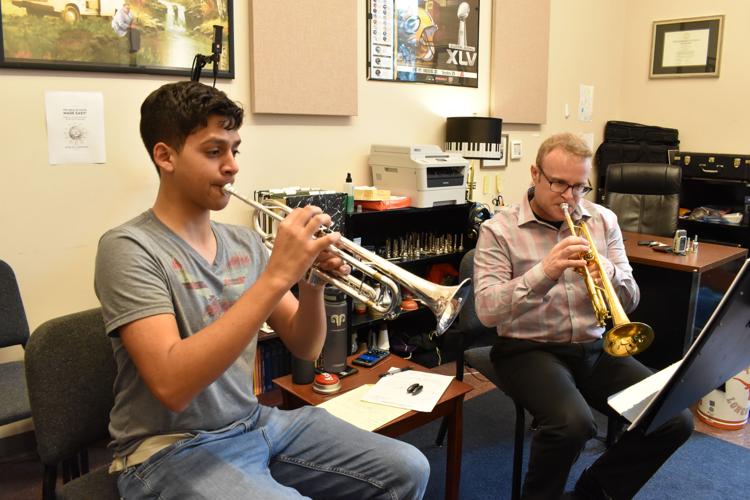 Playing the trumpet as if it were an extension of himself, Jesse Cook plays with ease during a private lesson with his student. 
"When I was four years old, I told my mom that I wanted to play the trumpet," Cook said. "I don't know why, but it has always appealed to me."
Cook, the Assistant Professor of Trumpet, performed on Thursday at a faculty recital with assistant professors of music Luis Fred on trombone and Benjamin Lieser on the horn. Attendees heard virtuous music from different sub genres, chamber music and a piece specifically commissioned for the recital.
Cook said he wants to show his new colleagues his musical abilities but, more importantly, he wants to set an example for his students to prepare them for success.
Fred said that Cook likes to choose repertoire that is technically demanding for the trumpet, so his playing could be considered "athletic."
Cook grew up in Wisconsin with two music teachers as parents and he began playing the trumpet in the third grade.
"It was never a question of 'do you want to go into music?'" Cook said. "I just knew from a very young age that that's what I really wanted to do."
Cook's musical career began at Roosevelt University in Chicago, where he majored in music education. He then taught band to students in seventh through twelfth grade.
Directing a middle and high school band wasn't exactly what he wanted to do, so Cook said he went on to audition for graduate school. Cook pursued his master's in trumpet performance and in 2013 received a doctorate degree of musical arts in trumpet performance at the University of Texas, where he continued to work as a teaching assistant.
"I discovered that I like teaching more," Cook said. "I liked helping other students figure out the things I had figured out."
Cook said he began teaching higher education at San Jacinto Community College in Houston, Texas and racked up more teaching experience in Oklahoma, Kansas, and Georgia before arriving at UCF last semester.
Nonetheless, Cook said he faced challenges throughout his career. During his twenties, Cook had his doubts about whether he would find a job in the music field, but he said that he remained persistent and stuck to the path.
"You can't sit there and look behind you and say 'well, what might've been,' that's no way to live life," Cook said, "There are ups and downs, no matter what path you pick."
He now directs a brass quintet and trumpet ensemble at UCF and teaches private trumpet lessons in his office.
Cook's colleague, Associate Professor Luis Fred, highlighted his character.
"He's bringing new ideas with him, and he is committed, invested, in seeing the best possible outcomes for his students," Fred said. "Dr. Cook is an engaging colleague, he is an energetic colleague."
One of his favorite things about teaching are the student breakthroughs, especially when their internal light bulbs light up as they begin to master difficult techniques, Cook said.
Joshua Robles, a sophomore double-majoring in music education and music performance, has been Cook's student since fall 2019. Robles is enrolled in private trumpet lessons this semester.
"Dr. Cook brings a high level of professionalism as a trumpet major that has not been seen for a while at UCF," Robles said. 
He said Cook is an experienced professor who's teaching style can be challenging, firm, fun and understanding. When Cook plays the trumpet, Robles said he feels motivated to achieve a higher-quality sound because Cook can help him develop those skills.
"He does his best to prepare us, not only for the musical world, but what it would be like being a trumpet player in the real world," Robles said, "Making sure we are prepared once we take our steps outside of UCF."