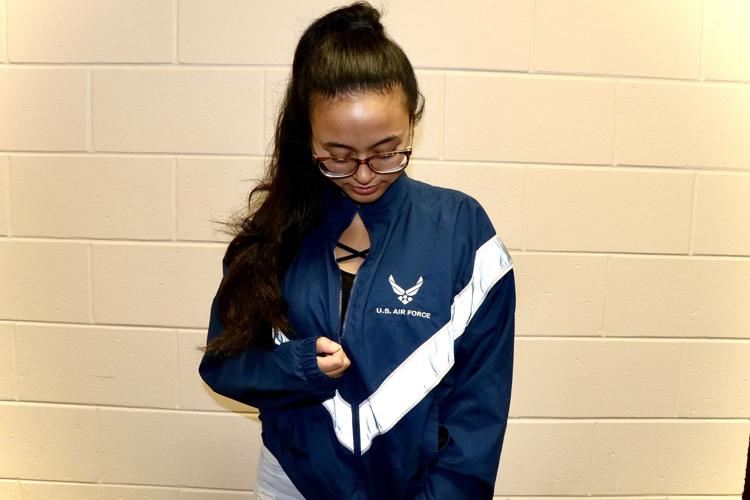 For 19 years of her life, Alexzha Garcia knew exactly what she wanted to do.
Her plan was to be an Air Force pilot, something she has been dreaming about since childhood. 
All that changed five months ago, when her new boyfriend helped her realize that she was stifling her creativity and true passions due to her regimented lifestyle.
"It feels good to make a really big change," Garcia said. 
The UCF sophomore aspired to join the Air Force after growing up on many military bases with her family, a product of her father's career as a flight medic. His service inspired her to want to continue living the military lifestyle.
Garcia joined the Civil Air Patrol, the Air Force version of ROTC, on base and brought the program to her non-military high school. She continued in this program until graduation and then went to UCF to continue her Air Force pursuits.
Garcia chose UCF because of the Air Force ROTC program. She felt that aerospace engineering tied directly into being an Air Force pilot, so she chose that as her major freshman year.
Realizing ROTC took up too much of her time, Garcia decided to change her major to something she considered easy, which was psychology.  
Garcia isn't alone, according to The National Center for Education Statistics, about 80% of college students change their major at least once in their college career. 
Garcia has now decided to drop ROTC and her lifelong goal of joining the Air Force.
One of the reasons that she left the program is its limited allowance of self-expression.
"The one thing that I didn't like, there was no self-expression. That was really strict," Garcia said. "You had to dress all the same and you had to act the same."
Currently, Garcia is changing her major once again. This time to graphic design which is geared towards her true passion—creating her own brand.
"When I decided to start my own brand, I knew I needed to switch my major so that I could use college to my benefit, and that I would learn practical skills I would get from graphic design to help me with my business and brand," Garcia said. 
The National Center For Education Statistics also states that the average college student changes their major at least three times over the course of their college career. 
Garcia's proposed brand, The Queen of Ubas, will provide an outlet for self-expression and the ability to help others do the same. 
"My goal is to help my audience live a life full of style, productivity and self-expression," Garcia said.
She says the brand will include content related to fashion, interior design and lifestyle tips. 
One thing that Garcia has always been passionate about is fashion. Her sister, Aizalyn Garcia, recounts that Garcia was a trendsetter in high school.
She said that her sister wore things before others did and made them popular among her peers. Aizalyn Garcia also said that Garcia's organizing skills gave her the confidence to make her brand a reality.
Garcia has some experience with interior design. In her free time, she assists various clients with home organization and ways to maximize living spaces. Garcia said doing this will expand her brand.
"It will help me build my content for my brand and give me some type of credibility as well with organizing spaces," Garcia said. 
She credits her boyfriend, David Rodriguez, for helping her realize that ROTC was not giving her the satisfaction that she thought it did. 
According to Rodriguez, "It was a means to an end." 
Rodriguez, a UCF alumus, works in digital marketing. He has helped Garcia hone her skills on design apps such as Light Room and Photoshop.
"What took me hours to learn, she got in 30 minutes," Rodriguez said. 
The couple met at a dance social five months ago that was hosted by Rodriguez. Finding out how many passions the two share together sparked the conversation about brand creation, something Rodriguez will continue to help his girlfriend with in the future. 
"I want to help her succeed and create cool, dope projects together," Rodriguez said.
As of now, Garcia has not told her parents about her switch to graphic design and her decision to leave the military lifestyle behind in order to follow her passion. She has informed her older siblings who were happy for her.
"I think she feels like they have some expectation of her to go into the Air Force, like she can't change her mind, but my parents are very understanding," Aizalyn Garcia said.
Garcia is hopeful about her future as a graphic design major.
Her advice to any student who is currently going through a transition of passions and might want to change their major is to go for it. She does warn of the cost that can come from switching, but said focusing on what makes you happy is what's most important.
"In the end, it's what you want to do with your life," Garcia said.
Garcia said The Queen of Ubas should be up and running in the next few months.