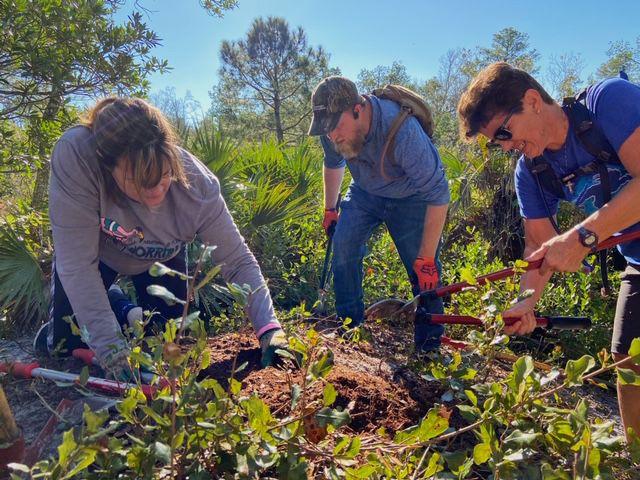 Grab the clippers, shovels, wire rakes and saws - about 25 volunteers started building a mountain bike trail at UCF's Arboretum on Saturday morning.
UCF's Department of Landscape and Natural Resources, the Recreation and Wellness Center's Outdoor Adventure Center and the Orlando chapter of Southern Off-Road Bicycle Association (SORBA), a non-profit dedicated to promoting off-road cycling, joined forces to create UCF's first mountain bike trail.
UCF Arboretum Land Management Specialist Brent Saulsbury said the Arboretum's extreme hiking trail that occupies the land has the potential to become a mountain bike trail.
"We have about twenty feet of drops and hills that we could shape," Saulsbury said. "We reached out to SORBA on some mountain bike groups on Facebook and the interest was explosive."
Secretary of SORBA-Orlando and team leader of the bike trail project Harry Wise said the trail will be about five miles long. SORBA-Orlando will organize the volunteers and share their knowledge about mountain bike trails while UCF provides the construction materials.
Saulsbury said that the mountain bike trail construction will span throughout this semester and will probably be completed by March.
The trail will offer an opportunity for both the general public and the Outdoor Adventure Program to have a safe space to ride their mountain bikes on a beginner-to-intermediate trail, Saulsbury said.
Outdoor Adventure Assistant Director Katherine Rocco said that after plans were finalized, the Outdoor Adventure Program was contacted to join the partnership.
"We have a whole fleet of mountain bikes that we don't rent out to individuals, but we do run mountain biking trips with them," Rocco said. "So Landscape and Natural Resources wanted to bring us in on this with the hopes that we'd be able to utilize those trails for some of our programs."
Although the Outdoor Adventure program offers mountain bike trips and an introduction course to mountain biking twice a semester, these programs take place at Santos Trailhead and Campground in Ocala, which is an hour-and-a-half away from UCF.
But with these new bike trails, Rocco said the Outdoor Adventure Center could eventually offer more frequent clinics for beginners and intermediates every month.
This collaborative effort to design a maintainable and sustainable trail will promote recreational mountain biking. Students who have never been mountain biking will now have a place to learn, Wise said.
The construction of the trails will include pre-engineered boardwalks and bridges designed by SORBA, Rocco said.
They will also install a kiosk and trail markers with the location and UCF police station's dispatch number for safety, Saulsbury said.
Christopher Foley, a writing professor and a student in the text and technology Ph.D. program, was one of the volunteers who participated at the first day of construction.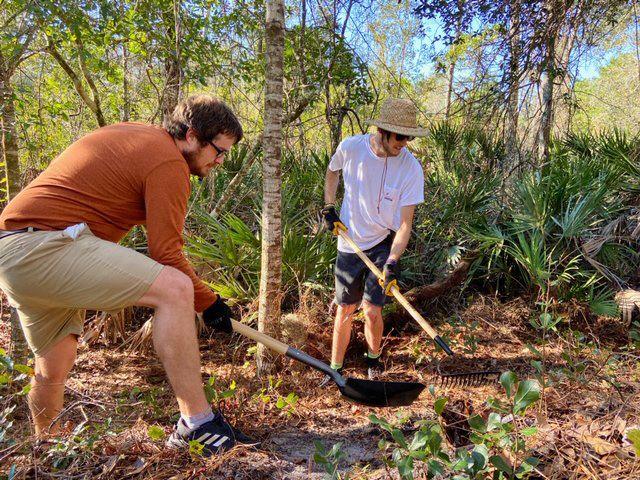 Foley said he used to ride his bike to school every day and that progressively shifted towards mountain biking. He started mountain biking four years ago because it was a way to make friends and get out of the house, he said.
He often uses the arboretum spaces and he said he volunteers regularly for SORBA.
"It's been nice to work with [SORBA]," Foley said. "It's nice to find a group of people who have [mountain biking] in common even though they're all dentists or lawyers."
President of SORBA Orlando, Sue Van Bernum, echoed this sentiment. She said that she started road biking five years ago, but as the roads got increasingly dangerous, a friend suggested shifting into mountain biking. Van Bernum said she fell in love with it.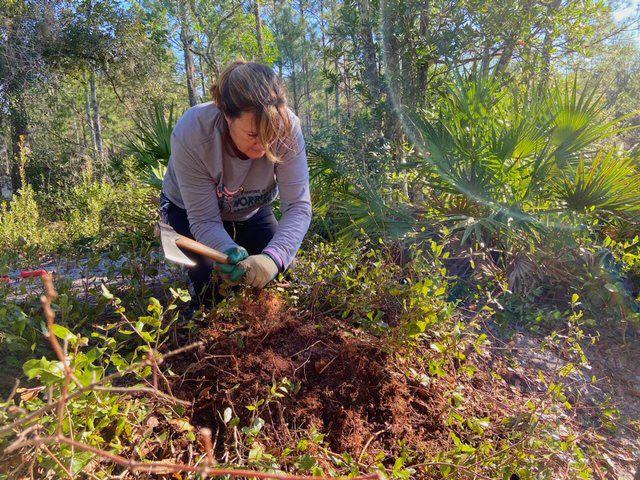 "Wherever we go, we see somebody we know," Van Bernum said. "Our common enjoyment is riding in the woods and building and maintaining trails. It brings a lot of great people together."
Over the course of two months, the Arboretum and SORBA Orlando will continue working on the trail so it can be done and officially ready to use by the end of March.
"We are outdoors with people we really appreciate," Wise said. "It helps with your mental health and physical health, just getting out and riding your bike."