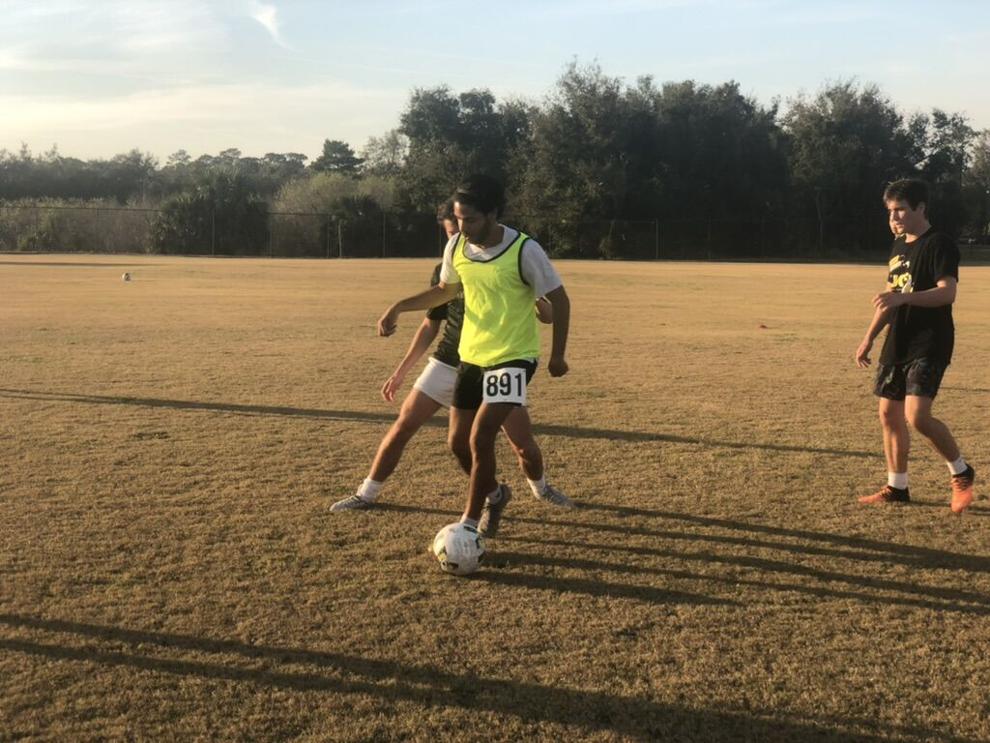 This Wednesday, 36 UCF students arrived at the Recreation and Wellness Center's fields, hoping to earn the opportunity to be on a soccer team entering a new era.
This semester, the UCF club soccer team will play its first season as a member of the Collegiate Club Soccer League (CCSL), a brand-new spring league. For years, the club played in the spring as a member of the Aztec League, but president Evan Walker said they decided to leave due to long-standing frustrations.
"The registration dues are really high. They had plans for an end-of-season tournament that fell through cause no one wanted to get involved. We had to cancel a few games because of scheduling issues," Walker said. "All around we just felt as the leaders of this team, myself and my officers, felt thatthe team was better off with the money they were investing to be a part of this club to join a different league."
Walker said they weren't the only club who had issues with the Aztec League, as the CCSL was made by other soccer club members. The league was created by Luciano Parrotta, the former president and current coach of the University of Tampa's men's club soccer team, and Juan Puentes, the president of Florida Gulf Coast University's club soccer team.  
Walker said that Parrotta and Puentes started the league to give men and women clubs in Florida the chance to play soccer in the spring. He said that they offered UCF a spot in the league, and since the club had no contractile obligations to remain in the Aztec League, they accepted the invitation.
According to the league's instagram account, CCSL is made of 16 teams and is broken up into four groups of four. Three of the groups are made up of Florida teams and the final group is made up of teams from Georgia. UCF is a member of the Florida B Group with clubs from Stetson University, Florida Atlantic University and the University of Miami. A league champion will be decided in a postseason tournament, which will feature the top two teams from each group and will take place from April 14-16.
Many current and past members of the club, like alumnus goalkeeper Keyver Oliveros, said they view being in a new league as a challenge but also as a chance to test themselves.
"I feel like this league is just another obstacle in our way to keep winning and to be able to thrive in a situation we might not be comfortable in," Oliveros said. "But it's nothing we can't handle, so I feel pretty good about having these teams out here and exploring this new league that we have."
Many members of the team, like senior center-midfielder Elad Yair, feel confident the team will finish on top this season. 
"We know that if we play our best soccer, we can be the best team out there and win it all," Yair said.
Walker said competing as a member of CCSL will allow the team to meet its goal of becoming a year-round club. He said he also feels it will give several members of the club the chance to grow and gain chemistry, which will help them in the upcoming fall semester when they compete on a national scale as a member of the National Intramural-Recreational Sports Association.
With the opportunities this new league will provide them, as well as a desire to win it all, senior striker Leo Cortez said they can't wait to begin playing.
When asked to describe the feeling the team had Cortez said "Definitely excited. The team is very, very excited. I feel like it's going to be a lot of competition, especially with a bunch of other schools around the region, some schools in Georgia, so its going to be a good season. It's going to be very competitive."
The club will play its first game as a member of CCSL on Feb. 4 at home against FAU.