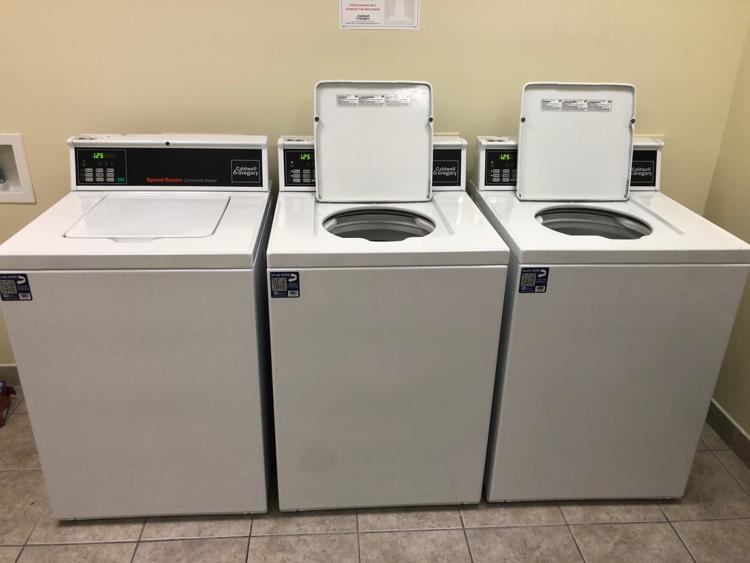 Students living on campus have new washer and dryer machines, but these new appliances are not problem-free.
The new devices run through an app called "Speed Queen." Although the app is free to download, students have to use their smartphones to deposit at least $10, which poses a problem for some on-campus residents.
Senior legal studies major and resident assistant Kayla Grey said some of the Global UCF students cannot download the app, which makes the task of doing laundry harder than it was before with coins or Knight Cash as the only payment options.
"Some of the people who live in this building, they come from other countries, so they don't necessarily have phones that are compatible with the app," Grey said. "So basically they have no way to do their laundry."
Grey also said the new machines, which were installed during winter break, caused some confusion among her residents in Tower II during the first few weeks of the new semester.
"They didn't know what was going on, or how to use the [new machines]," Grey said. "There was an instruction guide on the wall, but it was still kind of a shock to people, they really didn't understand how to use it."
Uyea Vo, a Global UCF student from Vietnam, said she has not been able to use the app because she doesn't have an American bank account or credit card. Instead, she has to use her roommate's app and cell phone to do her laundry.
"I give [my roommate] the cash, and she helps me wash my clothes," Vo said. 
Resident assistants addressed the accessibility of the app and financial concerns with Speed Queen Insights, the company that runs the new laundry machines, but the solutions offered were not helpful, Grey said.
"Some of their solutions were 'if you don't have a credit card, open up a credit card, you'll need it anyway,'" Grey said. "There was also 'if you don't have a phone to get the app, use an iPad,' which didn't make any sense because if you don't have a phone that's accessible you might not have an iPad."
Grey said she and the other resident assistants suggest using a computer, but she isn't sure if that is a working solution.
Another problem is the increase in price. Dryers used to cost 75 cents and now they costs $1.25. The price for the washers also went up 25 cents, she said.
Although the new machines are more expensive and students can no longer use their Knight Cash, some students, such as undecided freshman Jeremy Myers, said he prefers the new appliances.
"I just like that I don't have to use Knight Cash," Myers said. "I never have to go to the Student Union to refill my card, I can just do it from my phone which is much easier."
Myers also said he likes the app's feature that texts him when his laundry is almost done.
"I think [text alerts] are more helpful because when kids are in class, they'll know what time their laundry is going to be ready." Myers said. "So they know when they come back, they can take it out."
Additionally, the new appliances come with 24/7 costumer service, versus the previous machines which didn't partner with UCF. 
"With this company, there is a number [posted] in the laundry room, and if you're having an issue you can call, and they can give you customer service," Myers said. ""They either talk you through the problem or let you know someone is on their way to fix it."
Although the app offers some helpful features like texting students when their laundry cycle is complete, or notifies them which machines are available, some students are frustrated they can no longer use quarters or their Knight Cash. Grey said it would have been beneficial if there were different payment options.
"I think both options were good because if you wanted to put money on your card you could," Grey said. "And a lot of people liked using quarters because it is a lot easier to find quarters, or borrow quarters, than it is to get money on your card."