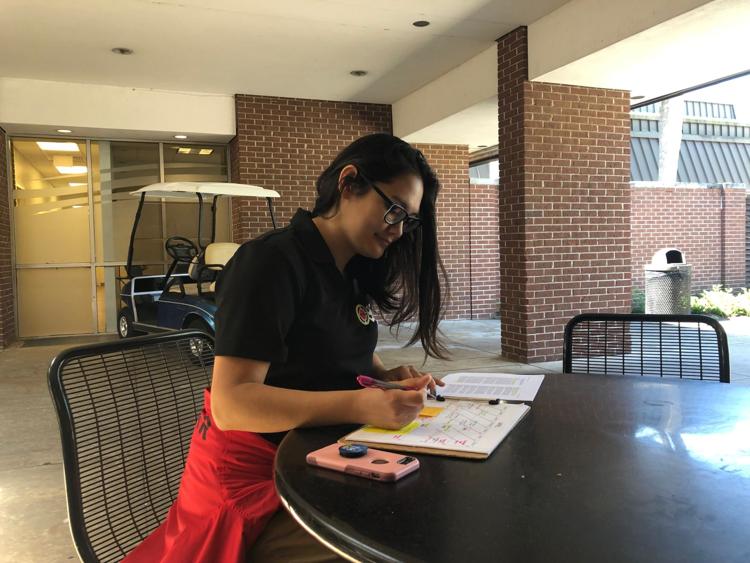 After being elected as the new Graduate Student Association president on April 5, Diane Lieu said she plans to help graduate students become more involved on campus.
Lieu graduated from UCF with a bachelor's degree in interdisciplinary studies in 2015 and started her master's degree in instructional design and technology in 2018. She will be working alongside her vice president, Michael Riley, who is earning a master's degree in health services administration.
Lieu will be representing and advocating on behalf of almost 9,000 graduate students at UCF, according to the Institutional Knowledge Management website. She said she intends to focus on serving the many different demographics that make up graduate students at the university.
"A grad student can look vastly different," she said. "That student could have a family, they could have a 9-to-5 job. That student could very well be in Michigan right now completing their grad program online."
Lieu said majoring in a program that is predominantly online made her realize how difficult the shift from undergraduate studies to graduate studies can be.
"The climate for graduate students is much different," she said. "I went from a student that was on campus all the time to not really having a space here."
In her undergraduate years, Lieu said she was very active on campus. She was a part of many Registered Student Organizations, including the bellydancing club Shimmy Knights, and was an orientation leader on UCF's O-Team.
Now that she spends significantly less time on campus, she said she doesn't feel as included or represented as she did during her undergraduate years.
To cope with the shift, Lieu said she joined the Graduate Student Association in fall 2018. After following the conversations that graduate students were having on GSA's Facebook page, Lieu said she was inspired to run for a seat on the executive board in March.
"There's a lot of good to be done in this area," she said. "Even just helping graduate students become more visible is half the battle because in order to be heard, you have to be seen first."
Lieu said her family and friends who knew she was interested in running were "overwhelmingly supportive" of her win, and their support made her realize the gravity of what she was trying to achieve.
"This really isn't about me — it's about what I can do for the organization," she said. "I was instantly like, 'let's start talking to people, let's get the ball rolling.'"
Lieu, who is a also a first-generation student, said one of her plans as GSA president is to help make the transition from undergraduate to graduate school easier for students by making graduate students more "visible" on campus.
Having graduate students act as mentors and advisors to undergraduate students on how to apply for grad school and what to expect can help make the shift easier, she said.
"[Graduate students] are this great resource to undergraduate students that undergraduate students don't even know how to access," Lieu said. "We went through this process not that long ago, and we can share how we did it."
During her undergraduate years at UCF, Lieu worked as a peer advisor in the Office of Interdisciplinary Studies and tutor at the University Writing Center beginning in 2013. She said her job at the Writing Center led to her meeting program director Mark Hall, who later became a mentor to her.
Hall said he was not surprised Lieu went on to attend graduate school and be elected GSA president because she was a "terrific tutor" and an "awesome student" during her undergraduate years.
Hall, professor of literacy studies and writing rhetoric, said he is confident Lieu will do well because she is passionate about supporting graduate students across UCF and enhancing their learning experience.
"It's a great gift and a pleasure to watch somebody like Diane [Lieu] advance in grad school and into this leadership position," he said.
Graduate assistant Candace Rodriguez was also candidate for GSA president but did not make it onto the executive board. Although she didn't win, she said she is eager to see what Lieu has in store for GSA this year.
"Her campaign was the best organized, if I'm being honest," Rodriguez said. "She's really good on advocation."
Rodriguez said she hopes Lieu will focus on nontraditional students, especially those with children. As a graduate student and a mother of three, Rodriguez said it's hard to find affordable and available daycare services on and near campus, especially since most graduate student classes are at night.
Rodriguez said she'd also like to see an increase in RSO involvement for graduate students since many don't think most clubs and events on campus are geared toward them.
"When things says 'all students,' graduate students don't see 'all students,' they see 'undergrad,'" Rodriguez said.
Though Rodriguez never formally met Lieu, she said she plans to reach out to her and share her concerns and ideas to help improve the graduate student experience and increase their involvement on campus.
Originally from Jacksonville, Florida, Lieu said UCF was the only college she applied for because of the tuition cost and her interest in hospitality at the time. After working at the Writing Center, that dream changed to wanting to teach English as a second language, she said.
Lieu said her native language of Vietnamese helped her relate to students who are new to learning English, and after getting into graduate school, her teaching focus shifted to creating e-learning programs.
"I want to still teach, but in a different capacity where I get to develop course work and train and help people learn things in different ways," she said.
Lieu said she wants to send the message that UCF has something to offer to every type of graduate student, and said she hopes to prove that by connecting graduate student RSOs on campus to help increase involvement efforts.
"The idea of having a committee where they can share best practices to get more people involved is something I think every RSO struggles with," she said. "If someone is finding success in a certain way, we should share that knowledge with each other."