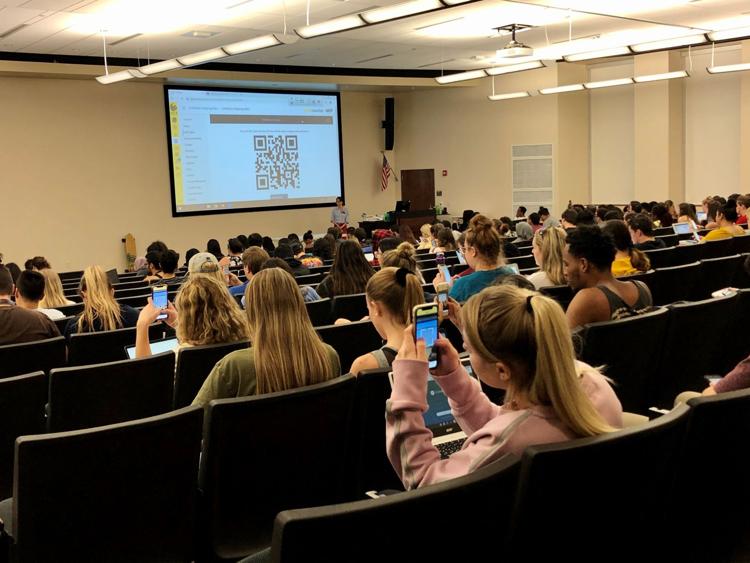 Some UCF students may be familiar with spending money on attendance-recording technologies such as iClickers and Top Hat.
Now, there is a new, free app that students and teachers can use to track attendance in class. The UCF Here mobile app, developed by the Division of Digital Learning, launched on the first day of classes this semester.
Assistant Director of Mobile Strategy and Innovation, Ryan Seilhamer, said he was approached in spring 2018 by four computer science students who thought of the idea to create a mobile attendance app.
Seilhamer said those students began their two-semester-long senior design assignment, which consisted of designing the project during the first semester and completing the project throughout the second semester. 
"It was a great collab to work with UCF students who knew what it was like being apart of the attendance process in class, and we appreciated their help," Seilhamer said. "After the class was over, we took what they gave us, and we worked on the project. We did a lot of testing in the summer classes in 2019 and went in pilot in the fall."
Seilhamer said that UCF Here was tested 400 times last semester and about 2,000 students checked in approximately 23,000 times in class. He said that they wanted to create a product that is cost-effective, quick and easy to use, affordable, accurate and directly compatible with Webcourses@UCF.
Julie Donnelly, a chemistry professor working in the Faculty Center for Teaching and Learning, said she doesn't typically record attendance for her classes, but decided to try out the new app this semester.
"I work with a lot of faculty who do grade attendance, and I think that if I have a good experience with this, then I'll be able to tell them about it and then they might want to use it," Donnelly said.
At the beginning of Donnelly's Chemistry Fundamentals II class on Monday, she had her students download the app so they could check in to class. UCF Here allowed students to log-in with their ucf.edu username while Donnelly accessed the app through the tools section on Webcourses.
Once the session began, two large QR codes projected onto the screen in the classroom. While using the app, the students were able to point their phone's camera at the screen to capture the codes.
Students were marked present and the record of attendance was synced back to the Webcourses grade book.
One of Donnelly's students, sophomore chemistry major Skylar Gootkins, said UCF Here is better than the other devices, such as iClicker, because it is not an extra expense coming out of her pocket. Gootkins said she likes how the app is free, easy to use and fast.
"As soon as you scan the barcode with your phone, it reads it with less than 30 seconds, and I trust the fact that my attendance is being recorded properly through the technology," Gootkins said.
Despite the app's recent launch, some students have never heard of it.
Rhonda Natour, junior advertisement and public relations major, said that none of her professors have used this attendance system in class yet. Natour said her professors usually track attendance by having students sign a sheet of paper. 
"I feel like that wastes time, though, because you have to wait for the paper, look for your name, and by the time you find your name, the teacher is already teaching and no one is paying attention," Natour said.
Some professors choose not to use UCF Here because they prefer other applications. Nicole Lapeyrouse, an adjunct chemistry professor at UCF and Seminole State College, said she was considering using UCF Here, but she decided to use Top Hat instead.
"Top Hat is a service where students have to pay for, but it's where all the homework is located, in-class assignments and worksheets," Lapeyrouse said. "I can also ask in-depth questions for students to interact with problems on a deeper level. Using Top Hat has an attendance portion, as well, that allows students to use the geo-location to be in the class." 
As the creator of UCF Here, Seilhamer said he hopes more people will start using the app and that, in the future, UCF Here will have more features than just recording student attendance.
"This is just one app in the line of new applications that we hope to release to UCF students throughout the years," Seilhamer said.
An earlier version of this article said that Seilhamer was approached in fall 2018. This has been corrected to show accuracy.