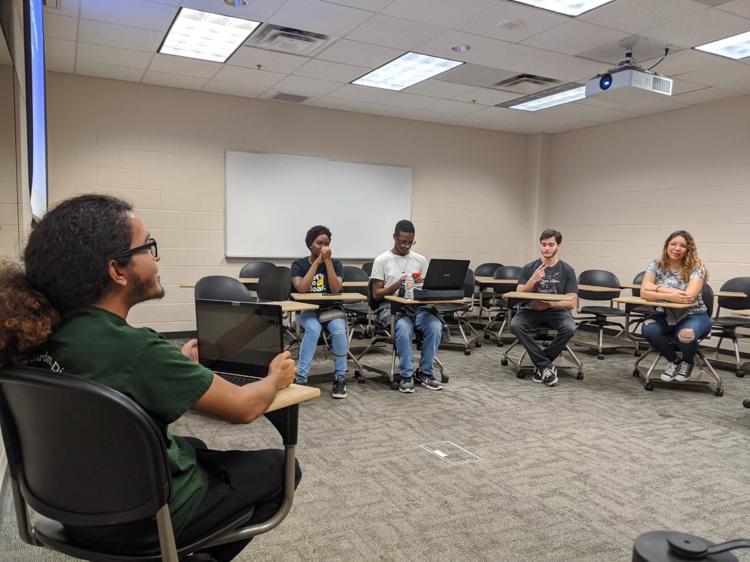 Crystals, pendulums and herbs are just some of the topics that UCF Mystical Knights club has covered since its first meeting in October 2019.
President and creator of Mystical Knights Sandeep Singh said the club is founded on spirituality and all things metaphysical. The senior information technology major said he created the club for students who want a safe and inclusive space for spirituality and to discuss everyone's opinions.
"Mystical Knights is a spiritual club, but it doesn't pertain to any religion," Singh said. "It's kind of like seeing the spiritual aspects of everything and everyday life."
Metaphysical can be defined as relating to the transcendent or to a reality beyond what is perceptible to the senses, according to the Merriam-Webster dictionary. 
Heidi Hutt, junior medical science major and secretary of Mystical Knights, said the club focuses on topics that are not frequently discussed in society, such as themes connected to science, philosophy and health.
The UCF Holistic Healing organization is the only club similar to Mystical Knights, but Holistic Healing focuses on spiritual medicine, Hutt said. Mystical Knights' weekly meetings center around presentations, such as the healing properties of crystals, along with a related activity, Singh said.
Hutt said the club has learned the meaning of chakras, with an illustrated body-coloring activity, and the science of herbs, with a hands-on exercise making herb packets to take home. She said these are activities meant to help a person's wellbeing.
Future meeting topics could include astral projection, spells and tarot cards. Hutt said a lot of members are interested in learning about astrology.
Singh said that one of the main reasons he started the club was to offer a place for like-minded people to come together. He said it can be hard to find other people with shared interests on campus because some students may not feel comfortable talking about spiritual topics with their friends. 
Ten months ago, Singh said he met a handful of UCF students who had similar interests in spirituality and metaphysical ideas, so they encouraged him to start his own club. Now, those students are active members of the club.
Hutt said this club could help students learn more metaphysical topics and meet more people in the metaphysical community. She said her experience in the club has been interesting, especially since fall 2019 was her first semester attending UCF and she was already an officer.
"I have to take a step back," Hutt said. "Because usually that's for the upperclassmen or people who've been in [the club] for a while." 
With such a short club history at UCF, Mystical Knights members said they hope to gain exposure. Hutt said their email list has 40 members but 10 people on-average actively come to the meetings. She said that there is a divide between those who are open to the spiritual ideas and those who judge it in a negative light.
"A lot of people hear about this stuff and they get scared because they think it's dark or it's evil," Hutt said. "As far as our topics and what we do, everything is very light and everything is for a greater purpose or to help benefit people."
Singh said while the club is a healthy outlet for students, the club still faces stigmas and misinterpretations. An example of this was the idea for a full moon gathering, Singh said.
"It's nothing that's harmful and there's nothing evil about it as a handful of people might think about," Singh said. "Many people would say it's Satanic or something like that, but it's really meant to bring up someone's energy, to have fun and also just to connect with nature."
Carly Kupper, vice president of Mystical Knights and a junior psychology major, said it's a "common misconception" that spirituality and metaphysics is about religion; she said the club isn't religious.
"We're not here to convert you," Kupper said. "We all have our separate beliefs. We never bring religion into it."
Kupper said she wants skeptical people to know that the club is "open-minded."
"A lot of people outside of the spiritual community think we're super weird," Kupper said. "It's really nice to be around people who would know what I'm talking about and are interested and passionate about it too."
Mystical Knights is using Zoom for virtual meetings because the pandemic caused the club to cancel its face-to-face meetings.
"I think it's important, especially now, for us to be able to connect with each other," Kupper said. 
The transition to virtual meetings means a bittersweet ending to Singh's involvement with Mystical Knights, as he is going to graduate this semester. Singh said he will continue to stay in contact with the club, offering advice to new officers and watching how the club evolves.
Singh said that students have approached him to say they are glad there is a club that provides an inclusive environment for them to talk about their interests without worrying about judgement.
"I'm super glad I got to do this before I graduated," Singh said. "It's a huge accomplishment for me." 
Despite the unclear future for the club's hands-on activities, the members said they recognize the importance of keeping their community together for the well-being of the students. Hutt said this club has brought positivity to her life and benefited her emotional awareness.
"[Mystical Knights] changed the way I think about things, the way I see things, the way I react," Hutt said. "That's why I want to continue doing it or being part of it and help [other people] in their journeys." 
An earlier version of this article stated that meetings revolve around crystals and referred to future meeting topics as absolute when they are just potential ideas.