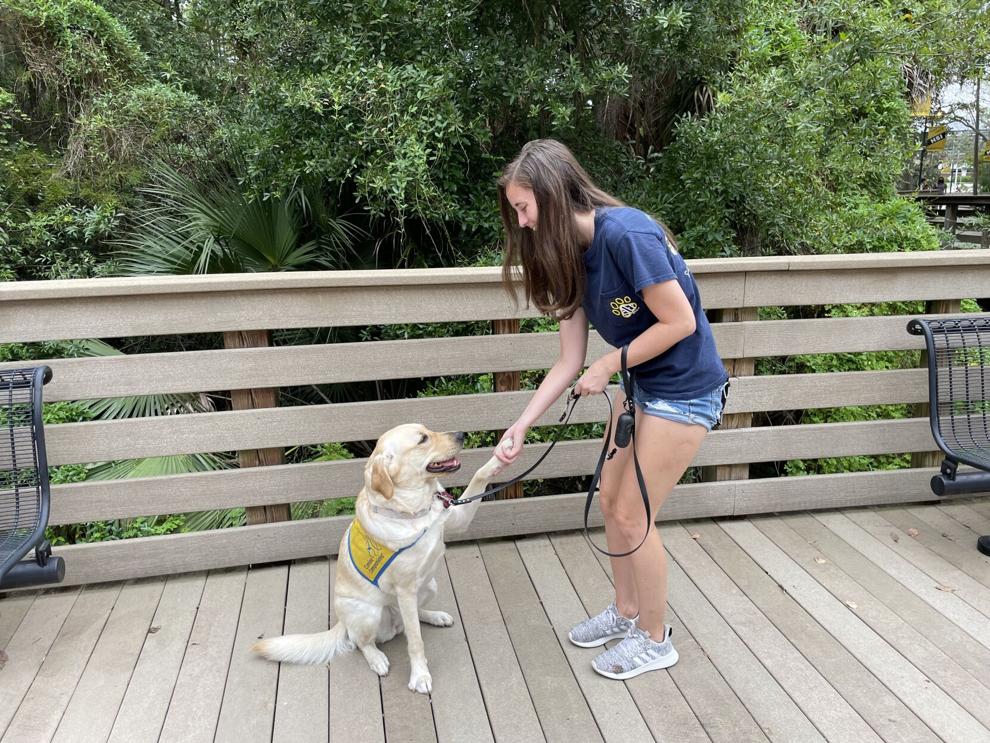 Ashling O'Neill has always had a love for dogs. Her freshman year, she discovered a dog-centric club and found not only a home but a passion for helping others.
O'Neill is president of the Service-Dog Training and Education Program at UCF, a club dedicated to raising and training service dogs for the organization Canine Companions for Independence, a California nonprofit that raises service dogs for people with disabilities for free.
The junior industrial engineering major joined STEP her freshman year because she liked the mission of CCI, which centers on the importance of service dogs in the day-to-day struggles of people with disabilities.
"I fell in love with the mission of them spreading awareness of service dog etiquette and disability etiquette," O'Neill said.
After joining STEP, O'Neill also started volunteering with CCI and enjoyed working with the staff. She became secretary of STEP her sophomore year and had to adapt to being fully on Zoom due to the coronavirus pandemic. She was elected president of the registered student organization her junior year.
"This year, I became president and have really been enjoying it because we're back in person," O'Neill said. "We're really taking full advantage of it."
Writing and rhetoric senior Lindsey Valenti has worked alongside O'Neill in STEP the past three years. While Valenti is not a puppy raiser, she is a puppy sitter, which is a club member trained to watch the dogs when puppy raisers are unavailable. Valenti said she has watched O'Neill develop into a great president.
"She is definitely a hard worker, and she's definitely determined and opinionated," Valenti said.
In April 2020, O'Neill was placed on the STEP waitlist to become a puppy raiser, but due to the pandemic no puppies were available. Last June, O'Neill said she got "an unexpected surprise": She received a call she was going to get a 2-month-old, yellow Labrador-and-golden-retriever mix puppy.
"I got her at the perfect time, right in the middle of COVID," O'Neill said.
O'Neill said she had to adjust to having a puppy to raise so quickly. In the beginning, she said she stayed home with the puppy, named Danika II, all day to set the foundations of her training. 
The puppy was named Danika II because of CCI's special naming system. CCI breeds a lot of dogs, placing over 7,000 dogs since the nonprofit's founding in 1975, said Martha Johnson, marketing and public relations coordinator for CCI. Because of the amount of dogs CCI breeds, many of the dogs are given the same name, with Roman numerals used to differentiate them, according to CCI's Facebook page.
Once classes started back up, O'Neill said Danika II was able to go to class with her and was exposed to everything: from people walking around campus, to squirrels and raccoons. O'Neill said she is able to take Danika II to class because of an agreement between UCF and STEP, so the dogs can be exposed to the type of environment they would be in as a service animal.
"It's kind of comforting having her under my chair, just kind of feeling her there; even when I get stressed in class, just knowing that she is there," O'Neill said.
About a-year-and-a-half after getting her, O'Neill said Danika II is almost ready to graduate and move onto professional training at the CCI Southeast Regional Training Center. O'Neill said she is preparing to give up Danika II in November. However, before even getting her, O'Neill said she had to put herself in the mindset that she was only going to have Danika II for a short time, so she was going to make the most out of it by training her to be a great service dog for someone.
"It hurts either way," O'Neill said. "But she will be fine."
As of right now, STEP has seven dogs being trained, O'Neill said. Come November, O'Neill said six of them will graduate and go onto professional training. She said the club is expecting some more puppies to come in November and January as well.
"She is my little buddy," O'Neill said. "She has really helped me grow as a person."