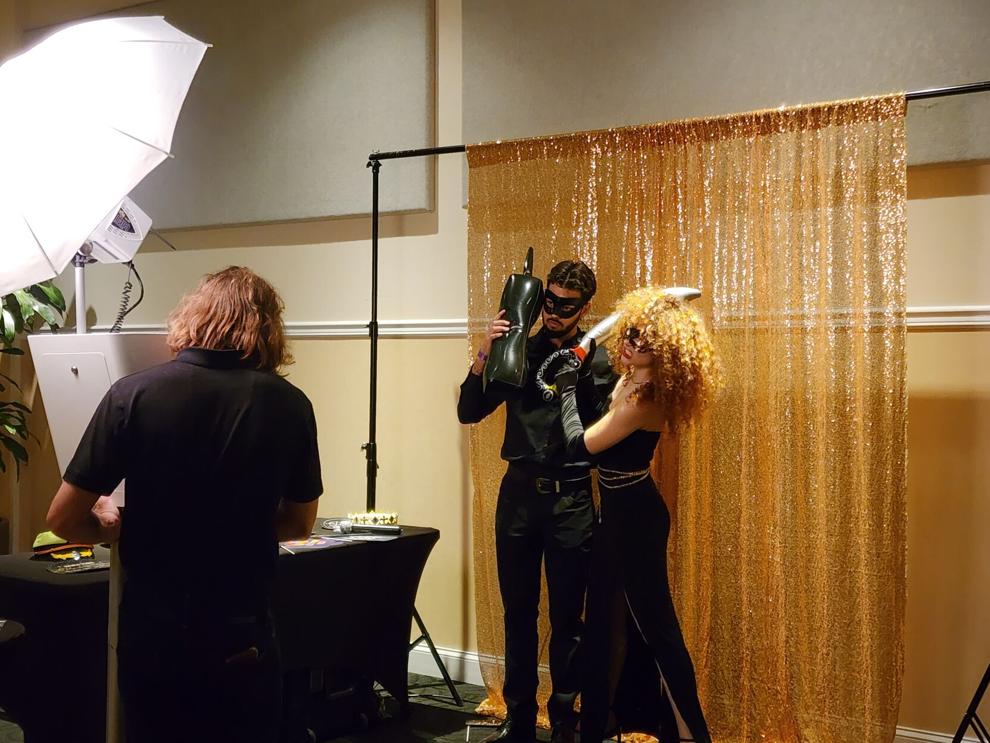 Women in sparkling long black or white gowns and men in their best-fitted suits crowded the Cape Florida Ballroom on Saturday. Each guest wore a decorative mask, but not even the mask could conceal their excitement for the Puerto Rican Student Association's first annual Masquerade Ball.
Victoria Hernandez, PRSA vice president, said the event was designed to create a fun and accepting atmosphere for UCF's Hispanic community. The health sciences major said the e-board members have been planning this project for a month, and they wanted to properly celebrate all the hard work the club has put in this semester.
"The inspiration to have a masquerade ball was to have a celebration of the end to a successful year as an association," Hernandez said. "And to celebrate our student's semester as well."
Decorated in the black and gold theme, the ballroom had several tables set out for the guests. Each table held an elaborate white feather centerpiece, along with several beaded necklaces and candles to compliment the atmosphere.
Guests had to RSVP to the event as there was limited seating, according to the Puerto Rican Student Association's social media post. From there, attendees were expected to dress in either black or white formal attire for the event, along with a decorative mask. Individuals who could not find a mask in time were handed out black, silver or gold masks at the event.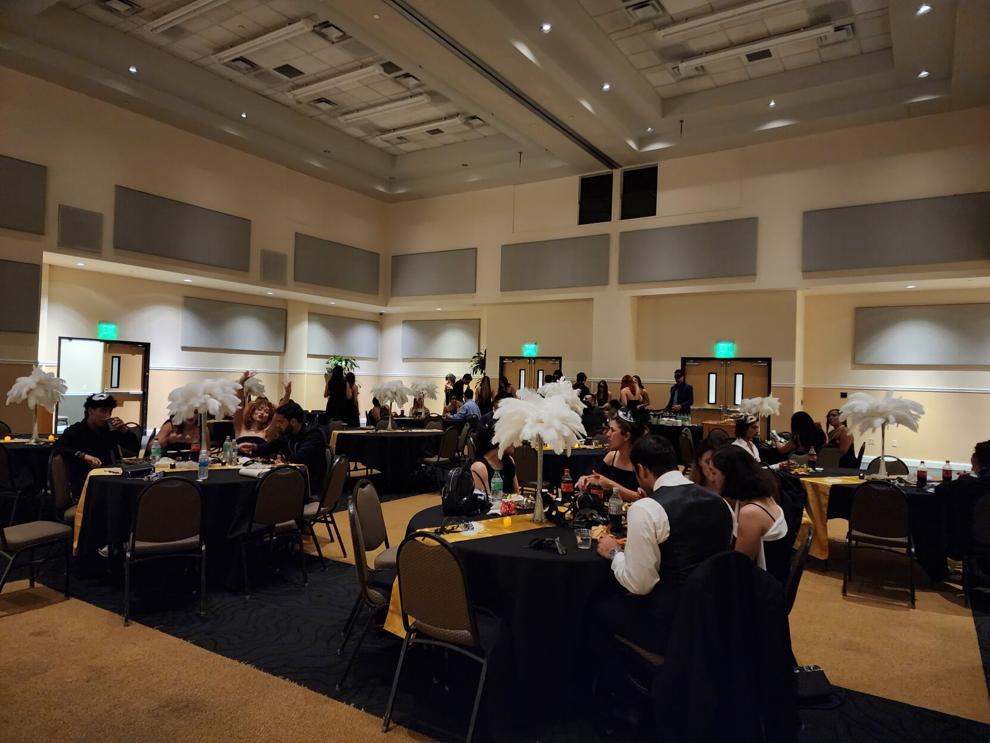 Guest were checked in at the entrance, providing them with their sparkly purple wristband and a welcoming smile for them to enjoy the night. Hernandez said though the event was meant to celebrate the club and their accomplishments, anyone was allowed to RSVP and dance the night away.
"Orlando is an area with a lot of Puerto Ricans, so every year UCF receives a lot of Hispanic students as freshmen … We are an association, and we are known as being very active and social within the university. So Latinos always look to have fun at college, have many friends to feel at home, you know? Especially Puerto Rican students," Hernandez said.
As the night progressed, Hernandez said guests were offered to take part in the Puerto Rican cuisine, such as rice and beans, pork and yellow rice with chicken that was provided by UCF. Attendees socialized with each other as they enjoyed the food. Sebastian Sotomayor, junior computer engineering major, said he was most excited about the food and the chance to make stronger friendships that night.
Sotomayor said moving from Miami to Orlando was a bit intimidating for him, but being able to find this organization assisted with the transition. He said having people that looked like him here in Orlando made him feel more at home. 
"It looked like a lot of fun, and it was very nice, very welcoming," Sotomayor said. "It's a lot of Puerto Ricans, and it made me feel more at home."
Sotomayor said that being a part of this association has inspired him to run for media coordinator next fall semester.  
As everyone was eating, Hernandez began to present a slide show that showed all the events and accomplishments the club was able to do throughout the year. From their first beach day to their interactions with other Latin-American RSOs, guests laughed and cheered as they watched all the memories unfold.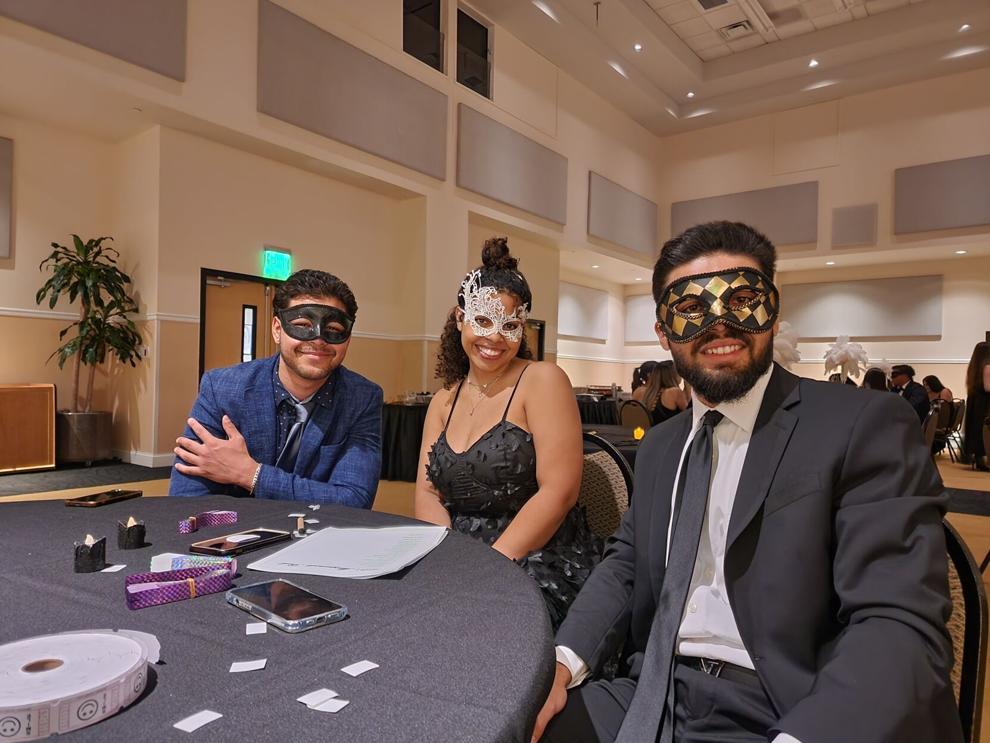 "It makes me very happy to help PRSA and help other students feel at home because usually we always have tasks within our association and as members," Hernandez said. "But honestly, the bond we create with students and the friends that we create, it always goes above those things."
As a surprise to the members who were graduating this semester, Hernandez and the rest of the e-board members compiled several videos of the graduating students' family members, who are in Puerto Rico, expressing their love and pride.
Aleyssa Marie, president of the Puerto Rican Student Association, was brought to tears of joy as her family wished her the best of luck in her future and expressed how proud they were of all of her accomplishments.
The night continued with an award ceremony, commending members of the club for categories such as "most loyal," "most patriotic," "dynamic duo" and so on. 
The presentation ended with Marie giving a presidential speech. She reflected on her time being accepted into UCF and how she was worried about leaving her family in Puerto Rico. She said she was relieved to find a new family here in Orlando. 
"I found an organization that helped me find my community, the Puerto Rican Student Association … Looking back, it has been an exceptionally worthwhile year. It has been an amazing year full of laughter, love, stress, yes a lot of stress, but a lot of fun too," Marie said. 
Opening up the dance floor, guests and members were able to dance, laugh and cheer to the celebration of their hard work coming to a close. With Hernandez now taking the role as president, she said she wishes to make a place where all Puerto Rican and Latin-American students can feel at home. 
"My culture is my biggest blessing honestly," Hernandez said.