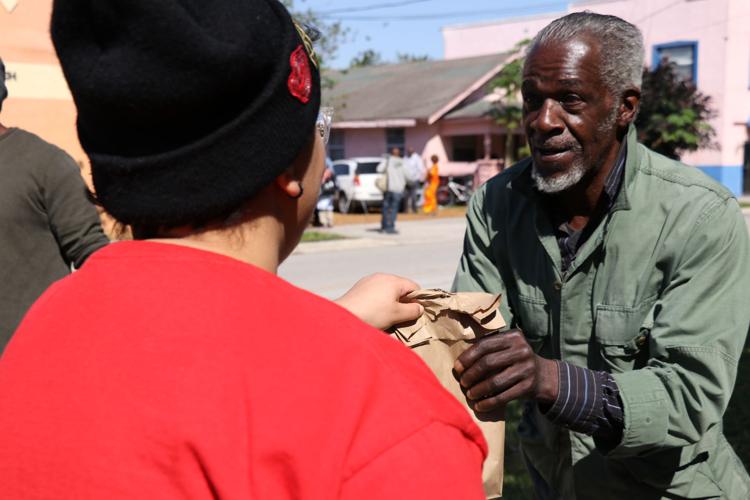 Nonprofit organization Project Downtown Orlando first formed back in 2007 through a local mosque as a way to serve Orlando's homeless population. Members prepared food at the mosque located downtown before walking across the street to provide the meals to people at a homeless shelter.
After Project Downtown Orlando went inactive for some time, senior biomedical sciences major Ebraheem Naser, 19, along with UCF graduate Mahnoor Ashraf, 24, and University of Florida graduate Zakariya Hassouneh, 21, reestablished the program and officially registered it as a nonprofit organization.
The group now works to provide services to underprivileged communities in downtown Orlando.
"Project Downtown Orlando is something special, because you can feel good about doing it and see the smile on peoples' faces when you provide them with a meal when they did not expect to eat anything that day," Hassouneh said.
The organization works to battle food insecurity in the downtown Orlando area and offer other necessities such as clothes and hygiene products on occasion.
According to the United States Department of Agriculture, food insecurity is defined as the lack of consistent access to enough food for a healthy life. Mostly, Project Downtown Orlando wants to make sure everyone is doing his or her part to give back.
"We try to go out and bring people from the community in and do something good according to our faith because we want to implement the principles of giving back to our community," Hassouneh said.
Hassouneh, Ashraf and Naser all identify as Muslim and said Islam prioritizes giving back to the community, especially at home. This is just one way they choose to give back to those most underserved in their community.
Naser said although Project Downtown Orlando is based on Islamic principles, everyone is welcome to help and donate their time. The group's members do not seek to spread their religion, but rather aim to show people they care for their community.
"We want to show people that Muslims are not exactly what the media may portray us as, and we just want the faith in humanity to be restored," Naser said.
Photos: Muslim students work to feed the homeless and fight Muslim stigma
Ashraf has been volunteering with Project Downtown Orlando for the past 10 years and said in recent years, legal issues have hindered the organization from reaching the largest amount of people possible.
"With the new soccer arena, the government has been pushing laws about where the homeless can and can't hangout," Ashraf said. "The homeless are being displaced, and it's getting harder for us to feed them."
The Orlando City Stadium, which opened on Feb. 24, 2017, is home to the Orlando City Soccer Club. The stadium is 100 percent privately funded and is located in the Parramore neighborhood near West Church Street in downtown Orlando. 
Back in 2007, Project Downtown Orlando fed about 200 people at each event, but the numbers have recently dropped due to the homeless population being scattered around downtown Orlando, Ashraf said. She said the organization now tries to hold events twice a week every two weeks to serve over 100 people in the downtown Orlando area.
As of now, the organization serves bagged meals and hopes to transition soon to hot meals. Each bagged meal distributed includes a sandwich, fruit, cookies and a water bottle. 
Project Downtown Orlando said anyone is welcome to attend its projects, regardless of religion, age or ethnicity. 
Naser said young people giving back is important because older generations tend to view millennials as self-centered and all about their smartphones. The nonprofit seeks to prove them wrong. 
"Volunteering at a young age — it develops your character and really turns you into a person that is going to help the world in the long run," Naser said.
Hassouneh said he hopes to expand Project Downtown Orlando's services to more than just food. By partnering with other nonprofit organizations, the group plans to get its name out there in order to make the biggest impact in the Orlando community as possible.
"We want to show [people] that there is a good population of millennials that decide to give back when they can," Naser said. "With the very little we have on our hands, we are able to reach out and give a lot of what we do have."