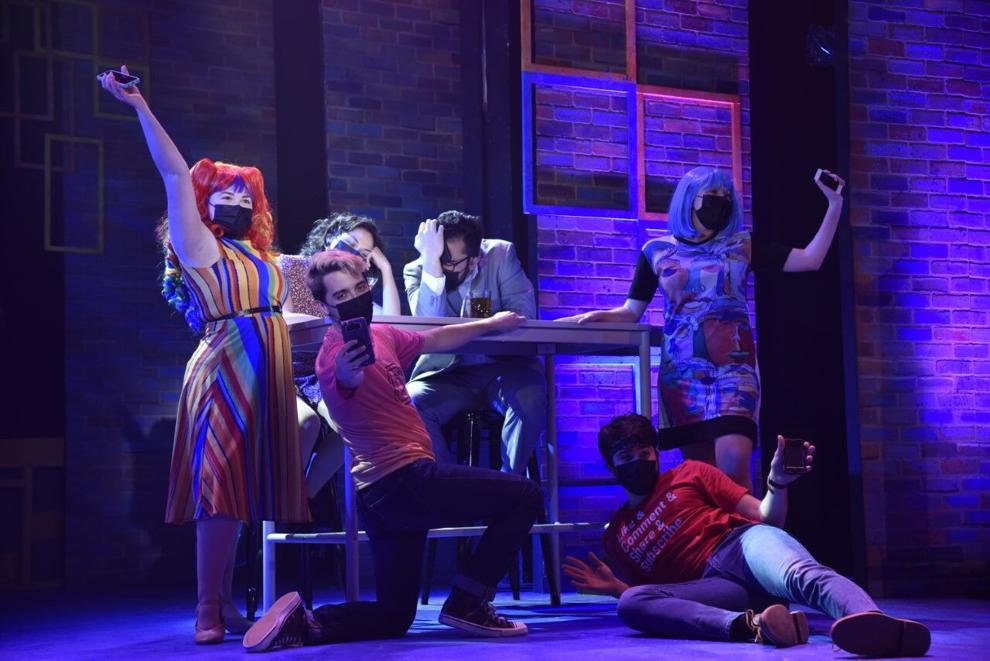 After over a year-and-a-half of working through COVID-19 precautions and guidelines, Theatre UCF students are finally able to bring musicals back to their main stage, starting with "First Date."
While Theatre UCF has been able to put on adjusted performances of plays throughout its past season, "First Date" marks the first musical theater production on UCF's main stage since the COVID-19 pandemic began. The show is "a hilarious, quirky musical comedy that takes you on a journey set to relive all the angst, humiliation and surprises of a first date," according to Arts at UCF.
Caroline Hull, a senior double majoring in theatre studies and English, serves as show dramaturge for "First Date." Hull said what makes the show so compelling are the adjustments the department has made to modernize the show to reflect the social challenges posed by COVID-19. Hull said the show is all about relationships, something that many people struggled to maintain with the distance COVID-19 has put between loved ones; she said it's a great opportunity for students to connect with the audience over a common experience.
"We all needed a little reminder of how important human interaction is," Hull said.
Reese Abrahamoff, the show's choreographer, said masks have been incorporated into each character's costume. Abrahamoff, a sophomore theatre major, said all actors will wear masks during the performance, except for situations where characters may be eating or drinking.
"They're setting the show in current day 2021, where COVID is a real issue," Abrahamoff said.
Jared Roys, senior theatre major, said cast and crew members took extra precautions during rehearsals, such as frequent hand sanitization and staying distanced while offstage. Roys plays Man 2, a role that covers multiple characters throughout the show.
Abrahamoff said he hasn't been able to perform in a real musical since COVID-19 hit in March 2020 and that the return of musical theater to UCF holds special importance for him.
"Musical theater in general is just a safe space for anyone to be able to share their story through another story," Abrahamoff said.
Roys said sharing stories with others is a huge part of what makes musical theater so important.
"It's a community effort, and we're all working toward a beautiful product," Roys said.
Abrahamoff said he was drawn into UCF's theatre program because of the care the faculty has for their students.
"They take the time to make sure you are cared for and that you have the opportunities you need to have as a growing actor and growing person in the theater industry," Abrahamoff said.
Hull said her role as a dramaturge is all about research and that she wouldn't have found her passion for this position if it wasn't for Theatre UCF.
"I never would have discovered my love for playwriting or dramaturgy if it wasn't for UCF giving me the opportunity to explore my love of the arts in different ways, and I am forever grateful for that," Hull said. "I am still an actor, but that doesn't mean that is all I have to be."
Although she is not performing onstage in "First Date," Hull said she has worked closely with the actors by creating packets of background information for each of their characters. She said she also created playlists to go along with each character's personality.
"These actors and this team have worked so hard to bring live musicals back in an uncertain time, and they deserve the best audience they can get," Hull said.
Abrahamoff said that although dancing and singing in a mask have proven difficult through long rehearsals, it's worth it to get back to performing.
"Being a part of a musical really gives me hope that we're on the right track after this whole life-changing COVID situation, performing and getting back to what we love to do," Abrahamoff said.
"First Date" runs from Oct. 14 to Oct. 24. Tickets are $10 for students with a UCF ID and $25 otherwise and can be purchased on the Arts at UCF website.