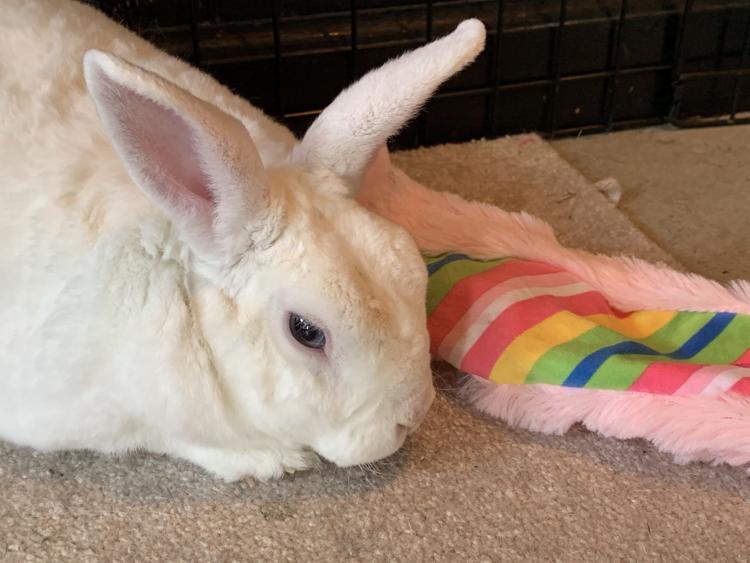 A downtown Orlando bar welcomed more than 200 people Saturday for refreshments and the opportunity to play with rabbits for a generous cause.
The Nook on Robinson, in partnership with Framework Craft Coffee House and Orlando Rabbit Care and Adoptions, or ORCA, became a pop-up rabbit cafe that allowed hopeful pet owners and curious visitors to meet rabbits who are in need of a permanent home.
ORCA is a nonprofit "educational group and membership organization dedicated to the health, care and enjoyment of house rabbits," according to its website. 
Sue Chairvolotti, ORCA volunteer, said before any adoption is finalized, the organization ensures those willing to adopt are able to provide a rabbit's basic needs.
The organization will arrange phone screenings and at the very minimum, will require a photo of the rabbit's eventual "set up." ORCA also schedules home visits for those who already own large pets.
"We want to make sure the rabbit is going to be safe," Chairvolotti said. 
Denika Robbins, social media outreach for ORCA, said the event is an important way to teach people about rabbits and dispel some misconceptions.
"What we want to do is really educate people about rabbits and about rabbits as companion animals and about how to raise them and take care of them," Robbins said.
ORCA Vice President and Treasurer Kathy Harter said she was excited the event would provide information about rabbits, especially as Easter approaches.  
"A lot of people will buy rabbits as a gift for Easter for little kids," Harter said. "They are not ideal pets for children. They are very fragile, and people don't know about the rabbits, and they are not what they expected."  
She also said it is important to emphasize that UCF students should not set domestic rabbits free.
"We have trapped three that we assume were former student pets," Harter said. "One near parking Garage C and two in different complexes."
Robbins said more needs to be done to find rabbits appropriate homes through adoption rather than pet mills.  
"If you see these days, most pet stores don't sell dogs and they don't sell cats," Robbins said. "Like PetSmart has adoption for cats, but we want to see that happen for rabbits as well."
According to the People for the Ethical Treatment of Animals, or PETA, pet mills "keep animals in cramped, crude and filthy conditions without proper veterinary care or socialization."
A 2015 Gallup research report found that almost a third of Americans believe animals should be given the same rights as people, while 62% said animals — also like people — deserve some protection "from harm and exploitation."
With this level of popularity, legislative bodies across the country, including in Central Florida, have taken action to address this support.
Seminole County passed an ordinance in February 2018 to ban the sale of dogs or cats bred through kitten factories or puppy mills because the practices may be "cruel" and "inhumane." However, the ordinance does not address the sale of rabbits bred through mills.
However, Harter said she believes there is a movement in Florida to ban the sale of small animals like guinea pigs, rabbits and hamsters from stores. 
"[Rabbits] are not in the same class as a dog or a cat, even though rabbits are the third most abandoned pets in shelters after dogs or cats," said Harter, a UCF alumna. 
While some visitors waited for their specific time slot to go inside the bar and meet one of the eligible rabbits, others sat outside enjoying snacks, sweet treats and ORCA merchandise, along with coffee and beer provided by The Nook on Robinson and Framework Craft Coffee House. 
Robbins said the proceeds from the treats and rabbit-themed merchandise will go directly toward caring for the foster rabbits and organizing other events at ORCA.
Junior hospitality management major Michelle Lidsky said she and her friends went to the event because of its charitable cause and their interest in animals. 
"We've been to a couple of cat cafes and I saw that this one had bunnies and we just really like animals … I think it's good that they're being adopted. I know they have breeders and some of that stuff is not done in the best way," Lidsky said. 
Robbins said she hopes the amount of interest may help the organization plan more events in the future. 
"This is our first really major event," Robbins said. "Hopefully, we will do more in the future."