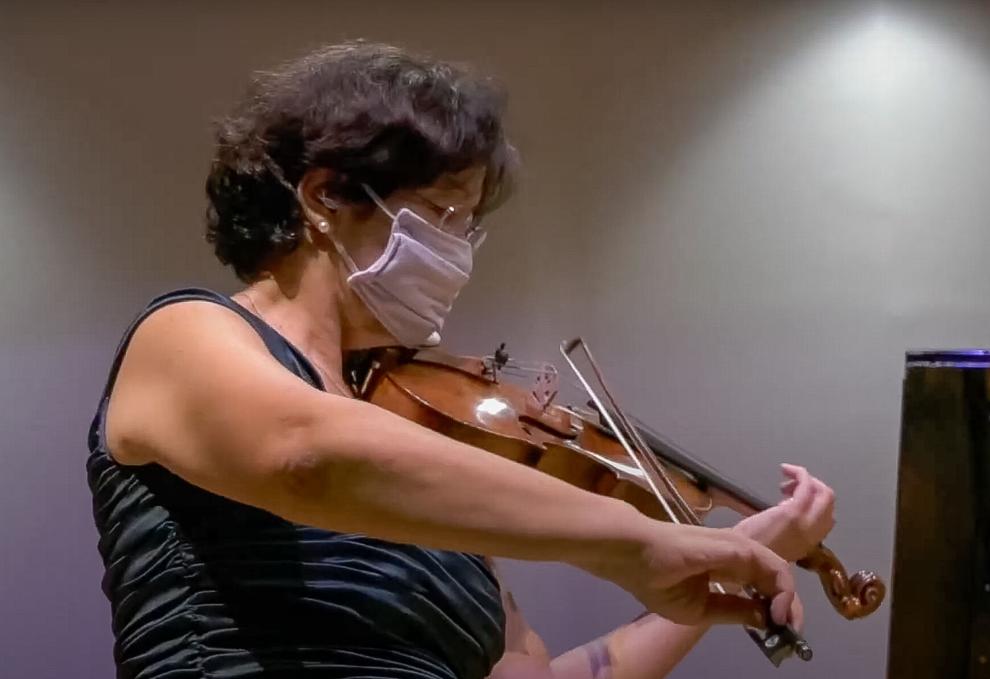 Tucked away in the halls of the UCF School of Performing Arts, the eloquent sound of a violin can be heard outside office PACM127.
Inside the office, Ayako Yonetani moves the bow of her violin masterfully across the instrument's strings, a movement she has spent her entire life perfecting. Yonetani's passion for music began at the age of 5. Growing up in Japan in the 1960s, she said it was customary for parents to have their children play either the piano or the violin. 
After starting lessons in the town of Kamakura, Japan, her teacher connected her to Saburo Sumi, a renowned musician in Japan who had a major influence on the violin world for the country.
Classical music became popular much later in Japan compared to the western world, Yonetani said, and has only had a presence in Japan for the past 150 years. Because of this, Sumi's strict teaching style made him one of the most influential teachers for the instrument at the time. 
Yonetani said her training with Sumi was intense. She said it was very regimented in nature, and he "didn't smile too much."
His lessons, however, helped Yonetani learn the enjoyment of performing in front of people. She eventually became the youngest to win the Japan National Competition at age 9 and rose to the top ranks of Japan's violinists.
"As a kid, it's in a way good," Yonetani said. "I had so many concerts after that, and so I thought I could do anything."
After moving to the U.S. in 1982, she made her American debut as a concertmaster with the New York String Orchestra at Carnegie Hall. Yonetani received her bachelor's, master's and doctoral degrees from the Juilliard School and regularly played sold-out shows all over the world.
Becoming a master at her craft opened a world of opportunity for her, but Yonetani said the most important thing music gave her was the ability to express herself and her ideas.
"Even now in my native language, I'm not a good talker," Yonetani said. "Even when I was 9, I thought I could say things much easier through the body, and I sometimes feel that way is like talking."
Using that gift inspired her to teach others, and for the past 28 years, Yonetani has helped students at UCF master the craft of the viola and violin, eventually becoming the director of UCF's Graduate String Quartet program.
"I'm very, very excited about teaching," Yonetani said. "Giving my knowledge to somebody and seeing somebody grow and blossom is quite rewarding." 
Abigail Moore, a member of UCF's string quartet, said learning from Yonetani has been a wonderful experience and really encourages students to be confident in their abilities. 
"She creates a very nurturing environment, which is not something I've always been used to with every teacher throughout the years of study," Moore said.
Moore also said Yonetani's teaching style at UCF allows for a more organic flow of music, which is much different than the regimented approach some students are used to. This creates a healthier relationship between Yonetani's students and the music, she said.
Yonetani's teaching methods cultivate an independence of playing style in her students, Moore said. She said Yonetani teaches "the way she does it," but if her student finds a way that works for them, then that is also acceptable.
"She really encourages you to find your limit of where you can be comfortable mentally, physically and all of the things that matter in life," Moore said. "She reminds us to just be human and (that) you're more than just a musician."
With a lifetime dedicated to music, Yonetani said while she is grateful for the experiences music has brought her, leaving an audience with the feeling of a memorable and impactful performance is the most important thing.
"If someone comes up to me and said, 'I remember your performance,' that is good enough for me," Yonetani said.